Amsterdam is a city of many faces. For some, the Red Light District acts as a magnetic force. Its famed coffee shops serve a tempting menu of legalized cannabis, offering a range of highs from mellow to skyscraper. For those seeking lustier pleasures, prostitution is legal and as easy to find as North Sea herring.
For others, it's the cultural gems, from Rembrandt to Van Gogh, that entice.
If you haven't considered this forward-thinking city's budget vacation potential, it's time to start. Liberal Amsterdam is a mecca for penny-pinchers, chockfull of riches that lack steep price tags.
Food
The Dutch Empire colonized much of the globe during its 17th century heyday. Modern day Amsterdam benefits from this legacy with a hodge-podge of exotic restaurants. While the elaborate Indonesian Rijsttafel steals much of the culinary spotlight, adventurous foodies won't want to miss sampling the cuisine of Suriname.
This South American country was formerly a Dutch colony, but its diverse population presents a melting pot of flavors. Indian, African, Chinese and Indonesian workers were brought to Suriname to work its plantations, bringing their distinct foodways with them to inspire an intriguing multicultural cuisine. When Suriname was granted independence in 1975, half of its ethnically eclectic population migrated to Holland, spicing up the culinary landscape.
A good place to sample Surinamese cooking is Kam Yin, located near the central train station. The esthetic may be bare bones, but the food is top-notch, with huge portions and very low prices. I detected strong Indian and Chinese influences in the noodle, rice and curry dishes. Roti, fluffy bread served hot from the oven, was perfect for sopping up the fragrant sauce of my chicken curry. The fortifying soups, loaded with plump noodles, were just right on a chilly evening.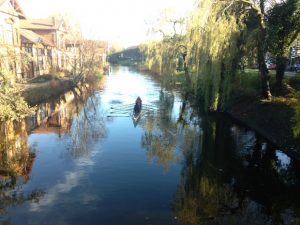 To Market
Fitting for a city of scenic canals, Amsterdam's floating flower market is a showstopper, with flowers whimsically displayed on floating barges. It's a feast for the eyes and browsing doesn't cost a thing. Open daily.The Albert Cuypmarkt is one of Europe's biggest and busiest outdoor markets and a great place to gain local perspective. Each Tuesday-Saturday, hundreds of stalls sell everything from fresh produce to hipster clothing. Expect throngs of fellow shoppers in search of bargains. When hunger strikes, this is a good place to try regional specialties like just-caught raw herring, broodjes (Dutch sandwiches) or a warm waffle.
Free Concerts
The National Opera & Ballet puts on weekly free concerts each Tuesday at 12:30, while the Royal Concertgebouw holds their free concert at the same time on Wednesdays.
Sleep On the Cheap
The Lloyd Hotel is located in the residential Eastern Docklands neighborhood, only a few minutes from the city center. This historic building was originally a hotel for emigrants, who stayed here while they awaited their ship's departure for the New World. It is set in a small park, so if you're traveling with kids or are in need of a spot of green, the serene outdoor space is a bonus. Inside, the common spaces feel like a trendy gallery, with cool art and design everywhere you look. Each of the 117 rooms is unique and accented with innovative Dutch designs. Quirkier rooms have swings or a giant bed that sleeps seven. A democratic feature is that the guest rooms range from one to five stars, all under the same roof. A budget-minded traveler could book a one-star room with a shared bath or someone with deeper pockets could book a luxurious five star room. The goal is for curious visitors of a variety of economic means to connect and share experiences.
All rooms have high quality linens and excellent service no matter what price you pay. Some of the rooms have kitchens and there's a supermarket directly across the street, so preparing a money-saving light bite is a breeze.
The Lloyd is buzzing with hotel guests as well as locals who flock here to participate in the full calendar of cultural events that the property hosts. As you explore the area, you'll see families pedaling the bike paths, snacking on waffles after school and grocery shopping. This is the real Amsterdam, with little in common with the hash bars in red light district, but only a few minutes away from the action via tram or bike. There's even a windmill in the neighborhood, bringing a spoonful of traditional Dutch countryside to urban Amsterdam.
Pedal Power
It seems as if everyone, from tiny tykes to grannies, zips around town on two wheels. With over 800,000 bicycles crowding the cityscape, biking is a practical, eco-friendly, inexpensive and invigorating way to get around compact Amsterdam. Hundreds of miles of designated bike lanes, easy bike rentals and flat terrain make pedaling a breeze.
Take a Walking Tour
Sandeman's New Amsterdam Walking Tours provide a perfect introduction to the city. The locally led tours are free, but tips are appreciated.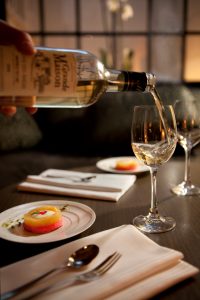 High Wine at The Dylan Hotel
Even budget travelers crave luxury. When you feel the need to indulge your inner aristocrat, head to The Dylan Hotel any afternoon between 3-5 p.m. While many luxury hotels offer traditional afternoon tea, The Dylan Amsterdam decadently reinterprets this mid-afternoon repast. You will sample four distinct wines each carefully paired with a delectable dish. The menu changes seasonally but you can expect fresh North Sea fish and an over-the-top dessert, all presented with finesse. The refined menu is curated by Executive Chef Dennis Kuipers, who helms the Dylan's Michelin starred dining spot, Restaurant Vinkeles. High Wine's 39.50 Euro price tag is an acceptable splurge.
Outdoor Amsterdam
Vondelpark is a green oasis in the center of town. There are free open-air concerts and performances in summer. The rose garden is home to over seventy varieties of this fragrant flower.
The city's canals rarely freeze anymore, but that doesn't slow skaters down. In winter, head to the rink at Museumplein, appropriately named Ice. Renting skates and gliding with the world-famous Rijksmuseum as your backdrop doesn't cost much and you'll get some exercise in the deal.
I Amsterdam City Card
Purchase the I amsterdam City Card and you'll receive free unlimited public transportation, free entry to most major museums (though it only provides you with discounted admission at the Rikjsmuseum), a canal cruise and a variety of other discounts. The card is valid for either 24, 48 or 72 hours. Order the card online or pick it up at the Amsterdam Tourism Office across from the main train station or at Schiphol Airport's Visitor Information Center. The card is automatically activated the first time you use it.
With your card in hand, you won't want to miss the Van Gogh Museum where you'll view this tortured artists great works and learn about the man behind the sunflowers. If you like modern art and design, the Stedelijk Museum is world class. The Eye Film Museum recently moved to a stunning new location. Catch the free ferry from the central train station and in five minutes you'll arrive at this futuristic building with striking views of Amsterdam. Cinephiles will enjoy film screenings and hands-on exhibits.
Explore the wonderful world of microbes at Amsterdam's newest science museum is Micropia. If you're traveling with kids, don't miss getting acquainted with the miniscule microbe at this highly interactive, incredibly innovative museum. You'll leave looking at bacteria in a whole different light.
For more information to help you plan your Amsterdam getaway, go to www.Iamsterdam.com.