Croatia's picture-perfect island of Losinj sits in the Northern Adriatic Sea, a stone's throw from Italy. It has been luring visitors since the 19th century, when Austro-Hungarian aristocracy first recognized its regal sheen. The curative effects of a near-perfect climate, crystalline sea and air infused with the scent of hundreds of native plant species made it a top health resort.
Tourists have once again taken notice of this salubrious island, but it still remains under the radar. Thanks to its maritime roots, polyglot locals all seem to speak English and several other languages. The island enjoys peace and stability, but geography has made Losinj historically vulnerable to invasions. Culture vultures are in luck because it's impossible to miss the reflection of all the empires, peoples and cultures that have left their mark over the past few thousand years. Add the scent of wild rosemary, sage and thyme that perfume the air with a sweet mélange of aromas and you'll understand why visitors are quickly seduced.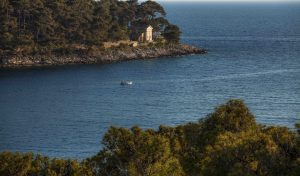 The Sea
Losinj is surrounded by pine forest. Evergreens reflect onto the sea, giving it a striking emerald hue. The island's two villages, Mali Losinj and Veli Losinj, are both loaded with glorious swimming opportunities. Stroll until you find a secluded cove or head to magnificent Cikat Bay and rent a windsurfer or standup paddleboard for a few euros a day. A school of bottlenose dolphins frolic in these pristine waters, so keep your eyes open and you may find yourself swimming in a school of happy mammals.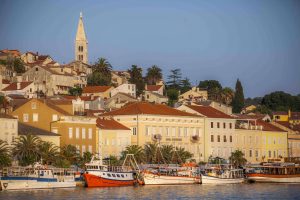 Culture
The area is rich in well preserved churches. Plan an afternoon visit to neighboring Osor, an ancient Roman town with a medieval excavation site and a worthwhile archaeological museum.
Osor is alive with the sound of music all summer when it hosts the annual Osor Musical Evenings. For forty years, big names from the world of classical music have been performing in the town's stunning cathedral. If jazz is your style, the casual Losinj Jazz Festival draws an international crowd.
Cycle
This island is easily negotiated on foot, with the Lungomare trail the pièce de resistance. This seaside route is chock-full of breathtaking vistas and is an easy way to see the entire island. Most hotels rent bikes, so consider a breezy pedal.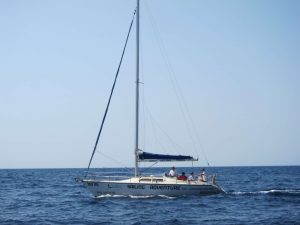 Sailing
To fully appreciate the nautical scenery, view it from the water. Book a sailing excursion and visit nearby islands, lunch at a rustic restaurant and swim in semi-secret coves.
Spa
Known as the Island of Vitality, visitors once came here for the healing waters. 21st century guests elect to be buffed, puffed and pampered at a one of Losinj's top-notch spas. The Hotel Aurora's Laurus Slow Spa has recently been listed by Premier Traveller as one of the worlds top ten spas. The Hotel Bellevue's spa offers a cornucopia of de-stressing treatments that utilize island-grown aromatics and essential oils. Hotel guests may partake in steam, sauna and numerous hydro services without charge.
Locavore
Seize the opportunity to get up-close with this region's agrarian roots. On neighboring Cres, visit a family-owned farm in the tiny town of Martinscica. They distill their own essential oils and produce their own honey and cheese. Tour the distillery and purchase homeopathic products to treat a variety of ailments.
Stay
The Hotel Bellevue is the island's first five-star property. Totally refurbished in 2014, it's a casually elegant hotel that is thoughtfully designed to fit into the natural surrounds. The 185 rooms and 21 suites are decorated with modern furnishings and loaded with swanky amenities. The staff goes above and beyond to make sure whims are catered to. Don't miss the breakfast buffet, included in the room rate. It packs an early morning punch that is guaranteed to please even confirmed night owls. There are numerous other properties on the island, ranging from campsites to modest hotels, so there's something to suit a variety of wallet sizes. For a comprehensive look at local hotels, click here.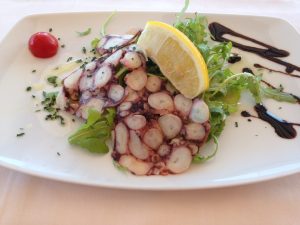 Eat
Losinj's cuisine is all about freshness. Indulge in sea-to-table delicacies bathed in olive oil and seasoned with local herbs. Lamb, prepared according to traditional recipes, is another staple. Homemade sheep's milk cheese and lavender-infused honey are a few of the edible delights that you won't want to miss. Locals linger over meals, so take your time and savor every bite.
Drink
Homemade brandy and aromatic liqueurs flavored with lemon, honey, sage or myrtle is the way locals start and finish each meal. Croatia's viticulture dates back thousands of years. You'll find wines that are unpolished yet appealing, rustic yet refreshing, so sample a fruity white or a bold red.
Cost
Croatia has been a member of the EU since 2013. They use their own currency, the kuna, which is pegged to the euro, so expect the exchange rate to be in line with Europe's major currency. Prices in Croatia are still lower than in many other European destinations, but the bargains of the past are fading fast. Visitors will still find good value on accommodations and meals and an excellent price-quality ratio.
Get here
It's not easy to reach Losinj, and that helps to keep it one of Europe's better-kept secrets. You may take a King Air shuttle directly from the Venice airport for around 200 dollars and land on the island's tiny airstrip in 30 minutes. Inquire at you hotel when booking. Thrifty travelers with time on their hands may catch a ferry via Zagreb or Ancona, Italy. 2016 promises more ferry connections from Italy, so keep an eye out.
For additional information, go to the Visitlosinj.hr.