As the Star Pride pulls away from port just outside of Edinburgh, passengers on Windstar Cruise's eight-day Gaelic Explorers itinerary toast bon voyage with the traditional glass of celebratory bubbly. With a range of top shelf liquor and bartenders with individual spins on classic cocktails, the cruise offers the option to indulge in alcoholic beverages while at sea. But cruising the coast of Scotland presents whisky lovers with a potable feast of distinct decadence.
 For whisky drinkers, Scotland exerts a magnetic pull. Its potent national beverage has been sipped and celebrated for centuries.
With so many distilleries producing malt whisky with intense variations in flavor, distillery crawls are a popular pastime.
For tourists, Scotland's remote geography of craggy inlets and misty mountains makes it difficult to explore a range of distilleries by car or train during an average length vacation. Cruising the coastline is a practical and tremendously fun solution.
Windstar Cruises Gaelic Explorers
If you want to satiate your craving and explore a variety of whisky, Windstar's eight-day Gaelic Explorers is the ultra-luxury booze cruise of your dreams.
212 lucky passengers sail the North Sea from Edinburgh to Dublin, with the opportunity to visit numerous distilleries along the route. Quench your thirst with unabashed aplomb, as the only one doing the driving is the ship's responsible captain.
If you crave an intoxicating immersion into the makings of Scotland's favorite aqua vitae, port tours will escort you to the local distillery where you will sip a wee dram or two.
Free spirited libertines with an independent streak may walk or ride the local bus to distilleries for a do-it-yourself experience. Each day presents a mobile whiskey crawl of epic proportions.
A Whisky Primer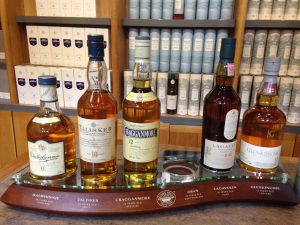 Scotch must be made in the manner specified by local law. Single malt whisky is the product of a single distillery. All Scotch whisky must be barrel aged in oak for at least 3 years. Whisky casks have already been used either for American bourbon or Spanish sherry. Scotch is generally distilled from malted barley. Add spring water, a bit of yeast and at least three years time and you've got it made. It's a deceptively simple recipe for such a revered beverage.
The over 100 distilleries in Scotland are located amidst some of the finest scenery imaginable, near mountains and glens, on islands and near charming towns.
Like wine, each whisky has its own distinct flavor profile. Flavor can be affected by everything from the water to the shape of the still to the cask where it is matured. Of course, location is a big influence; the terroir imparts unique nuances as the whiskey absorbs the spirit of the surrounding landscape. Smell the salt and seaweed in malts matured on the coast and taste a hefty hint of peat in inland varieties.
Distilleries Near Windstar Ports of Call
When the Star Pride docks in Invergordon, passengers may walk to The Dalmore Distillery in nearby Alness in under 30 minutes.
A visit here showcases the technique and dedication of the distillers. One of the most expensive bottles of whisky ever sold was the Dalmore Sinclair. Sample the more affordable 12-year-old malt after you tour the distillery. Notes of orange marmalade, coffee and vanilla leap from the shimmering liquid.
When you dock in Kirkwall on the Orkney Islands, you'll be able to sample the goods at two distilleries. Scapa produces easy-drinking single malt whiskey. They offer tours and tastings. Skiren is aged in American oak casks and has a simmering, sweet taste of ripe pears and melon. The nose is as light and floral as a freshly picked spring bouquet of wild flowers.
At Highland Park, the 12-year –old Viking Honour has the rich aroma of smoky peat coupled with a kick of orange and honey. If you enjoy a flavor lighter on the smoke Viking Scars is aged 10 years and tastes of vanilla and pepper with just a hint of heathery peat.
Oban Distillery is just a few steps from the Oban's port, so it's a breeze to visit.
Additionally, Windstar offers numerous shore excursions that escort you to a wide range of distilleries.
The Itinerary
The Gaelic Explorers is an intimate 8-day cruise.
You'll explore the Scottish Highlands and remote islands where otherworldly beauty steals the limelight.
Passengers board in Edinburgh and disembark in Dublin or the reverse, boarding in Dublin and disembarking in Edinburgh. Either way, the ports of call are the same. You'll stop in Invergordon, the Orkney Islands, Isle of Skye and Oban before a stop in Northern Ireland, the Isle of Man and Dublin.
There's More to a Windstar Cruise than Whisky
Nature has been left to its own devices in this part of the world. The scenery is spellbinding, with ruggedly beautiful coastlines, crashing waves, remote islands and wide-open sky. Marine life thrives so lookout for dolphins frolicking around the ship. Service is highly attentive.
Hard as it is for a whisky connoisseur to believe, many of your fellow passengers haven't been seduced by whiskey. They may spend their cruising days disembarking the ship and exploring castles, catching a peek at the Loch Ness Monster or visiting Scotland's Stonehenge before returning to the Star Pride for another evening of pampering on the high seas by the devoted crew. It's small ship cruising at its best.
The Star Pride Features Mouth-Watering Dining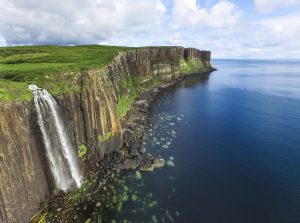 Food is a highlight, but this is to be expected from Windstar, thanks to their recent partnering with the James Beard Foundation.
The James Beard Foundation was founded to advance America's culinary arts and to celebrate the chefs, writers and restaurateurs whose excellence elevates it. Several Windstar cruises will have James Beard Award winners and nominees on board, cooking for and interacting with guests.
The quality of the food is noteworthy. The Star Pride's culinary team was stellar and meals were always a grand event. Local food such as wild-caught salmon are incorporated into the menu whenever possible. Ethnic food is represented in the form of fabulous Indian dishes such as curry and biryani.
Luxury Suites with Views
The Star Pride's 106 suites all have ocean views and have been recently refurbished. They are all oversized, so there's plenty of room to relax. Thoughtful touches like fresh flowers, luxurious linens and a flat screen television are perfect perks. Pack light as the on board laundry service is efficient.
Unlike many high-end cruises, Windstar doesn't have a formal dinner dress code, so clothing runs the gamut from high fashion to haut hippie to kilts. It's as casual as you want it to be.
Photos Credits: Visit Scotland, Windstar and the author.