Estonia
has emerged as one of the top destinations for European travel, as it contains a storybook atmosphere, amiable population, unique tastes, and countless cultural opportunities. It is comprised of charming rural villages and beautiful landscapes, unspoiled marshlands, beaches, and swamplands. And there is no better time to visit this Baltic gem than in autumn—here's why.
I'll prequel my bold statement by saying this: I've visited Estonia in every season—and while I adore frolicking through the Christmas markets with mulled wine in hand, and the energy of the nightless summer evenings, and the smells of the Estonian countryside during the first spring rain, nothing beats a visit in autumn. A European shoulder season, the streets of Tallinn are lively without the heavy cruise crowds. The leaves decorate the already gorgeous city, giving an extra hint of color.
My Tallinn home base, The Hotel Telegraaf, is the restored former central office of the Estonian Telegraph from 1878, transformed into a luxurious five-star hotel sitting comfortably in Tallinn's UNESCO World Heritage Old Town. The hotel's spa was optimal for recharging post a busy day exploring the city.
From here, adventurous in the crisp autumn weather were easily accessible. I took a tour of the Old Town to both get my bearings and learn about Estonia's tumultuous history of wars, serfdom, and finally, freedom. This is the best-preserved Gothic Old Town in Northern Europe, boasting unique churches, medieval fortifications, and enchanting architecture. Of course, visiting Battery Sea Fortress was a deep dive into Estonian history, which has protected the city from invaders for centuries (and this is also a prime photo opportunity spot!) I checked out the Museum of Occupations and Freedom for more recent history, which focuses on the personal narratives of crimes against humanity.
Of course, Tallin's dichotomy of old verse new is paramount to understand on any visit. For modern history, I also took a Street Art Tour in Tallinn Telliskivi Creative City, witnessing color and emotion where gray walls once stood. My tour guide was pivotal in bringing these walls to life by telling the artwork and artists' stories.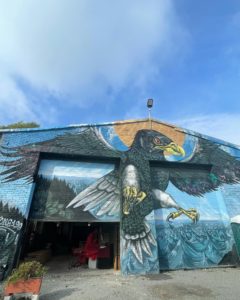 As the autumn days get slowly darker, sometimes we need to be warmed—figuratively and literally. I found my warmth at Iglu Park, where I was warm in a sauna with direct sea views and refreshed with a healing and refreshing stream.

And of course, getting out in the vivid nature during autumn is a must. Luckily Estonia has plenty to choose from. I hiked in Keila-Joa Park under a canopy of leaves, discovered Rummu quarry's daunting nature, and finished my day in nature at Hotel Lapa Laulasmaa, an oasis amidst pine forests and sandy beaches with swimming pools, saunas, and, of course, more foliage.

Autumn in Estonia feels different than other destinations. Maybe it's the clean air or the towering pines. Perhaps it's the restaurants that source local ingredients that warm the soul, or maybe it's the sauna culture. Whatever the case, Estonia in the autumn is a must-add addition to any European bucket list.

Heads up, Europe: there' a new kid in town. In recent years,