If you love historic English towns with stunning views, traditional inns, and a slow and leisurely pace, you'll love Kirkby Lonsdale. If you love your dog as well, you'll really love Kirkby Lonsdale!
Kirkby Lonsdale is an historic market town in Cumbria, the north of England, and it is bursting with character. It's quiet, it's quaint, and it's almost entirely dog friendly.
We stayed at The Sun Inn, a 17th century inn with original features that caters for dog lovers, and everyone else alike. The inn is traditional and cosy and the bar area attracts locals and those visiting the area, as well as those staying in one of the 11 stylish rooms, and it's easy to see why it's so popular. If you stay with your dog you'll find some thoughtful little touches waiting for you in your room. Doggy treats and dog bowl are laid out for your four-legged friend and for you a small plate of butter biscuits covered with a glass lid so your pooch can't steal them!
This boutique hotel dates back to around 1630 so it was certainly here when the artist Turner visited on his travels around the north to complete a series of commissioned paintings of landscapes of the area. Turner painted a scene from behind the church, which stands directly behind The Sun Inn. The painting was titled Kirkby Lonsdale and was painted around 1822, so the inn was already pretty old by the time Turner got here! Following this, the painting took on the more popular name of Ruskin's View when the famous art critic John Ruskin described it as 'one of the loveliest views in England, therefore in the world'
If you take a walk behind the churchyard you can sit on one of the benches provided and enjoy the view just as Ruskin did, and Turner before him. From here you can take a walk down the 'radical steps' so called because when they were built in 1819 there was much opposition to them being placed there. This leads you onto a lovely river walk that culminates when you reach 'Devil's Bridge'. It sometimes feels like everything in Kirkby Lonsdale has a touch of the dramatic about it!
Devil's Bridge is sometimes referred to as Turner's Bridge, but its original name is much more fun. The story goes that a young woman wanted to cross the river here and she did a deal with the devil. He would build a bridge but he would take, in return, the soul of the first living creature who crossed it. The woman was no fool and she sent her dog over the bridge in front of her, tricking the devil into taking the dog's soul and not hers…perhaps the town is so dog friendly now as a way of making up for this!
Whether the devil built this bridge or not, it affords fantastic views over the river.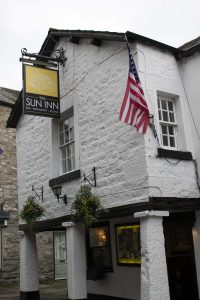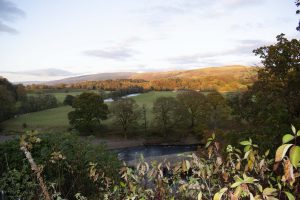 Back in Kirkby Lonsdale's main street, we returned to The Sun Inn for dinner and a drink in that cosy bar. The restaurant has two seating areas, one for regular diners and one for those who've brought along their pooch. We sat in the dog friendly area with Woody and his owners. The food at the Sun Inn is outstanding. The hotel is owned by Jenny and Iain Black who are proud of their dining reputation. Iain told us how passionate their chef is about using locally sourced produce and 'foraging', and it really shows. The food is elegantly presented and the hotel's AA Rosette Award For Culinary Excellence is much deserved.
Back in the room the little touches continue. The rooms are spacious and beautifully decorated in contemporary styles. Products from The Bath House up the street are laid on as complimentary, including his and hers perfumes. It really does seem like everything has been thought of.
When you walk around Kirkby Lonsdale you'll find almost every pub, café, and shop allows dogs. We tried out the Snooty Inn pub and the The Royal Hotel for a drink, both very welcoming and all rather plush inside. Kirkby Lonsdale has a certain luxurious feel about it and also, now and then, a little eccentric. We went in the Chocolat shop and spent a little more than we intended, but, honestly, the temptation was too high to ignore. Downstairs in this odd little shop is a tiny basement with a 'chocolate mine' in it. Hardhats are provided and when you get down there you'll find an odd little display of elves mining chocolate!
Kirkby Lonsdale is a small market town, but for such a small town it sure does offer a lot! If you love dogs it has you covered and if you love art you can literally walk out the door at the Sun Inn and follow in the footsteps of the great JMW Turner.