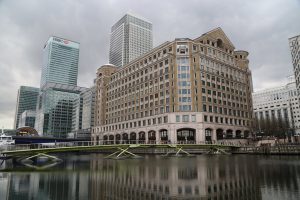 One of the most enjoyable stays I have experienced in London was at the Roseate House situate at 3 – 5 Westbourne Terrace. Many years past I had owned a mews flat on the Terrace and was excited to return to this area that has so much historical relevance at least for me. Centrally located it is just a 5 minute walk to Paddington Station.
The hotel combines three absolutely marvelous Regency townhouses of grey stone that trot merrily side by side down the Terrace. Once private homes in the early 1900's now they are joined by passageways still retaining the charm of that elegant era. This luxury boutique hotel houses 48 bedrooms each one individually designed, complete with hand-crafted beds and hand-stitched Irish bed linen en suite with lots of detail, four poster beds with silk coverings, artwork, original oil paintings, antiques and most important comfort. Each bedroom has a LCD TV, mini bar, safe deposit box, air conditioning, heater, telephone and hairdryer. The limestone bathrooms offer thick fleecy white Bathrobes and towels and Penhaligon soaps, body lotion, shampoo and conditioner for body and hair.
The hotel is quintessentially English in its design and offers a unique home from home experience and of course complimentary wi-fi is also available to all guests.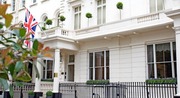 The front doors open to a welcoming reception area where you are greeted by an array of smiling faces for the staff at the Royal Park are well versed in the art of welcome and knowledgeable about the area so important for visitors from out of town. Upon arrival welcome drinks are offered and between 7 and 8 pm champagne and canapés are served.
The doorman especially knows his way around and was of great assistance during my stay. I had not realized Paddington Station was so close just as Hyde Park, Regent Park and that great shopping area Oxford Street are within walking distance.
The Blue Room
The General Manager, Laurent Boutonne, took me on a tour of the hotel; the Blue Room with its cheery fireplace is filled with sofas and comfortable chairs and is open 24 hours for hotel guests only. It is a great place to relax in the evening with candles lit, jazz and blues playing and sipping a glass of wine.
The Green Room


The Green Room where a breakfast buffet heralds the start to a new day also serving as a private dining room, board room and private meetings room. Personalized service is offered and greatly appreciated by many of the business people who frequent the Roseate House.
The Garden
Although it was late Autumn I enjoyed walking around the courtyard behind the hotel with its wood plank benches and tables and where in the summer months events are held. The foliage was turning orange and red but with my vivid imagination I could imagine the green trees and bushes coming alive again as spring returned just as the lounge fire crackled and burned sending out its warmth during the winter months. All this quite makes the Royal Park a hotel for all seasons and reasons.
It is easily reachable from Heathrow Airport by train to Paddington Station just 5 minutes away and only takes 15 minute by car. Besides its closeness to great shopping areas you will find all around internationally acclaimed restaurants and bars.
Be sure to visit, you will be well pleased!
The Royal Park, 3 Westbourne Terrace, London W1
Tel: 044 20 7479 6600 www.roseatehotels.com
Member of Preferred Boutique Hotels