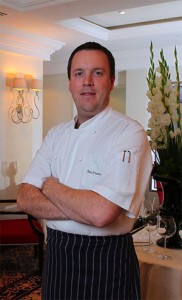 One of London's most elegant hotels is The Royal Horseguards situate on the Embankment overlooking the mighty River Thames flowing sedately along to the sea. This grand property has been the center of a seated establishment for many a decade and still offers warmth, glamour and service to its patrons. Many politicians and statesmen frequent the hotel today because of its closeness to the Houses of Parliament and Ministry of Defense.
Standing on the site of Whitehall which once was one of the most famous Tudor royal palaces – I am sure Henry V111 would have loved to look out at the now London Eye twisting its quite ugly façade in space. The Tudor Palace was destroyed by the Great Fire of London in 1698 but the Banqueting House escaped the configuration and is still used for banquets at the corner of Horseguards Parade.
For those of you who are movie fans you might like to know that Whitehall Court was featured in the 1983 Bond film 'Octopussy' and also in 'Skyfall' the latest James Bond.
Lit up at night the hotel gleams like a fairytale palace and it is a welcoming sight for those of us arriving from points across the world waiting to be treated splendidly, fed incomparably and nurtured luxuriously in bedrooms with four poster beds, silky linens and all the many delights of a 5-star hotel. There is underfloor heating in the bathrooms and a heated towel rail warming the thick fleecy towels and towel coats. Elemis aromatherapy bath and body items await your pleasure just as they do in all the hotels of the Preferred Hotels and Resorts Group.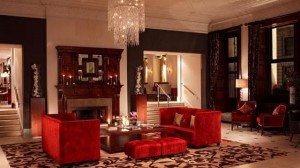 The bar is a place of pleasure to while away the cocktail hours before visiting the 5-star restaurant with its red velvet chairs around dazzling white clad tables. Fine crystal and silver add to the sensuous feel of this dining area. Women especially will love the table lamps and candles that add such a flattering glow. And here is where Executive Chef Ben Purton does his magic with offerings of sublime cuisine.
I love fish from the Atlantic so the Dover sole with parsleyed new potatoes was my choice from an impressive menu selection. The simplicity of whole fish on the bone caught fresh that morning off the south coast of Devon made it a great choice. Whitstable in Kent also sends fresh caught fish for guests to enjoy. I am pleased no farmed fish are served! My starter was a delicious Caprese salad of baby yellow and red tomatoes and rocket greens and each course came with a different wine for the wine menu here is quite large with many choices from France, Italy, Spain and some sparkling wine from Primrose Hill in England. Organic poultry and great Angus beef cuts are other choices whilst the freshness of local sourced vegetables and salads is noticeable. Of course Chef Purton has an amazing way with sauces and soups and his staff are well trained to assist both in the kitchen and serving at tables. Dessert was a delightful surprise for I was treated to a very special one that can never be found outside of Italy and London and that is Zabaglione…a whipped up concoction of hot custard and marsala wine. One might call it hot egg nog!
Outside during the day the patio with its wicker tables and chairs is a grand place to lunch alfresco during the balmy days of summer or sip a cocktail early evening. Of course you can venture there to sip your morning coffee.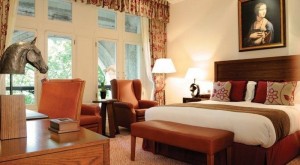 You may well ask why I write in such glowing terms and my answer it because The Royal Horseguards Hotel is well deserving of such acclaim! I have stayed in many fine hotels around the world but this will always have a very special place in my heart.
Services:
Bedrooms equipped with satellite plasma TV
Flat screen TV in bathrooms
IPod docking station with surround sound
Complimentary BT Openzone wireless internet access
This architectural heritage is located at 2 Whitehall Court, London SW1
Member of Preferred Hotels & Resorts
Part of Guoman & Thistle Hotel Chain
T: 020 7839 3400
F: 020 7839 3366
E: royalhorseguards@guoman.co.ujk
W: www.theroyalhorseguards.com