The first time I visited Rome a couple of years I stayed for over a week in one of the Rome apartments which was plenty of time to see the most important in the city, but also a couple of other monuments and sights that are outside of the city. My favorite sights in Rome by far were the Trevi Fountain, the Coliseum and the Sistine Chapel inside of the Vatican.
We also did a few daytrips to take full advantage of the surroundings. My favorite one was the one to Tivoli, particularly because of the Villa d'Este. It is a beautiful villa and in its gardens there are many elaborate fountains, grottoes and other water plays. Coming from the villa you can descend to the gardens which are arranged in terraces. Every terrace has someone of a different theme. What I didn't know at the time was that it is also a UNESCO world heritage site for its outstanding Renaissance architecture and gardening.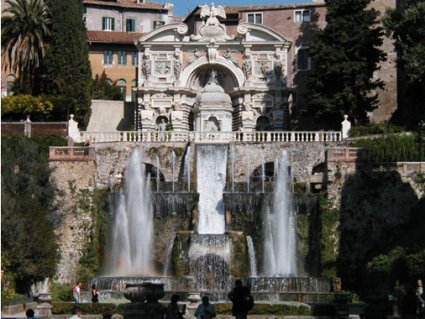 The design of the garden reflects somewhat the landscape, art and history of Tivoli and it has served as a prime example for gardening in Europe. For the past 20 years the villa has pretty much been under constant construction because the environmental conditions in the area aren't very flattering.
On the day we went I remember it was very hot. All the fountains and the water tempted us to cool off a little bit. Though a little inappropriate, we spontaneously started a water fight in front of the Fontana della Rometta. A guard immediately stepped in to end the fun.
If you happen to stay in apartments in Rome and you have some extra time on your hand I highly recommend taking a trip to Tivoli. You can easily take a bus or train from Rome. It will take about 40 minutes to get there. Other than the Villa d'Este the Villa Adriana is also worth visiting. Though the name suggests it it is not merely a villa, but much more a whole archaeological complex.