September had promised to stay fine, and so we headed off again, this time to Warwickshire. I've been to Stratford-Upon-Avon before, but other than that I didn't know this area at all, so a couple of days spent exploring felt like just what we needed. We were staying at Winchcombe Farm, and it became clear pretty soon after arriving that we might not be doing as much exploring as we'd thought. Winchcombe Farm had everything we needed and wanted, and we could easily spend long lazy days right there without ever going anywhere else! We chose to stay in Will's Treehouse, 'cause my partner is Wil and every Will needs a treehouse! This is a one of 4 lodges on the farm, built up in the trees with a fantastic sweeping veranda, complete with a barbeque, a pizza oven, a hammock, and a hot tub! The tree trunks grow right through the purpose-made gaps in the veranda and almost inside the lodge, making it really feel like you're up in the leafy tree-tops. I've never stayed on a farm before, but I definitely will again. The rolling hills and wandering sheep were our constant view and the two ponies and three alpacas in the paddock opposite were delightful.
Winchcombe Farm is perfect for families and couples, as it sports adventure playgrounds, a trampoline and, yes, that hot tub! On the evening of our arrival we headed to an Indian restaurant just a short hop over the border into Oxfordshire, called the Queen of the East.
On our first morning at the farm we went for a walk into the nearby village of Tysoe, which is only a few minutes by car and about twenty minutes' walk. It's a pleasant walk and there are some incredible old thatched cottages as you first come into Tysoe. In the village there's an attractive old church, a pub, a shop and tearooms, and a post office. Back at the farm, we wasted no more time in getting into that hot tub! The combination of the hot tub and the peace and quiet of the farm makes this a super relaxing break. We spent the rest of the day relaxing on the veranda, in and out of the hot tub and enjoying the bountiful welcome pack, which included fresh fruit and a victoria sponge cake! We cooked our own homemade pizzas in the pizza oven and generally felt at one with this laid back rural retreat.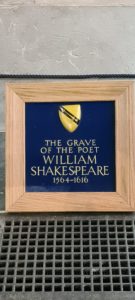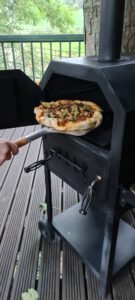 This kind of rural farm stay is perfect – we didn't encounter another person, and there's no need to. The lodges are all positioned at a reasonable distance from each other, making each one private, and aside from nodding and calling hello to fellow guests, it's just you and the sheep. The owners of the farm aren't far away, and if you need anything they are on hand, but if all you want to do is sit back and enjoy the peace, you certainly can.
Each lodge is deep cleaned in between visits, so check in time is 4pm and check out is 10am. On our last morning we left the farm and headed off to Stratford. Though I've been to Stratford before, Wil hadn't and when I did go, it was for the theatre, so we had some exploring to do here! Stratford is a pretty town, with many higgle-di-piggle-di old original Tudor buildings to marvel at. The marina on the river Avon is beautiful and the canal restaurants and ice cream barges are quirky and unusual. There's plenty of shopping opportunities up in the town, but the main draw of Stratford is their most famous resident – Shakespeare. We ate lunch in a small Italian café and then headed off to find the church where Shakespeare is buried.
Along the pretty river walk and through the RSC gardens, you find the Holy Trinity Church. The church itself is stunning, and once inside the arching stained glass windows and ornately carved pulpit are photo worthy. Shakespeare's grave and memorial are at the head of the church, in the chancel. In the current conditions ten people maximum are allowed into the chancel at one time to view the grave, and there was a small queue forming when we got there. Volunteers are on hand to answer questions and guide you. Once in the chancel you can see Shakespeare's grave, that of his wife and eldest daughter, and son in law. It was a bit of a pilgrimage for me, and I honestly don't know why I've never been before.
This trip was exactly what we needed. The combination of lockdown restrictions and being very busy in our work lives had left us in need of a get-away and a re-charging. Winchcombe Farm is the ideal place to do just that.