Have you ever visited the city of Dubai? If yes, then you will relate to the city as well as I do. If no, then it's the right time to add this amazing city to your bucket list.
I lived in Dubai for almost 14 years and is where I was born and raised.
So, what's so special about Dubai and what makes this city different from others?
Dubai is among the seven emirates that make up the United Arab Emirates. It is the largest and the most populated city in U.A.E with over 2 million inhabitants.  What mesmerizes me about Dubai is the diversity of people from various countries and different parts of the world. In other words, it is a great mix of numerous cultures – a multi-cultural city if you will. It is this diversity that I remember most from my childhood in Dubai.
The city of Dubai is quite unique on its own. It is a place where the locals follow Islam as their religion; the culture is Arabic with its old traditions and warm hospitality. On the other hand, the city is evolving every single day with its gigantic architecture and innovative and futuristic developments enhancing Dubai's expansive skyline.
Usually, the weather is pleasant during the winter months from November-April. During summer, the temperature becomes hot and humid from April-October and during June-July is at its peak. Although, it's a desert environment the Government of Dubai provides cooling facilities at various public places such as at metros and bus stops.
Besides Arabic, English is also widely spoken. But people come here from around the world for lucrative work opportunities. It is quite common to spot luxury cars such as Porsche and Ferraris on the roads or in the valet parking at luxurious hotels. Dubai is very safe and the crime rate here is extremely low.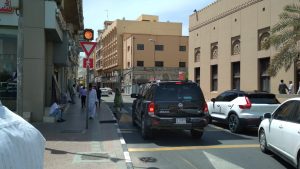 The safety and security provided by the Dubai government to both locals and expats is remarkable. In fact, the Dubai Police fleet uses a Lamborghini, Ferrari, and a Bentley allowing the force to catch speedy drivers who try to outrun them in their own super cars. The Dubai police offers help to those in need including helping locate a taxi for locals or expats. Their highly courteous gesture towards helping both residents and visitors makes me respect them even more.
Food in Dubai is extremely mouth-watering. Various types of cuisines are effortlessly available in Dubai including Arabic, Indian, Lebanese, Pakistani, Chinese, Italian, Mexican, British, French, Thai, etc at both cheap and expensive prices. Small eateries and restaurants in luxury hotels serve awesome food. Too tired to drive anywhere? Have everything delivered straight to your door – from food to groceries or electronics.
The Dubai government is known for its serious initiative towards cleanliness and therefore, Dubai has the cleanest and most hygienic public toilets not often found in other cities.
Dubai Creek has historically been divided into two parts: Bur Dubai and Deira. Going back to historic times, the main occupations of the locals in Dubai were pearl-diving, fishing and the oil industry. The innovative ideas and hardworking spirit of the locals, immigrants and expats who moved to Dubai led to the extraordinary growth we see today. As times evolved, Dubai is now widely popular for its tourism and is a global hub for business opportunities and its ever-growing world-class infrastructure.
Visit Old Dubai to see first-hand the history and culture of Dubai. The Old Shindagha House, Dubai Museum, Spice Souk and Old Dubai Souk are few places that one will definitely enjoy and love exploring. Then, you can take a 1AED wooden boat ride known as Abra across the Dubai Creek and reach Deira. It's one of my favorite rides in Dubai. Dubai is a shopper's paradise where you can shop from gold, jewelry, clothes, electronics, oriental rugs – whatever your taste you can find it here. In fact, Dubai is popularly known as the "City of Gold" where you can visit more then 300 gold shops in the Gold Souk in Deira (over 10 tons of gold are cumulatively in these shops at any one time).
When I was a child, we used to travel in Abra via the RTA buses and visit many malls just for fun during our school vacations in July and August. Every year I, my sister and my three first cousins- all cycling enthusiasts, would go cycling all over the entire Dubai corniche which is approximately 3-4km.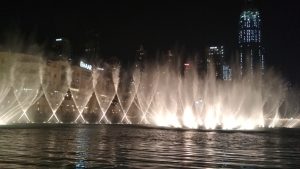 The city of Dubai has a lot of activities for everyone – both children and adults. And Dubai has many beautiful and well-manicured parks all over the city. We used to visit parks such as Al Safa Park, Mushrif Park, Al Mamzar Park and Jumeirah Beach during the weekends or during our school trips.
Make your holiday an action-packed one as Dubai offers superb facilities for numerous sports and recreational activities. From golf and water sports to desert safaris and dhow cruises. What's more, you can relax and enjoy the year-round sunshine on various clean and little-crowded beaches.
Since Dubai is greatly developed, other amazing places to visit including The Dubai Mall, Burj Khalifa, Jumeirah Beach, Wild Wadi Water Park, IMG Worlds of Adventure, Dubai Parks and Resorts, Kite Beach for water sports, The Miracle Garden, The Global Village, Atlantis-The Palm and the AquaVenture Park.
I will leave you with the following: Dubai is diverse. Come here, you will not be disappointed!