Milwaukee's history is steeped in beer. When German immigrants settled here, they brought with them old country recipes that tasted like home. For decades, Milwaukee was the number one beer-producing city in the world. It was home to the "Big Four" breweries: Blatz, Pabst, Schlitz and Miller. These breweries were major employers to generations of immigrants, and helped build the city's economic foundation. Before my recent visit to Milwaukee, I had an idea that beer was intertwined with Milwaukee's past. I had no idea that this city's current drinking culture effortlessly blends award-winning microbreweries, small-batch distilleries, classic cocktails lounges and a semi-secret bar that requires a password. There isn't an ounce of restraint in this town. With all the emphasis on excess, the caffeine culture is thankfully robust and the perfect panacea. One sip of hometown favorite Colectivo's Morning Roast and you'll be ready to start the day with a smile, no matter how much you had to drink the night before.
The Breweries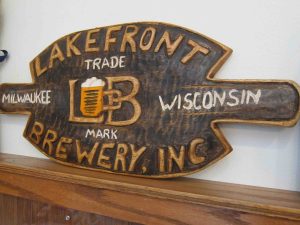 I toured several breweries during my visit, but my favorite was Lakefront Brewery. The tour is all about fun, and my hilarious tour guide Josh (he refers to himself as a Brewery Navigation Specialist) was witty enough to host his own late night talk show. The beer geek Klisch brothers founded Lakefront 20 years ago, and their beers have been garnering awards ever since. The tour costs $7 and includes four six-ounce pours, a souvenir pint glass and a coupon for a pint that can be redeemed at several other establishments in town. Consider trying the 100% organic British-style Extra Special Bitter or the Wisconsinite, made with only in-state ingredients. If you are gluten-free, New Grist is brewed without wheat. Time your visit for a Friday night and indulge in the traditional fish fry. Lots of restaurants in Milwaukee adhere to the long-standing fish on Friday ritual, but none with as much spirit as Lakefront. Be prepared to partake in (or at least witness) some high-energy polka dancing.
Sprecher Brewery was founded in 1985 and the Sprecher family has been making beer with gravitas since the beginning. Their craft beers are top-rated, but many come here for the root beer, called the best in America by the New York Times. If you're traveling with kids, this is an excellent tour for the entire family. The tour costs $5 for adults, $3 for minors. After you watch the brewing and bottling process, kids can sample 10 gourmet sodas in the Munich-style beer garden. Even if you're of legal drinking age, one sip of Sprecher's soda will have you understanding its cult-like following.
If you want to see how the big boys play, head over to the enormous MillerCoors facility. The hour-long free tour will walk you through the historic underground caves where the beer once cooled, on to the modern, high-speed production line where the beer is cranked out. If you are a child of 70's television, you may remember that the sitcom Laverne & Shirley was set in Milwaukee. The lead characters worked in a fictitious brewery, but you may feel a distinct sense of déjà vu as you walk through.
Great Lakes Distillery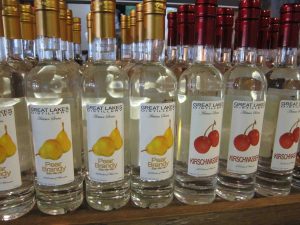 This is Wisconsin's first post-Prohibition distillery. Founder Guy Rehorst is devoted to producing small batch spirits using age-old methods to create a taste that champions authentic flavors. Tour the distillery and sample away for $7. I was impressed by both varieties of Absinthe. The green is heady with fennel and anise. The red has a hint of hibiscus for color and flavor. Those in search of local foods should try the Rehorst Citrus and Honey Vodka, flavored with 100% Wisconsin honey purchased from artisan beekeepers.
The Bars
Bryants' has been in business since 1938, making it Milwaukee's oldest cocktail lounge. It offers such an authentic setting that you wouldn't be surprised if Don Draper dropped in for a nightcap. The vintage atmosphere is full of dim lighting and velvet swank. There are some 400 expertly prepared specialty drinks, but you won't find an official menu. If you're not sure what you're in the mood for, the bartender will engage you in a Socratic dialogue to match the right drink with your particular mood. After I told the bartender that my go-to drink was a Dark and Stormy, but that I had a penchant for Pimms, he served me a Love and Happiness. This gin-based libation was garnished with cucumbers and lime, which hit the spot on a summer's night.
Safe House is a spy-themed bar and restaurant that requires a password to enter. If you don't know it, you will probably be asked to do something slightly humiliating to gain entrance. There is no sign, so the location is supposed to be something of a secret, though everyone knows exactly where it is on Front Street. Kids should get a big kick out of the many secret agent references, so it's a great place to drink and dine en famille. The wine list is quite comprehensive, satisfying all types of oenophiles.
The Coffee
If booze is your muse, you will clearly find a visit to Milwaukee captivating. But for some us, coffee is just as compelling. Thankfully, coffee culture is booming in Milwaukee. Colectivo has a dozen outposts in town, and I visited the flagship branch, Colectivo at the Lake. Architecture buffs will note that it is located in a re-purposed 1888 building that was once the Milwaukee River Flushing Station. In summer, they host a popular free outdoor music series, so it is a true community centerpiece. Colectivo is committed to sustainable practices while never compromising taste. Try the addictive Donut Shop Blend if you like a medium roast or the eye-opening Barista Blend for something darker and more intense. They offer single farm coffees and a mouth-watering selection of freshly baked goods to go with your beverage.
For more information on beverage-centric options in Milwaukee, go to visitmilwaukee.org.