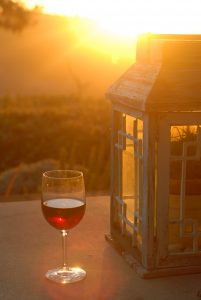 Nestled among groves of pines and redwoods along the rugged northern California coast, one finds the Brewery Gulch Inn, a remarkable hotel with an equally remarkable story. On multiple occasions, it has been voted one of the top hotels in both the US and in the world by Travel & Leisure Magazine as well as by Conde Naste.
It is situated off California's Highway 1, just south of the town of Mendocino, where the clear waters of the Pacific Ocean lap rhythmically onto the rugged beach at Smuggler's Cove. The building itself has a unique history, unlikely to be matched by any other hotel. But it is not just the fantastic story, nor the beautiful location, that draws guests to stay at the Brewery Gulch Inn.
Numerous other hotels and B&Bs are located in the area. Yet patrons tend to fall in love with the Brewery Gulch Inn and find themselves coming back over and over again. I sit down with the owner, Guy Pacurar, and his executive chef, Victor Aguire, to learn more about what makes this hotel so beloved.
The secret to Brewery Gulch's success 
"Without question, it's the food. For an establishment of our size, it's not easy to compete with the bigger hotels. So we differentiate ourselves with the cuisine," says Guy. "We try to be locally-sourced and organic wherever possible.." That is not a simple goal. Suppliers have to be reliable and provide top quality ingredients. "Everything is personally checked by Victor or myself."
Guy also has high praises for his head chef. "Victor is the one constant that you wouldn't want to change here. We're known for our food. With Victor, it's always outstanding, approachable food with great flavors."
Perfect every time
When Victor joins us, he immediately points to a bowl of vegetables artfully placed as décor nearby. "What do you think of the squash?" he asks with a touch of pride and his effervescent smile that lights up the room. "We grow these ourselves in our gardens."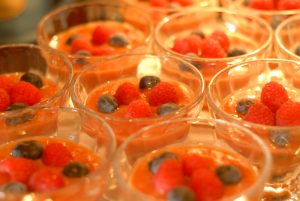 Victor's affable personality is not what I had anticipated. But don't let his amicable nature fool you – he is intensely passionate about his role as executive chef. "I work with local growers and farms to source as much as we can locally. During the season, the Inn maintains a Heritage Garden in the nearby Anderson Valley where we grow more than 30 varieties of heirloom tomatoes. It's a great community here. Sometimes, neighbors share their excess harvest with us also."
This creates a unique and special culinary experience. Dairy is purchased from the renowned Clover Dairy in Petaluma. Wines come from Anderson Valley. Even seafood is sourced fresh daily from the local waters. For this, Brewery Gulch Inn relies exclusively on purveyors out of Noyo Harbor, including Princess Seafood, a local female-owned supplier that is also operated by a 100% female staff.
Victor dabbles across a broad spectrum of flavor profiles. His recipes can range from subtle and delicate to aromatic and fruity. "You have to be perfect every time. Sourcing is critical but so is the cooking. To get the right flavor, you have to know when the food is just perfect. It's a rare skill," says Victor. Guy chuckles, "Everyone is a critic all of the time. Everyone writes reviews online nowadays. It's like no other job." He reflects a moment, then adds, "We're really fortunate with Victor."
Catering to all dietary needs
Another way Brewery Gulch Inn distinguishes itself is by catering to all dietary restrictions or requirements. While restaurants may also take this into account, few take it as seriously as Guy and Victor. "We are a highly allergen-sensitive kitchen. We really do cater to everyone's needs," states Victor. Recently, for example, Brewery Gulch Inn served a total of 20 meals for breakfast. 10 were planned standard meals and the other 10 were unique, custom-cooked for each person's particular dietary requirements. "It's very effort-intensive and our greatest challenge, but we do it because we feel it is that important."
The clientele loves Brewery Gulch Inn for it. And they also love Victor for it. Guy shares that guests quickly connect with Victor and frequently ask about him on their return stay. When his family home in Mexico was destroyed by the large Puebla earthquake of 2017, Brewery Gulch Inn guests and regulars even came together in a GoFundMe campaign to help him rebuild.
The story of the building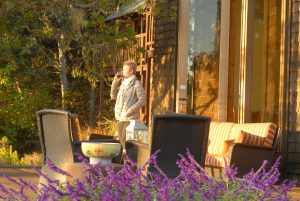 But Brewery Gulch Inn is about more than just fantastic food and great location. The building itself is truly one of a kind. It was built in 2001 out of eco-salvaged redwood felled more than a century ago. Logs resting perfectly preserved by the sediment and cold water of nearby Big River were raised, milled and used exclusively in the Inn's construction by its former owner.
Our stay
Our stay at Brewery Gulch Inn was marvelous. We were greeted with champagne in our room, which was also stocked with an eye for detail I have rarely encountered in a hotel. Everything is placed by design to help guests relax and recover – from a fireplace overlooking the ocean to an oversized tub to exquisite bed linens and an extremely comfortable mattress, and much more. High-end personal care products and toiletries complete the wonderful experience.
Downstairs, local wines were generously poured at the reception for all guests (Guy also has his own winery in nearby Anderson Valley). We watched the sunset from the veranda, wine in hand, enveloped by the cool but comfortable Mendocino weather and the fresh ocean breeze. Wild turkeys trotting through the grounds were our only companions. At night, it was absolute silence other than the waves below. The Milky Way shone bright overhead and a shooting star greeted us for a magical instant.
I understand why, despite the alternative properties in the region, people choose to return to the Brewery Gulch Inn over and over. I am already envisioning a return trip. For more details and to reserve a memorable stay, visit: www.brewerygulchinn.com