"Blessed are the curious, for they shall have adventure."
When I last left you on my week-long adventure trip to Quebec's Saguenay-Lac St. Jean region, I had just finished two days of aerial challenges: an exhausting a treetop obstacle course, followed by an even more obscene climb along the 250-meter high Via Ferrata. What was next on the agenda around Saguenay fjord, I wondered?
Sea kayaking in the fjord
Turns out, that next stop is in the middle of the fjord. On a tiny kayak. In the blasting wind and cold waves. What a fantastic experience! Of all the wonderful adventures we would encounter that week, I still think the kayaking trip out into the fjord was my favorite. The sheer, overwhelming scale of the fjord, coupled with breathtaking views, was an experience I will cherish for many years to come. Our sea guide is Mathieu, founder of OrganisAction, a local group that marries adventure travel with conservation. "I've been doing this for years. And I never get tired of it," he grins. I can definitely see why. We start out on the fjord edge, where the water is barely knee deep for a little while before it rapidly plunges to fantastic depths. Mathieu takes us right to the edge of the cliffs that line the fjord, a sheer wall that towers some 30 to 70 meters above our heads. If that isn't impressive enough, he reminds us that those very cliffs descend another 150 meters directly below at a 90-degree angle. Insane!
As we paddle our way to the center of the fjord, the waves and the wind pick up. We are blasted with white caps from the water and our puny kayaks are tossed back and forth among the waves as we furiously fight wind and current. In the dead center of the water, Mathieu stops paddling as he turns to us with a winning grin, "How do you like my office, Abdul?" Shit, I like it a hell of a lot more than I like mine! We are floating in the middle of a massive fjord, huge cliffs to port and starboard. Looking down the bow, I truly come to appreciate the magnificent length of the fjord. Mathieu reminds me that we're only able to see a fraction of it. It goes on for many, many kilometers in both directions. I shall never forget the feeling of awe that I felt at that moment!
Blessed are the curious…
…for they shall have adventure. And what a fantastic trip it has been. The Saguenay Lac-St. Jean region has been far more interesting than I expected. The adventure trip continued with far too many activities to recite here. Highlights included biking to the top of the Saguenay cliffs, drinking microbrews infused with local flora, whale watching and fly fishing. Goodness knows, there's is so much more to see and explore here. I must make my way back to Saguenay sometime soon. And I'll definitely bring the family next time.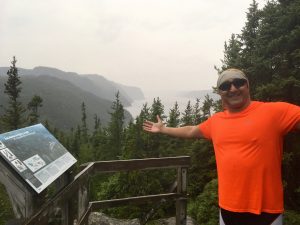 Special thanks to the following organizations for helping to make this a wonderful trip:
Parc Aventures Cap Jaseux is an adventure camp on the north side of the Saguenay fjord, an easy 30-minute drive from Saguenay.
Village Vacances is a family camp on a cliff overlooking the Saguenay fjord, offering nature and family-centered activities for all ages.
 OrganisAction organizes sea kayaking tours, including half-day as well as multi-day camping trips. It also offers daily whale watching tours in the fjord and the St. Lawrence River.
Contact Nature Riviere-a-Mars is a non-profit organization tasked with managing local salmon fishing. It also hosts a year-round recreational site deep in the woods that offers hiking, snowshoeing, canoeing and cross-country ski. A favorite local activity is to visit its black bear observation platform in summer.
Equinox Aventure is a cycling and kayak trip organizer specializing on the Fjord du Saguenay.