American football continues to be the most regularly watch sport in the United States of America. It has a cult-like following all over the country, and people not just revere the football legends, they hold their football stadiums also in high esteem, especially the ones that have witnessed some of the most memorable moments in the history of the game.
Let's tell you about few such American football stadiums that you must definitely watch a game in, at least once in your lifetime.
MetLife Stadium
With a seating capacity of 82,500 people and being the home stadium of New York Giants and New York Jets, MetLife Stadium was opened in 2010, and is situated in East Rutherford, New Jersey. It's easily the biggest NFL stadium in all of the United States and houses 4 luxury club sections, with 10,000 seats in total. Apart from the American football games, it also regularly hosts other major events such as the Wrestlemania, CONCACAF Gold Cup soccer matches and Copa America Centenario.
Soldier Field
The home stadium of Chicago Bears, Soldier Field has a seating capacity of 61,500 people, and is situated in Museum Campus Drive, in Chicago, Illinois. While it's not as big as the MetLife Stadium, it definitely has an old world charm to it that is unbeatable. This is the same venue where the recently concluded CONCACAF Gold Cup Finals were held between USA and Mexico recently. A great multitude of people who love betting on soccer had actively backed USA to win the title, but finally Mexico took the championship with a 1-0 score line.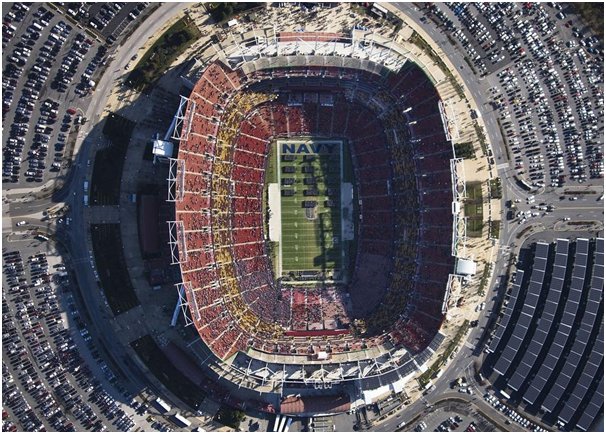 FedEx Field
Situated in Landover, Maryland, FedEx Field has a current seating capacity of 82,000 people, and is the home stadium of Washington Redskins. It was opened in September, 1997, and is just 500 seats shy of becoming the biggest NFL stadium in the US, along with MetLife. While, currently there are only 82,000 seats here, at one point of time there were 91,000 actually. They had to deliberately reduce the seating capacity as the attendance at the stadium has declined over the years.
Lambeau Field
The home stadium of Green Bay Packers, Lambeau Field has a seating capacity of 81,441 people, and is situated in Green Bay Wisconsin. We all know Green Bay Packers fans are some of the most fiercely loyal fans in the NFL, and each one of these seats goes in the price range of $ 100 to $ 400 during the regular NFL season.
The stadium was opened a long time ago in September, 1957 and its 376,000 ft² Atrium, situated on its east side, is one of its main attractions. It is a five stories high building that offers various types of entertainment, retail and dining facilities. While Lambeau Field isn't the oldest stadium in the NFL, it nevertheless holds the longest continuous occupancy record in the NFL history.