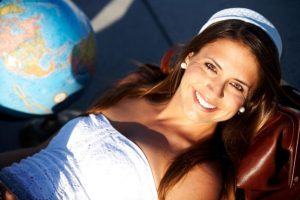 We first saw Ashley speak in Los Angeles where she was on a panel of travel influencers discussing current trends in travel. She is a prolific traveler who has turned her passion for travel and adventure into a career. Recently we had a chance to interview her about her travels, TV shows, and adventures.

Q. Briefly tell us about your background and what first attracted you to traveling?
I come from a family of travelers. My grandparents have seen the entire world and growing up my family took family vacations across the United States. In high school we even did a Europe trip to Germany, Switzerland, Italy and Austria. I'm lucky to still be connected with all my relatives in Europe, so we visit back and forth frequently. I guess my real travel "itch" started when I studied abroad in Spain. It was so easy to hop on a train or plane and explore new destinations on the weekends.
This motivated me to incorporate travel into a career. I liked the spontaneity of sometimes arriving to a city and searching for a hostel with my friends and then exploring at our own pace. Once I was hired as a producer and host at a television network, I knew I wanted to travel, so that's when my real career began!

Q. What is "Takeoff with Ashley Colburn" and what impact has this show had on your life?
"Takeoff with Ashley Colburn" is an international travel show featuring the lifestyle, culture, cuisine and landmarks in some of the world's most exotic locations! Many people also watch the show and feel like they can take a similar trip, which is my favorite part of the show. It is very real, no hiding expressions, precautions, likes or dislikes. One of my favorite things about traveling is deeply exploring the culture. I like wearing the traditional outfits, learning the dances and being immersed into the families of the locals. I definitely think filming this show around the world made me much more open-minded. Little things going wrong don't bother me anymore; I look at every day as an adventure and know that with traveling everything isn't supposed to go perfectly. Filming the series has also made my life extremely eventful and you better believe it that if you ever go to dinner with me, I will have one story after the other.

Q. What is the focus of Ashley Colburn Productions?
The focus of Ashley Colburn Productions is "Finding the wonder in the world. Wonderful people. Wonderful Cultures. Wonderful history." After visiting more than 20 countries filming TAKEOFF, I decided I wanted to start my own production company and do more in-depth programming on the countries I grew to love. Mainly I didn't want people to just be inspired to travel, rather discover the reasons it is so fulfilling, to the point where they would watch my shows and feel like they did get to do some traveling. I have also started to do public speaking gigs about my travels, favorite destinations, safety abroad and of course providing a different perspective to travel- a young girl on her own! I also created a website where you can find out what I saw in every country and follow all of my adventures! I hope to continue to provide international programming to my viewers worldwide, taking them on the road less traveled as these destinations are my favorite! It is a big world out there and the opportunities are endless.

Q. I've noticed you have spent some time in Croatia and filmed a documentary called "WOW Croatia". What attracts you to this Mediterranean country and what have been some of the highlights of your visits here?
The first international travel show that I ever produced was "WOW Croatia" which later won an Emmy here in the states and the Golden Pen Journalism Award in Croatia. I was first drawn to Croatia because my brother showed me pictures of his travels through Europe and when I saw an image of Plitvice Lakes National Park, I told myself that the next time I traveled I would go to Croatia. So when I decided to do a travel show you better believe it that I went to see the magnificent lakes! Croatia was something special for me, and after traveling the world and returning to Croatia a few times, I knew there were many more stories to tell about this unique country that Americans did not know about. When I started my production company, my first project was an entire series about the country, "Wonders of Croatia." I filmed 7, one-hour episodes in 7 different regions that will air worldwide! The thing that attracts me the most to Croatia is that it is so unspoiled and has every landscape you can imagine! I get a special feeling when I am there- the people are great, sea is perfect, islands are breathtaking and the way of life there is one that I wouldn't mind living forever!

Q. Any advice for those looking to get into film – travel in particular?
I think that taking video everywhere you go is sometimes much more beneficial than writing about a destination. I also think that with the way things are going with the web, people want to see video and expect to see video, so why not take it if you are an active traveler? People like to relate to others and feel like they can also climb Mt. Kilimanjaro, skydive in Switzerland or bungee jump in Macau- video is very convincing! I was told that I had to start out in news and I did. I will say that my news background trained me to write, work fast and objectively and most of all how to find the story.

Q. What is an ideal trip for you?
My ideal trip is full of lots of adventure. When we film we have crazy schedules, but I also love it because I feel like I'm taking advantage of every minute I am there! So even when I am not filming I still make a pretty packed schedule! My ideal trip is to travel to a destination with lots of physical activity; I am not a big fan of museums. I love to be in the country, sailing or taking boat rides, drinking lots of coffee and wine and eating nice dinners out! I am also a big fan of sunsets and feel they complete every perfect day! Favorite destinations so far are Croatia, New Zealand, Peru, Thailand and the Seychelles. However, in a few days I leave for South Africa, which is on the top on my list to visit so perhaps this could all change!

Q. You obviously have the entrepreneurial spirit – during your career, how did you go beyond the "safety net" and overcome your fear of actually following out your passions? I.e., there are a lot of reasons for people never to go beyond their comfort zone and as a result I think passions are often rejected in favor of what might be perceived as stability.
A lot of people ask me this question and you know, sometimes I think taking risks is the best thing you can do in your life. I won't say that things have always come easy or there haven't been speed bumps, but at the end of the day I LOVE what I do, so I am fulfilled in some way every night I go to sleep. Being an entrepreneur always involves "hustling," especially in the television business, but I've always felt like I had enough experience and faith to give it a shot. I also believe that every single thing I have been involved in since I was a little girl has helped me become who I am as well as having very encouraging friends and family. Some people may find it silly for me to say this, but no one ever handed me this job- I made it happen. If you believe in yourself and tell yourself you can do it- it will do miracles. Life's too short to sit in a cubicle!

Q. It sounds like you have had a hectic travel schedule over the past few years – visiting 25 countries during your filming and doing everything from fishing for Piranha in South America to jumping off one of the highest bungy jumps in the world in Macau. What are some of your most memorable adventure experiences that you can share with our readers from your time on the road?
Like I said before, I am never short on stories and if you keep asking questions the dinner could last for 5 hours. Ha. One time I wish a camera was on me when my rental car showed up to my hotel in Croatia when I first started filming "Wonders of Croatia" and it was stick shift. I didn't have a clue how to drive it and needed to go 300 km to the island of Krk. I missed my first turn off and started panicking because I knew I didn't know how to get up the hill. I pulled over and started waving people down to ask if I had to go up a hill. Luckily I was assured I was clear of all hills! Somehow I got to my destination, parked the car in the middle of the road and told the bellhop that I didn't know how to drive it and didn't want to see the car for a week. In Peru all in one day I swam with piranhas, slipped into some quick sand and got stranded on the Amazon for hours…
In Sri Lanka I was on an elephant safari and we got chased by an elephant- that was pretty crazy! Also, in Peru I will never forget a moment I was sitting on a rock at Machu Picchu and I didn't see another person on the site! The feeling was indescribable and the site itself is worth putting on your bucket list! I will say that most memorable experiences though always have to do with the people that I have met during my travels. I love making friends and whether that is the person sitting next to me on the flight or the local guide or driver, I feel like I have contacts worldwide now.

Q. Can you describe a typical day for you when you are filming? Or is there no typical day?
I can assure you that every day is different and they all seem to bring their challenges with them, but they are always very rewarding and fun! Unfortunately I can never order perfect weather or no traffic jams, so my cell phone bill is typically quite large when I return from making calls that we are running late. Funny thing is I am typically a very prompt person! I usually wake up and have breakfast with the cameramen and we discuss the day and drink lots of coffee since we never have time to adjust to the time change. We start early and end late, but some days consist of staying in one city while others involve driving 3-4 hours to a new destination. No matter what, we always pack a bag with extra clothes or different shoes because you never know what you might stumble across. I usually always have a bathing suit packed just in case! The best part of my job is in a way I am still discovering new things to do even though I have the itineraries planned. For instance, if I drive by and see camels on the road, you better believe it that I am going to stop and ask if I can ride one! Filming the shows is the easy part for me because it is so much fun and I just get to be myself! Planning the trips and the post-production is also fun for me, but does involve sitting at a desk, writing, editing and voicing the shows! A lot of people think I am just in front of the camera traveling the world, but I actually plan every little thing!

Q. Airports can be the bane of any traveler…or not. Any favorite airports and why are they favorites?
You know flying is actually one of my favorite things to do! For up to 18 hours I get to watch movies that I have never seen and not be distracted by email and calls. I like to wear my fuzzy socks, I always have my neck pillow, a good book and enjoy a nice glass of wine. I definitely have a system and being in a good airport can influence this even more! I love Madrid's airport because there are lots of bathrooms, lots of places to eat and even a mall to explore during long layovers. I absolutely hate airports where you have to walk miles to your gate (Heathrow), but as long as I don't have to search for a bathroom and I can have some coffee- I'm good to go!

Q. Since you call San Diego "home" what appeals to you about living in this city (besides the weather!) and are there any recommendations you can make for first time visitors to the area?
San Diego is seriously the best place to come home too and I believe it is America's finest city! I love it because we have an international airport; a beautiful downtown, hip beach cities and we still are not far from Los Angeles! I was born and raised in San Diego and having my family here is also a big plus, but I love running on the beach, dining in the gaslamp, kayaking in La Jolla cove and taking day trips to Coronado Island! If you come during the horse racing season, you must go to the Del Mar Fairgrounds for Opening Day! During the summertime we also have one of the best Fairs in the U.S.A!
BIOGRAPHY
Ashley Colburn is a California native that calls San Diego home when she is not jet setting around the world. Coming from a family of travelers, her desire to travel started at an early age and began in earnest when she studied for a semester in Spain. Ashley navigated the country by train, bus, and plane while she learned the language and also found time for trips to Switzerland, Italy, Germany and Britain.
After graduating from Colorado State University with a major in technical journalism and minor in Spanish, Ashley began her career as a host, producer, and writer for Wealth TV in 2009. She produced her first travel show" WOW Croatia!" which was awarded Croatia's Golden Pen award (Best U.S. media) and won an Emmy in 2010. Following her success with the Croatia show, Ashley created "TAKEOFF with Ashley Colburn" a travel series that premiered in 2010 on WealthTV and took her to over 25 countries on 6 continents over 2 seasons.
Ashley enjoyed her work throughout college at her campus television station where she was a producer, weather girl, anchor and creator of a half hour series about traveling in Colorado, called "Inside Colorado, College Style." During her college years, she interned at ABC in Los Angeles, was an editor for the San Diego County Fair newsletter for 2 summers, and hosted "Ecofishing Adventures" on the Outdoor Channel, The Sportsman Channel and FOX Sports West.
Ashley enjoys sharing her stories and has spoken for journalism classes at Oregon State University and Colorado State University and currently blogs for " Off the Beaten Track," a shoe sponsor that has allowed Ashley to leave her footprint all across the map.
Currently Ashley has started her own production company, Ashley Colburn Productions, with the aim of "Finding the Wonder in the World. Wonderful People. Wonderful Cultures. Wonderful History." September through December 2011, ACP was in Croatia filming " Wonders of Croatia" a 7 part travel series that covers the main tourist regions of the country. This television series produced and hosted by Ashley Colburn will be marketed worldwide and available to view in 2012.