Nestled at the crossroads of the Red and Assiniboine rivers, Winnipeg, Canada, is a city that delights visitors with its rich history, vibrant arts scene, and welcoming community spirit. Known as the "Gateway to the West," Winnipeg offers a diverse array of activities that cater to every interest and taste. From exploring cultural landmarks to indulging in mouthwatering cuisine, this captivating city promises an unforgettable experience. In this article, we will delve into five great things to do in Winnipeg, which will leave you with lasting memories of this marvelous Canadian gem.
Discover the Historic Forks
The Forks is the heart and soul of Winnipeg, encapsulating the city's history, culture, and entertainment in a charming riverside setting. This historic site has been a meeting place for over 6,000 years, first inhabited by Indigenous peoples and later serving as a pivotal point for early European settlers and fur traders. Today, The Forks boasts a harmonious blend of old and new, offering something for everyone.
Visitors can embark on a journey through time at the Manitoba Museum, which showcases the province's natural and human history, and at the nearby Canadian Museum for Human Rights, an architecturally stunning institution that educates visitors on human rights issues.
Aside from its cultural attractions, The Forks Market is a foodie's paradise, featuring a tantalizing array of culinary delights from around the world. Afterward, take a leisurely stroll along the scenic riverwalk, rent a bike, or enjoy a serene riverboat cruise, taking in the picturesque views that surround you.
Immerse Yourself in Arts and Culture
Winnipeg's cultural scene is alive and thriving, with an abundance of galleries, theaters, and festivals celebrating the city's artistic spirit. The Exchange District, a National Historic Site, is a must-visit neighborhood for art enthusiasts, boasting the highest concentration of heritage buildings in North America. Wander through its cobblestone streets and explore art galleries, boutique shops, and unique eateries.
For performing arts lovers, the Royal Manitoba Theatre Centre and the Manitoba Opera deliver exceptional productions year-round. Music aficionados will find themselves drawn to the Winnipeg Symphony Orchestra, renowned for its diverse repertoire and world-class performances.
Don't miss the Winnipeg Fringe Theatre Festival, one of the largest and most celebrated festivals of its kind in North America. This annual event showcases over 170 independent theater companies, featuring a plethora of shows, from comedy to drama and everything in between.
Embrace Nature at Assiniboine Park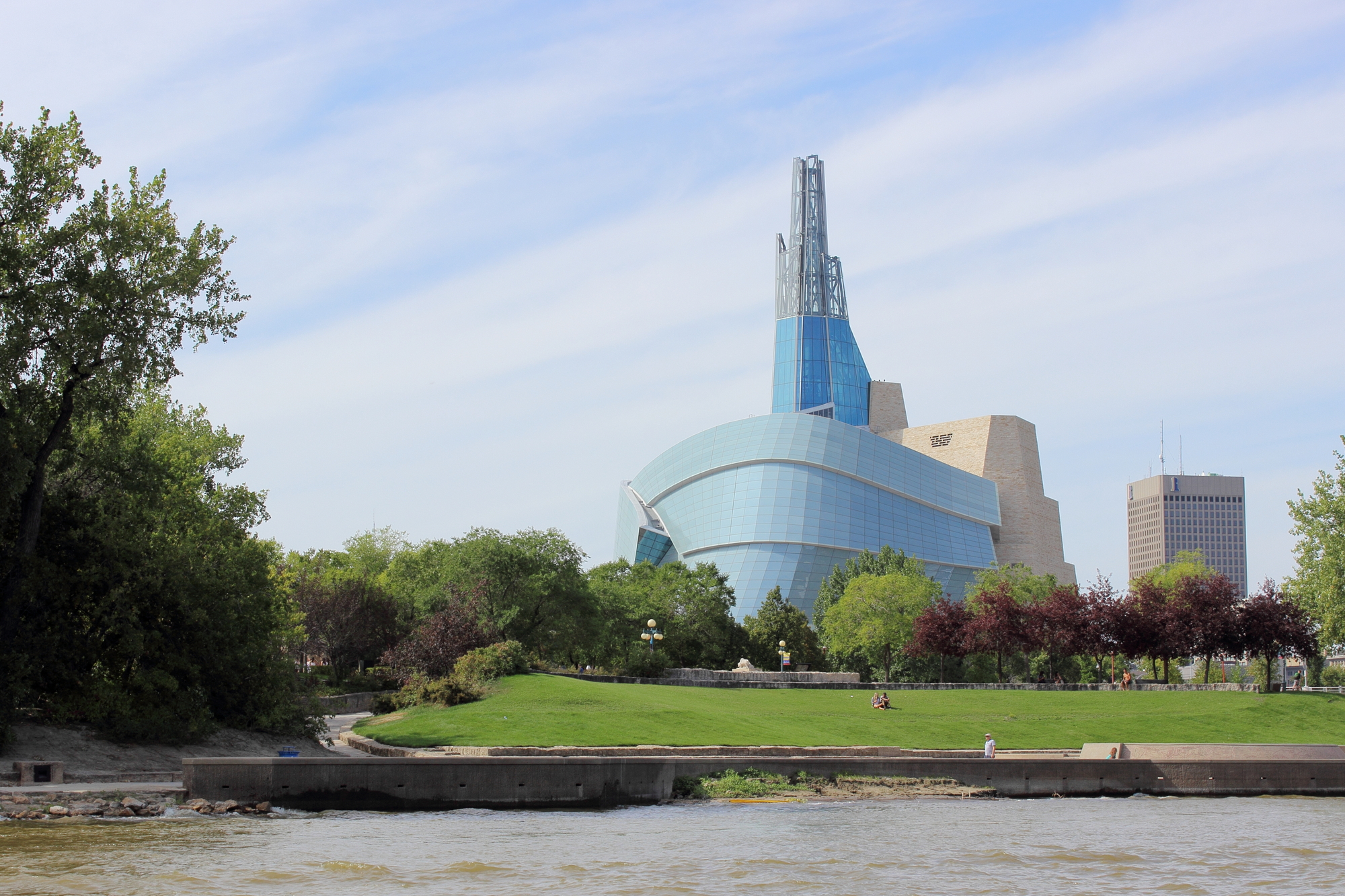 Escape the urban bustle and reconnect with nature at Assiniboine Park, a 1,100-acre green oasis in the heart of Winnipeg. Boasting beautiful gardens, serene walking paths, and open spaces, the park offers a breath of fresh air for locals and visitors alike.
One of the park's highlights is the Assiniboine Park Zoo, home to over 200 animal species from around the globe. The Journey to Churchill exhibit, in particular, offers a remarkable opportunity to witness polar bears in a captivating and immersive environment.
In addition to the zoo, Assiniboine Park features the Leo Mol Sculpture Garden, displaying the exquisite works of renowned sculptor Leo Mol amidst lush floral displays. During the summer, the park comes alive with music and festivities as it hosts outdoor concerts and cultural events.
Celebrate Winnipeg's Festivals
Winnipeg embraces its multicultural roots through an array of vibrant festivals that captivate locals and visitors alike. The Winnipeg Folk Festival, held annually in July, draws music enthusiasts from across the nation to experience a wide range of folk and contemporary music performances in a beautiful outdoor setting.
If you visit in winter, the Festival du Voyageur will enchant you with its celebration of French-Canadian culture and heritage. This lively festival features snow sculptures, traditional cuisine, and captivating music and dance performances.
For those passionate about film, the Winnipeg International Film Festival (WIFF) showcases a diverse selection of cinematic works from both Canadian and international filmmakers. WIFF presents an opportunity to explore new perspectives and immerse oneself in the art of storytelling through film.
Delight in Culinary Adventures
Winnipeg's food scene is a fusion of cultural diversity and culinary creativity, offering a palate-pleasing array of dishes. From exquisite fine dining establishments to humble eateries, there is something to satisfy every taste bud.
To get a taste of the city's multicultural flavors, head to The Village, a neighborhood brimming with authentic restaurants serving dishes from around the world. Try delectable pierogies at a Ukrainian eatery, indulge in mouthwatering Ethiopian cuisine, or savor flavorful Vietnamese pho.
Don't miss out on trying Winnipeg's signature dish, the "Social," a traditional Manitoba meal featuring tantalizing perogies, farmer sausage, and creamy coleslaw. Many restaurants in the city offer their unique spin on this delightful dish.
Fancy yourself more of a chef? Winnipeg boasts a slew of fantastic farmer's markets throughout the city that all feature fresh, local ingredients to help you bring the tastes of the city back home!
Unearth History at the Manitoba Museum
Continuing our journey through Winnipeg's cultural heritage, the Manitoba Museum warrants special attention for its immersive exhibits and interactive displays. Located in the heart of the city, the museum offers a captivating exploration of Manitoba's natural and human history, taking visitors on a captivating journey through time.
The museum's galleries provide insights into the region's geological past, with displays of ancient fossils and minerals that showcase the province's prehistoric evolution. Step back in time at the "Nonsuch" gallery, where a full-sized replica of the Hudson's Bay Company ship allows visitors to relive the historic fur trade era.
The Indigenous Galleries offer an opportunity to learn about the traditions, art, and contemporary issues of Manitoba's First Nations, Métis, and Inuit communities. The museum's innovative "Alloway Hall" boasts a colossal Winnipeg City Model, which provides a mesmerizing, bird's-eye view of the city's ever-changing landscape.
Shop and Savor at the Corydon Avenue District
For an enticing blend of shopping, dining, and entertainment, look no further than the Corydon Avenue District. Located in the heart of Winnipeg's Little Italy, this charming neighborhood exudes a warm and inviting atmosphere that draws both locals and visitors alike.
Explore a delightful assortment of specialty shops, boutiques, and galleries, where you can find unique souvenirs, fashion items, and locally-made treasures. As you stroll along Corydon Avenue, indulge in delectable culinary delights from various ethnic cuisines, including Italian, Greek, Japanese, and more.
For dessert enthusiasts, a visit to the iconic Bridge Drive-In (BDI) is a must. This nostalgic ice cream stand serves up delicious soft-serve ice cream, earning its reputation as a beloved Winnipeg institution.
Cheer on the Winnipeg Jets at Bell MTS Place
Sports enthusiasts visiting Winnipeg during the NHL season have an incredible opportunity to experience the electric atmosphere of a Winnipeg Jets hockey game at the Bell MTS Place. Home to the Jets, this state-of-the-art arena offers an unforgettable experience for hockey fans and non-sports enthusiasts alike.
The passionate fan base, known as the "Whiteout," dresses in white to create a sea of unity and enthusiasm during playoff games. Even if you're not a hockey fan, attending a Jets game will immerse you in Winnipeg's spirited community and showcase the city's strong sports culture.
Explore Nature at FortWhyte Alive
Escape the urban hustle and embrace the serene beauty of FortWhyte Alive, an environmental and educational center dedicated to preserving and celebrating Manitoba's natural landscapes. Located just a short drive from downtown Winnipeg, this 640-acre oasis offers a plethora of outdoor activities and experiences.
Hike along picturesque nature trails, where you might spot various wildlife, including bison, deer, and migratory birds. In the winter, the center transforms into a winter wonderland, perfect for cross-country skiing and snowshoeing adventures.
The Interpretive Centre provides hands-on exhibits that focus on sustainable living practices and the importance of environmental conservation. Visitors of all ages can participate in interactive programs, such as guided wildlife tours, canoeing, and bird-watching excursions.
Engage with Art at the Winnipeg Art Gallery
Art enthusiasts will find their haven at the Winnipeg Art Gallery (WAG), an institution that houses an impressive collection of Canadian and international art. Located in the heart of downtown Winnipeg, WAG is renowned for its diverse and captivating exhibitions.
The gallery's collection spans over 26,000 works of art, including pieces from the Group of Seven, Indigenous art, contemporary art, and decorative arts. The Inuit Art Centre, an innovative addition to the WAG, offers a profound exploration of Inuit culture and artistic expression.
Beyond its permanent collections, WAG hosts numerous temporary exhibits, ensuring there is always something new and exciting to discover. Be sure to check the gallery's calendar for special events, workshops, and art-related programs that engage visitors in creative and thought-provoking ways.
Conclusion
Winnipeg, Canada, is a city that effortlessly weaves together history, culture, and nature, offering an unforgettable experience for all who visit. From exploring The Forks, a hub of culture and cuisine, to immersing yourself in arts and festivals that celebrate diversity, Winnipeg's allure is undeniable. Whether you seek outdoor adventures, artistic delights, or culinary indulgence, this Canadian gem will leave you with cherished memories and a longing to return. So, pack your bags and embark on a journey to Winnipeg, a city that awaits with open arms and an abundance of great things to do.