The sky was clear blue. It was another beautiful and warm day, like how most days are here in Southern California. The road ahead finally opened up.
After about an hour of driving through congested Los Angeles traffic, it was a relief to enter the stretch of the 101 Ventura freeway where it looked like a deserted highway. Taking a road trip on a Monday when most people start their work week certainly has its advantages.
I arrived at my destination, The Oaks at Ojai. The last hour of driving through Ventura County was peaceful and relaxing. Empty roads do that for me. It helped set the perfect mood for my little getaway because The Oaks is just the place to visit for some peace and relaxation.

Nestled in the majestic Ojai Valley in Southern California, The Oaks is an all-inclusive health and fitness destination spa that offers everything from guided hikes to water aerobics and restorative yoga classes. I stayed for two nights but many of the guests I met were staying for at least five nights to a whole week. The activities and meals are designed to help promote weight loss and fitness so a longer stay allows for more time to learn about healthy living.
As a Southern California native, I can't believe how this was just my first time visiting Ojai; it is the perfect small town getaway. Just 90 minutes north of Los Angeles, Ojai is surrounded by pristine mountains and acres upon acres of citrus groves. In fact, if visiting in the early spring time, the air is filled with the fragrance of blossoming orange and tangerine trees. What makes Ojai even more unique is that it is a town known for being franchise-free and pedestrian-friendly.
The Oaks is located right in the middle of the town's main street, with a movie theater, library, park, galleries, museums, local shops and restaurants all within a few blocks walking distance. As I walked through the main entrance of the spa, I noticed a few charming mosaic art pieces displayed to the side of the building. I later learned from Elizabeth Horton, the Guest Relations Director, that the city of Ojai has an ordinance that requires all new developments to include public art display. It certainly is a great way to embrace and encourage the spirit of the art community.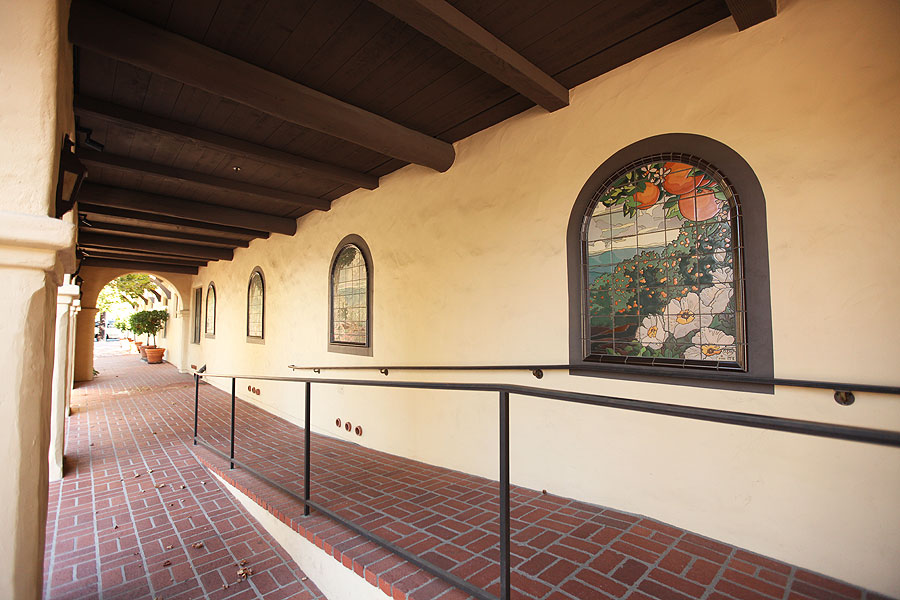 The Oaks was once a charming 1920's hotel before it was converted into the health spa it is today. Having gone through recent renovations, there's a mix of old, rustic charm and new upgrade in the ambiance of the property. After admiring the outside mosaic pieces, I walked into a warm and inviting lobby area, where there were also a few artworks displayed on the walls. It was also bustling with excited chatter as some guests gathered by the front desk to decide what activities to sign up for during their stay. Yoga, belly dancing, qigong, hiking, kayaking, water aerobics — those were just a few things I overheard them talking about. At check-in, I made my special request for a vegetarian meal for the rest of my stay and immediately scheduled a massage appointment for the evening.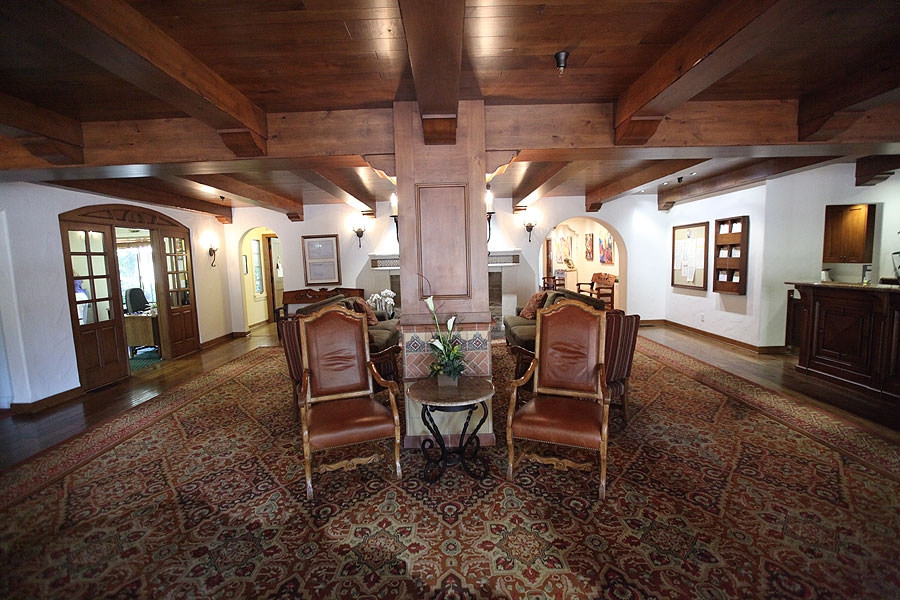 After getting the key, I dropped off my bags in my room and came back out to the lobby for a quick orientation that is provided to every guest, a bonus complimentary service I appreciated. The Oaks offers 46 guest rooms, including private rooms and courtyard suites, double lodge rooms and double cottage rooms. I stayed in one of the charming cottage rooms that has its own private patio seating surrounded by green climbing plants, a small water fountain and a little fig tree. I especially enjoyed having the fig tree right outside my front door for the easy access to this sweet and healthy snack. In fact, various fruit trees and cactus plants are planted all throughout the property for an added touch of nature. We completed the orientation with a visit to the newly renovated fitness room where I ended up taking a fun belly dancing class the next day.
Much of my time was spent reading and relaxing by the pool with a couple of classes thrown in for some active fun. The Oaks offers many different activities guests can sign up for, so the experience during their stay can be as relaxing or active as they want. I spoke with a few guests who enjoy making a visit to The Oaks a yearly experience because of the different activities and classes that are offered throughout the year.
And it could also be a unique experience depending on whether guests want to come alone or with a partner or friends. One popular time to visit is during Mother's Day where the spa offers a mother daughter discount. I look forward to another enjoyable and rejuvenating visit soon.