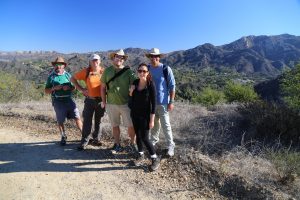 Conejo Valley is located about 45 minutes north of Los Angeles; due to its proximity, this region makes for an ideal weekend getaway from Los Angeles. You are not dealing with a confusing artery of multiple freeways – there is one main freeway that goes through the valley, the 101 and to a lesser extent, the 23. Conejo Valley encompasses four communities, Agoura Hills, Westlake Village, Thousand Oaks and Newbury Park spread out along this part of the 101 corridor.
The region boasts a lively craft beer and wine scene – with tasting rooms located within the valley while grapes are often sourced from Santa Barbara or San Luis Obispo counties to the north. And because the rural landscape dominates this valley much more than the urban landscape – there are a variety of activities for outdoor enthusiasts including hiking, biking and horseback riding. And when much of the country is ensnared in it's wintry grip – chances are the Conejo Valley is enjoying pleasant temperatures (the valley boasts 347 days of sunshine per year!).

STAY

Homewood Suites by Hilton is conveniently located just off the 101 freeway in Agoura Hills (Exit Kanan) and is an ideal jumping off point for other Conejo Valley attractions and beyond including Malibu, area wine country and the Ronald Reagan Presidential Library. The suites are refreshingly spacious – contrasting significantly with standard hotel room sizes. Here you can actually spread out with suites featuring a kitchen, entry room and a sizable bedroom with firm yet very comfortable beds.
There is a lot more to like about a stay here in addition to the rooms. Breakfast is included with every stay, and so is a dinner from Mon-Thurs, unlike many hotels that charge for WiFi, Internet access is free for all guests, a complimentary shuttle offers drop off and pickup within a 5-mile radius, there is an outdoor heated pool with a spa, a nine hole putting green on site and a fitness center.

DO
Electric Bike Tour with Pedego101. Once you ride an electric bike you will never look at a regular bike the same again. That whoosh of energy you get when you are climbing hills on an electric bike is enough to quickly sell you on the benefits of this type of transportation. Pedego Electric Bikes is your go to rental source for when you are in the Conejo Valley. They offer a number of different styles and can rent by the hour or by the day. Ask Co-owners Linda Coburn and John Tajiri for some local film and TV shooting locations as well as some of their favorite restaurants in the area. After your ride you may want to purchase one – you can do so, Pedego 101 also sells bikes. Visit: www.Pedego101.com
The Santa Monica Mountains border Conejo Valley and extend west down to the Pacific Ocean. These mountains are filled with hiking and biking trails spread out through a number of parks and preserves. The Backbone trail is an approximately 60 mile long trail that winds its way through the ridges of the Santa Monica Mountains.
Start your day with a visit to the informative Anthony C Beilenson Visitor Center located at 26876 Mulholland Highway in Calabasas.This center is the first "net zero" visitor center in the National Park Service (very environmentally friendly). There are some nice maps inside.
Directly next to busy Malibu Canyon Road (not far from the Anthony C Beilenson Visitor Center) is a trail-head with a sign indicating Malibu Creek State Park, Piuma Trailhead. This is only about a 4 mile drive from the 101. Park on the dirt lot next to the road, use the bathroom if needed and head up the trail. You will continue to climb on this single track trail until you reach a dirt road which winds its way up the mountains until you are afforded excellent views down towards the Pacific Ocean. Either hike along the ridges for more views and then return to your vehicle or walk down the dirt road to Puerco Canyon which eventually ends at a gate/pavement where Puerco Canyon Road begins.
A hike down through Puerco Canyon passes through the Cameron Nature Preserve (land donated by James Cameron, Director of Titanic and Avatar). This area is appropriately named – 'puerco' in Spanish means pig – it was the site of an old pig farm (the old buildings servicing the farm still are standing). If you elect to hike down Puerco Canyon – it is helpful to have left a car at the gate with a friend prior, otherwise you have to hike all the way back up the mountains back to the trail-head.
Mud Crazy California run is held in Newbury Park every November. This fun 5k run leaves in wave's of runners all morning. There is one competitive wave (winners are awarded prizes) and all the other waves are for fun. As soon as you begin you will plunge into a mud bath – thus ensuring that you will quickly fit in while on the race course. Men and women in military uniform will yell at you as you struggle through sections of mud. Carrying sand bags for a short portion will certainly slow you down. But when you finish, any hardships of the race soon becomes a distant memory.
Paramount Ranch is a National Park site located at 2903 Cornell Rd in Agoura Hills less than 10 minutes from the 101 freeway. No admission fee and the parking is free. This landscape continues to attract Hollywood – recent TV shows filmed here include "Bones", "The Mentalist", "Weeds" and Hulu's "Quickdraw. Dr. Quinn Medicine Woman used to be filmed here. A western town (or maybe it is a ghost town!) is located on site and houses several old wooden buildings. A racetrack used to be located on site – visually, the most obvious remains of this racetrack is a unique underpass that historically was part of a dangerous figure 8 – after several deaths the track closed in the 1950's. Author and historian Brian Rooney knows this ranch well – in fact he wrote a book on the history of this part of the Santa Monica Mountains called Three Magical Miles – for more information visit: www.r7media.com/3MM.html
BEER & CIDER
101 Cider House maintains a tasting room located at 31111 Via Colinas in Westlake Village mere minutes from the 101. In line with their location and name, they source ingredients from producers located up and down the 101 freeway. The focus here is not on standard ciders but rather on extremely unique products using ingredients such as agave, cactus pear fruit, and quince. But wait, there is something more unique – this would be their Black Dog cider made with lemons and premium activated charcoal derived from tropical coconuts. The charcoal gives the cider its unusual grayish-black color. The SoCal Scrumpy, their flagship cider features cider apples and quince – fermented with native yeasts.
Our pick: Black Dog Cider
Visit: www.101cider.com
5 Threads Brewery is located in a business park at 31133 Via Colinas, Ste. 109 in Westlake Village. It's namesake comes from 'thread' a term often used when describing blending in beer making. The term five refers to the five main ingredients in beer: water, malt, hops, yeast and those who make beer and those who drink it. Their tasting room (opened in 2015) is cozy with both bar and sit down seating available. Their brews are not made in large batches – as quickly evidenced by the small tanks next to the tasting room. Plans call for increasing production and making the beers available in local retail outlets.
Our pick: Pantry Porter
Visit: www.fivethreadsbrewing.com
Ladyface Ale Companie is one microbrewery you will not want to miss. It is Conejo Valley's first microbrewery having opened in 2009. It's namesake is the nearby Ladyface Mountain. Co-owner Cyrena Nouzille is a creative mind and she is often referred to as 'the lady behind Ladyface'. The atmosphere in the evenings is lively – helped by the diverse selection of ales on tap and healthy selection of drinks from the bar. Not all ales are made on a regular basis – some are seasonal. The "magic" happens in an adjoining area – filled with tanks, kegs and other ale making equipment. A tour here with Cyrena is highly educational, detailed and at times focuses on some of the technical aspects of brewing.
Our pick: Flamberge
Visit: www.ladyfaceale.com
WINE
Alma Sol Winery focuses on Bordeaux varietals grown and made in Paso Robles. Proprietors John and Lisa Shaw are creating complex wines with depth and character. The wines are produced in extremely limited quantities (total production is under 500 cases) yet are available at an affordable price point. John is self taught and is extremely passionate about vineyards and wine-making. While the vineyards are in Paso Robles he shares part of the Sunland Vintage Winery Tasting Room in Thousand Oaks and personally pours his wines most weekends. These are wines you will want to get your hands on. Check his website for hours and availability:
Our pick: 2012 Reserve Cabernet Sauvignon, Paso Robles
Visit: www.almasolwinery.com
San Vicente Cellars is a small winery hand-crafting their wines located in an unassuming business park in Westlake Village. They produce a wide variety of wines from Santa Barbara and San Luis Obispo counties. A rather obscure varietal for California is Tannat, typically a robust wine that can be used to add structure to light to medium bodied red wines. They make a stand alone wine of this varietal from Paso Robles – it is not as big as you would expect and drinks very well by itself. Their tasting room is a fun place to be in the evenings with both bar and sit down seating available. Often you will find live music here.
Our pick: 2009 Tannat
Visit: www.sanvicentecellars.com
Sunland Vintage Winery is run by winemaker John Giovinazzo and his wife Debbie. They maintain a friendly tasting room in a small shopping center in Thousand Oaks (1321 E Thousand Oaks Blvd. #108). For a small winery they produce a surprising variety of wines ranging from lighter whites through to the heavier reds. Many of their grapes are sourced from Lodi but they also use grapes from vineyards in Santa Barbara and make a Cabernet Sauvignon from the Napa Valley. In a relatively short amount of time they have already earned praise and medals from various wine competitions. Visit:
Our pick: 2012 Napa Valley Cabernet Sauvignon
Visit: www.sunlandvintagewinery.com
EAT
Tavern 101 is conveniently located right next to the 101 freeway in Agoura Hills – from their outside dining patio you are probably only 100 feet away from the traffic rushing by (noise is not a factor when you eat here). Warning: portions are large. Nice appetizers including Ahi Tuna Tacos and the BBQ Baby Back Ribs. Several levels of hot sauce are provided including the "nitro". Perhaps there needs to be another level of extreme heat beyond that! Even the salads are giant – the Kale salad is well prepared.
Our pick: Hot Links Sausage Louisiana Style
Jinky's Cafe is within easy walking distance of the nearby Homewood Suites in Agoura Hills. Nestled next to Trader Joes this local favorite offers a significant breakfast, lunch and dinner menu – one of the more extensive we have ever seen. One needs 10 minutes to decide after perusing all the choices. Velvet pancakes (yes they are red), Eggs Benedict created six different ways, crepes, waffles, specialties – and a gazillion sides to choose from. Even at 730am we were presented with a drink menu – with a prominent quote from James Thurber, "one martini is alright. two is too many. three is not enough". I guess there is no time like the present to start drinking! Five locations throughout greater Los Angeles.
Our pick: Velvet Pancakes & Fruit Yogurt Granola Plate
Visit: www.jinkys.com
Mendocino Farms – familiar with some of their restaurant locations in Los Angeles, we were pleasantly surprised to discover one in Westlake Village. One orders as soon as one enters the restaurant – with a tasty array of sides you can first sample before you decide which ones to order. With the words, "eat happy" prominently displayed inside, this slogan might as well include "eat healthy". Their menu selection includes a diversity of sandwiches and tasty salads. One can also have a bit of fun with their impressive selection of fountain drinks – try samples of each one until you find your favorite.
Our pick: Avocado & Quinoa Ensalada
Visit: www.mendocinofarms.com
Twisted Oak Tavern is located in Agoura Hills – sometimes brew pubs focus on their alcohol with food often as an afterthought. This restaurant is not one of those. The dishes are thoughtfully and creatively prepared ranging from their appetizers, salads through to the mains. Inside or outside dining available including at the bar. Recommended – ask for a set of appetizers to be paired with some of their beers. And for something unique and in the spirit of their name – order the Hogzilla. This culinary oddity is a fully cooked half pig with the head that serves up to 6 people.
Our pick: Appetizer – Deviled Eggs, Ahi Poke. Main: Hogzilla
Visit: www.twistedoaktavern.pub
Sabor Cocina Mexicana is located in the picturesque shopping center called The Lakes (in Thousand Oaks). Once you enter it feels like another world – whisked away to perhaps Morocco or Southern Spain with the colorful tile work and decorations all contained in a dimly lit setting. Start your meal with chips and salsa and their seasonal guacamole, bean dip. Complement this with a Blood Orange Pear Martini. Note that all their tortillas are made on site – you can actually watch the chef preparing this in her/his tiny kitchen located in the main dining room.
Our pick: Tacos de Pescado
Visit: www.saborcocinamexicana.com
MORE INFORMATION
Visit the official Conejo Valley Visitor's Guide: www.conejo.com