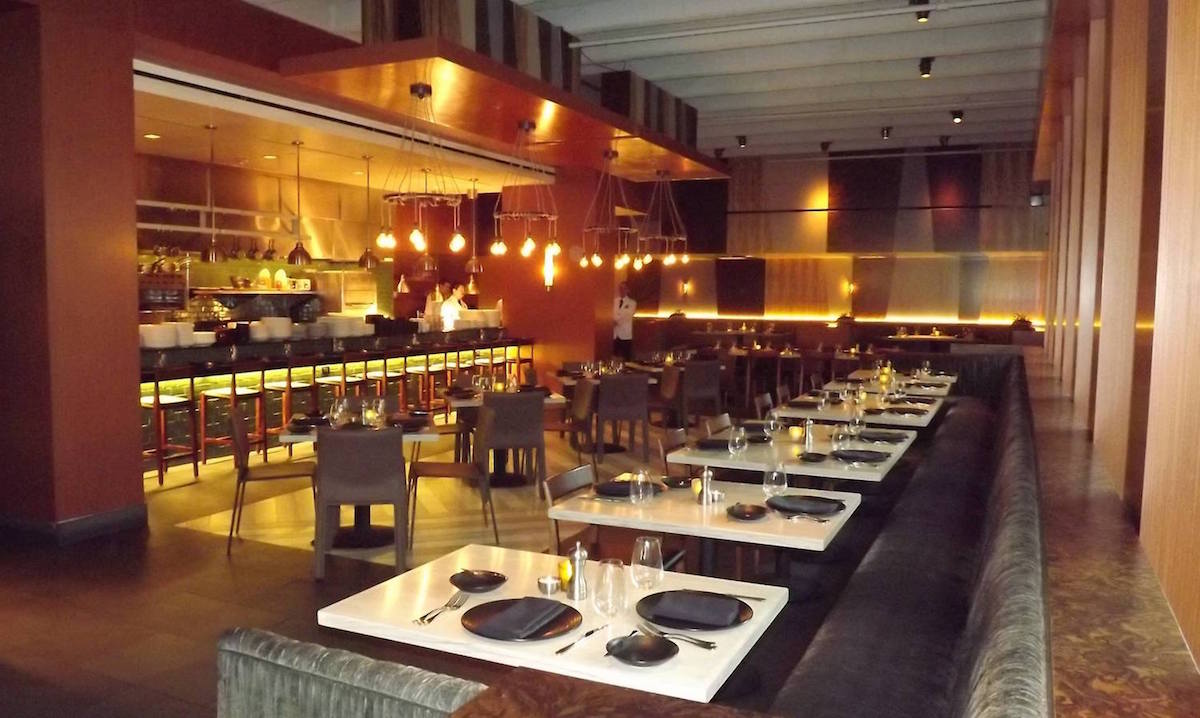 Texas has its stereotypes: everything is bigger, everyone wears cowboy hats, you gotta get a steak. The last time I went through Texas, I stopped at Amarillo tourist trap The Big Texan Steak Ranch, famous for serving up a 72-oz. steak free to anyone who can take down the whole thing in an hour. When once again in Texas—Dallas over the weekend for a quick work trip—I went for something a bit more sophisticated.
You'll find The Knife, helmed by chef John Tesar, tucked into the Highland Hotel. If you're early for your reservation, you can rest for a moment in a dimly lit lounge or peer through a window where The Knife displays what meats are currently dry aging.
The Knife itself has a modern ambiance, with amber lighting, lots of wood tones, an open kitchen, large tables and cushy booths. The menu is, obviously, carnivorous: there are many appetizers and sides, but the focus here is on the meat.
For starters, you can choose among 'slabs' and 'slices,' which involve bacon and ham tastings, cheeses and charcuteries for slices, and lamb meatballs, pork belly and sliders for 'slabs.' Other apps include salads, tartare and soups, of which the rich French Onion is the house favorite.
You'll find the list of meats has been divided into four categories: New School, Old School, Exotic and Seafood. The new school meats are sourced from 44 Farms, located in Cameron, Texas. These cuts are expertly cooked over a red oak wood fire, and include the tri-tip, flat iron and wagyu skirt steak.
Old school cuts include the 10 oz. Filet Mignon, bone-in rib eye, a rack of Colorado lamb and a whole roast chicken, which they advise takes 45 minutes to cook. Sea food includes bluefin tuna, swordfish and lobster.
The exotic meats are the priciest of the bunch. At the time we visited, they had a Rib Eye from Niman Ranch that had been dry aged for 240 days for $160, and a dry aged bone-in Akaushi Rib Eye from Heartbrand Ranch that, at 32 ounces, serves at least two and costs $110.
If you're not feeling steak, The Knife also offers a selection of burgers and pastas.
Our meal began with some crunchy crudités and our choice of fresh breads and biscuits. Both are served on the house after you place your order. For entrees, we chose the filet mignon and the Texas waygu skirt steak. Both were plenty at 10 ounces.
The filet mignon, cooked rare, was juicy and tender. The waygu skirt steak, which our server advised come medium rare, was beautifully marbled and so very tender it seemed to melt, with a flavorful char on the outside.
We paired our steak with creamy mashed potatoes (found on the menu in French as pommes puree) and a serviceable seasonal vegetable (cauliflower, in this case). The other options skew to the comfort food side of things, with Mac & Cheese and Collard Greens as other popular options. For something less standard, you can try their Avocado Fries.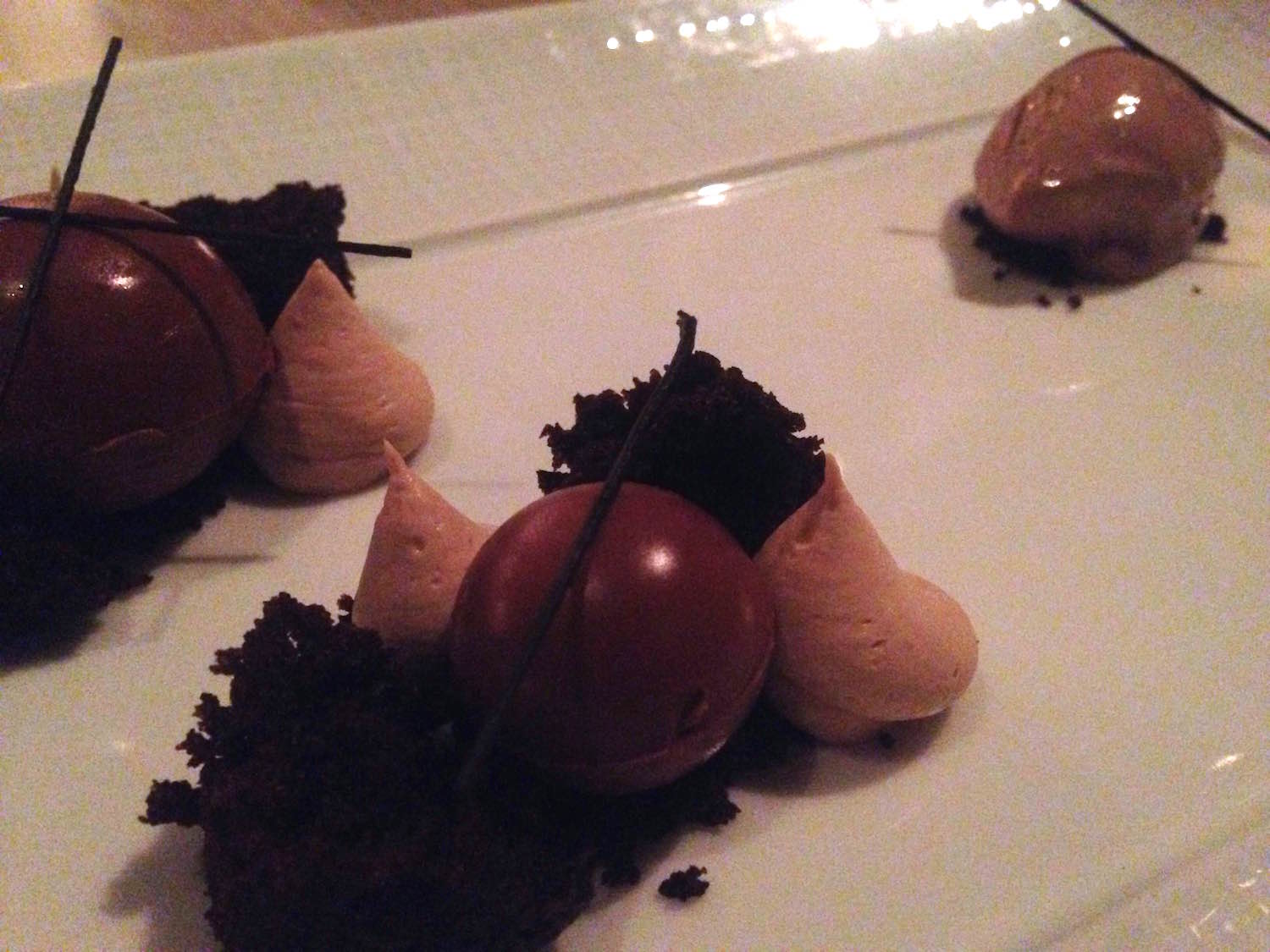 We finished with dessert, helmed by executive pastry chef Eric Cobb. The Chocolate & Coffee is an ample plate for two, featuring dark chocolate coffee ganache, whipped milk chocolate cremeux, chocolate sponge and coffee ice cream. The bitterness of the coffee, paired with the creaminess of the ice cream, made for a not-too-sweet after-dinner treat. The favorite of our choices was the Spiced Apple: brown butter sponge cake topped with spice apple gelee, compressed apple, vanilla cremeux and a spiced white chocolate ice cream.
Should you feel like drinking, a fine glass of robust red is always encouraged, but they do have a menu of craft cocktails to peruse as well. I chose the Highland—Four Roses bourbon, pear cider, lemon juice, honey and ginger beer—which was perhaps too sweet of a pre-dinner drink, but certainly delightful. Meanwhile, my dining companion, who prefers sweet cocktails, was pleased with The Curio: blackberry Pisco Portón, lime, agave nectar, bubbles.
After our meal, we were given a thin mint with the restaurant's logo—a knife, of course—etched onto it in black, and a crumbly lemon poppyseed muffin to-go.
The Knife is located inside The Highland hotel at 5300 E Mockingbird Lane. Call 214-443-9339 for reservations.