Tofino is a community on Vancouver Island's unspoiled West Coast. Pristine Pacific waters are a thriving habitat for orcas, grey and humpback whales, seals, puffins and sea lions, while it's old-growth forest is lush with plant and animal life. Adventure seekers come to surf the waves, fish for abundant salmon and hike to hidden hot springs.
At first glance, this stunning little town with around 2,000 year-round residents appears to be an unlikely culinary destination. Don't be fooled, as Tofino casts an impressive gastronomic shadow. Its chefs use the agricultural rhythms of the season as their template, staunchly loyal to locally grown plants and just-caught seafood. Whether you choose to dine at a world-class restaurant or prefer a low-key picnic by the seashore, simple ingredients are the focus of each dish, inextricable from time and place.
Casual Dining
Picnic Charcuterie's owner Tina Windsor is a one of several young female residents who are adding plenty to the local food and drink scene. Her pocket-sized shop features fine cured meats, gourmet cheeses and fresh-baked breads. Every morsel is ethically crafted with a premium placed on sustainable methods and ingredients. If you're seeking a gourmet beachside feast, look no further.
Tofino Brewing Company was built on the premise that great beer should be brewed in a sustainable manner that positively effects the community. They use high quality malted barely and Pacific Northwest hops to make both their staple and seasonal brews. The Kelp Stout is brewed with locally harvested kelp while the Blonde Ale benefits from earthy notes and a dab of honey-like sweetness.
The tasting room is an infomal social hub loaded with locals, so it's a great place to get a genuine sense of place.
No food is served but it's across the street from Picnic Charcuterie, a match made in heaven.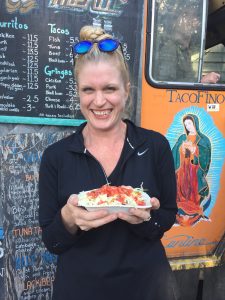 Tacofino serves fresh, affordable Mexican favorites out of a sunny orange truck in a surf shop parking lot. The warm tortilla is a vessel to hold clean meats, sustainable seafood and farm-sourced veggies.
Try a fish taco made with lingcod topped with crunchy cabbage and you'll soon want another.
Be prepared to wait as everything is prepared to order.
The Hatch Waterfront Pub's casual marina-side setting offers sweeping maritime views of Tofino Inlet and sunsets worthy of writing a haiku about. It's a local favorite both for the splendid scenery and the casual fare that represents the essence of this rugged coast.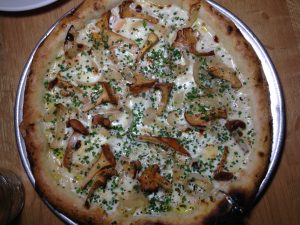 Pub favorites like burgers are taken up a notch and served on a house-made bun. Pizza is a winner, cooked in an Italian-made wood-fired oven, the crust as thin as any pizza I've had in Naples. Being right on the water, the menu excels at fish that has literally just been caught. Lingcod, salmon and halibut might be the catch of the day, sure to satisfy your craving for briny creatures that have just been swimming.
The casual eats pair well with a selection of local beer, BC wines and a dynamite list of craft cocktails. Order the Fog Lady and momentary happiness is a sure thing.
Fine Dining
At Wolf in the Fog, diners are escorted on a culinary journey to the far reaches of the world. This destination restaurant has been wowing visitors since it opened four years ago, when it put Tofino on the food lover's map.
Chef Nick Nutting and his team forage local ingredients and prepare dishes with bold flavors that match the intensity of the area's dramatic landscape.
Vancouver Island's bountiful waters and rich soil are Chef's secret weapons.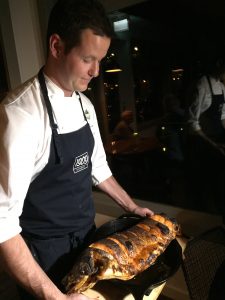 Brand new 1909 Kitchen offers ingredient-driven cuisine by Chef Paul Moran. Though he has traveled, worked and trained around the world, Moran's passion is showcasing produce sourced from Tofino's ocean, shoreline and forests. He is an experienced forager and diners benefit from his expertise.
Set against Instagrammable views of the Tofino Inlet, 1909 Kitchen breathes life into this previously industrial corner of the community. From the patio, diners get a front row seat where they can watch fishing boats moor while eagles soar overhead.
The fish-forward menu is anchored to the Pacific Northwest but doesn't hestiate to include influences from Mexico (jicama and achiote) to Japan (soy and sesame). The constantly changing menu reflects Tofino's prized indigenous ingredients such as chanterelles and gooseneck barnacles, plus sea chives and fragrant herbs from Tofino Botanical Gardens.
Moran holds true to the primary ingredients yet he's confident enough to use the bold spice palate that he learned to love in Mexico.
As delicious as each morsel tastes, there are no pretensions here. Each bite is in harmony with the simple pleasures of life that are beholden on this corner of the island. Moran is a genuine talent and you feel welcomed and priveleged to sit at his table.
Try the house-made bread, wood-fired rockfish, whole boneless chicken, and fire-roasted cauliflower dishes.
If you, like me, got lucky on your fishing expedition, Chef Moran and his team will gladly prepare the fish for your party as a part of a hook-to-table feast. My whopper of a Chinook salmon was cooked over high heat until the skin charred and blistered, revealing the succulent orange-pink flesh underneath. It was a simple preparation that encouraged the essential flavor to shine without the addition of overpowering and unnecessary extras, proving that simple is often best.
Stay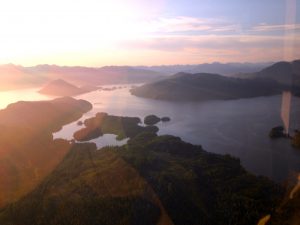 If ice hockey is king in Canada than Willie Mitchell is a prince. Born on Vancouver Island, he enjoyed a noteworthy career that include two Stanley Cup wins. Recently retired, this hometown hero has turned his energy to his newest project, the just-opened Tofino Resort + Marina.
While there are other hotels and resorts in town, Tofino Resort + Marina is the only full-service resort on the marina, and is just a short stroll from the artisan boutiques and surf shops.
The 62 guestrooms offer marina views, oversized balconies, comfy king beds, and stylish décor featuring eye-catching wall wraps by a local photographer. The uncluttered feel of the guest rooms is a perfect match with the natural surroundings.
It's home to both The Hatch Waterfront Pub and 1909 Kitchen, so it's an epicurean's nirvana.
The onsite Adventure Centre offers immersive outdoor experiences including whale watching tours and fishing.