Perched on a rock in the middle of Howe Sound, less than a half hour from downtown Vancouver, was one of nature's grandest flying creatures: a bald eagle. Though we could not see the bird in its entirety, we could not miss its white head gazing down imperiously on a pod of harbor seals snoozing in the sun below.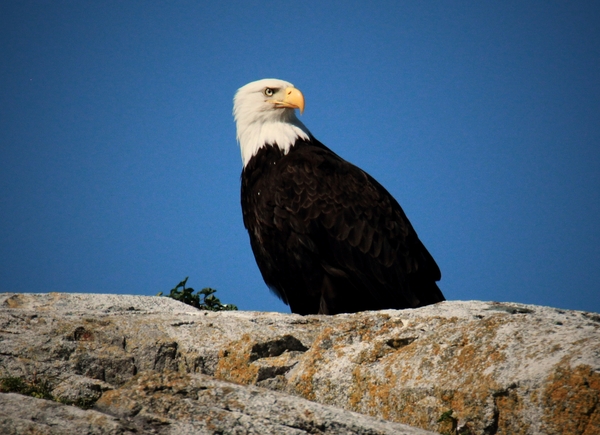 Our 30-foot-long rigid hull inflatable boat, powered by twin 225-horsepower Mercury Verrado engines, motored slowly by as the six of us on board watched with rapt attention. It is not every day you get to see a bald eagle in the wild, and this was already the third one we'd seen in a half hour.
Our voyage began at Sewell's Marina on Horseshoe Bay, a popular weekend getaway spot for Vancouverites. There were two boats in our party, and before boarding all the passengers climbed into orange Mustang survival suits designed to keep us warm and aloft in the water in the unlikely event we fell or got tossed into the drink. Sealing up the ankles of my pants with Velcro fasteners, I felt a little like the Michelin Man in the suit but soon forgot all about it as we chugged past the fishing boats moored in harbor and moved out into open water.
Howe Sound is a broad, dark blue body of water as pristine as the green Coastal Mountains of British Columbia that surround it. Before long our guide Thomas Stackhouse started opening up the throttle, and opening it up some more after that. So did his counterpart in the other boat, Simon Debisschop. As solid and professional as they were, they are also a couple of vigorous, outdoorsy twenty-something guys who like to have fun, and soon they were doing their best impersonation of Sonny Crockett and Ricardo Tubbs in their "Miami Vice" cigarette boat and flashing across the water.
Our first stop was a bald eagle's nest high up in the Douglas fir trees along shore. We spotted the eagle before we saw the nest; it was gliding smoothly above the top of the water in search of a king salmon. Thomas explained that bald eagles were strong, sturdy birds whose talons, once they latch onto their prey, virtually never let go. It was like a death sentence for the fish.
But sometimes if the salmon packed some heft—20-pounders are not uncommon in the sound—the eagle could not lift off the water, at least not much. Nor could its claws unlock from its prey, which suddenly morphed into a dead weight dragging it downward. It then had to release the fish by bumping it against land. The fish escaped to freedom but so did the eagle, who lived to hunt again.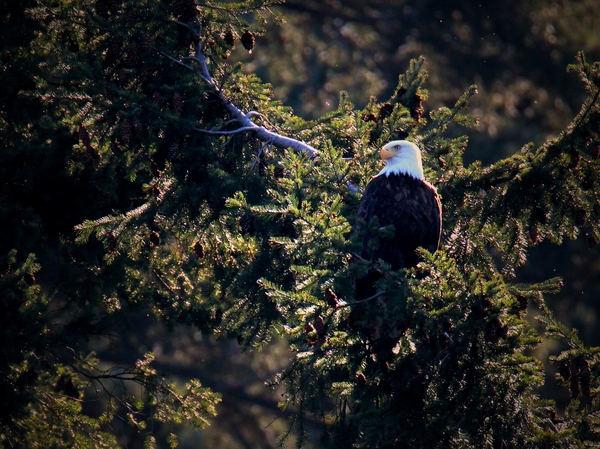 Nearby we spotted a second bald eagle, which is often the case with them. They find a place they like and call it good. Same with mates. They mate for life—"They do a better job of the whole mating thing than we do," said Thomas—and nest in pairs.
Shortly thereafter a different sort of creature appeared—a ship from BC Ferries, up from Vancouver, carrying tourists and locals alike to Horseshoe Bay. Its presence inspired our guides to explore the fun-loving side of their personalities again. As the ferry passed by, each boat headed straight across its wake dipping and bouncing and stirring up, in John Steinbeck's phrase, "a cream of foam."
Even after we put the ship behind us, playtime continued. We sat on bench seats and clutched our cameras and phones as the fellas spun donuts in the water. We sped around their boat, they sped around ours, we chased them, they chased us, like dolphins at play. As we carved high-speed turns one side of our craft lifted almost perpendicular off the water, and I thought for one wild moment we might actually get a chance to put our flotation suits to the test.
It never happened. We never turned turtle, not even close. We barely got wet.
Sewell's Marina is a family business that has run fishing charters on Howe Sound for generations, some years ago adding sightseeing tours. The boats it uses for its "sea safaris"—we were on the Deep Fjord tour ($85 per adult for a two-hour trip)—are similar to Coast Guard patrol vessels equipped with VHS radio, navigation system and GPS. All we lacked, really, was the throbbing Phil Collins soundtrack as Sonny and Ricardo—sorry, Thomas and Simon—tore along a deep section of water along the base of some cliffs.
It was an exhilarating ride. Speeding across the blue depths, the wind whipping against my face, I felt as good as a bald eagle must feel after he has cut loose a weighty Chinook and found his wings again.
Things slowed back down when we reached Pam Rocks and the seals lounging in the late morning sun. One or two of them lifted their head to check us out but mostly they were too bored or contented to care. Above them all was their imperious winged overlord who, we thought at first, was an outlier, defying the rule that eagles always come in pairs. But no, a little past the rock we spotted another splendid white feathered head, which likely belonged to its mate.
There is a designated bird sanctuary near Pam Rocks but all of Howe Sound seemed to me a kind of bird sanctuary with cormorants and sea birds all over the place. On a clear day, as the song goes, you can see forever. Only a few scraps of civilization mar the vistas of Tantalus Mountains, dusted with snow, and formidable Mt. Garibaldi, also snow-capped. A "sound," I am told, is a body of water similar to a fjord but slightly different. Nonetheless Howe Sound put me in mind of what I imagine the fjords of Norway to be like: wide expanses of pure blue water, green and snow-topped mountains, lots of sky.
They logged and mined the area in pioneer days, and still do to a limited extent. But tourism and recreation are Howe Sound's most popular draws now. We saw kite boarders in the waters near Squamish on the northern end of the sound. Rock climbing and mountain biking are big too. The Britannia Mine Museum is nearby on the Sea-to-Sky Highway, which links up with Whistler Mountain.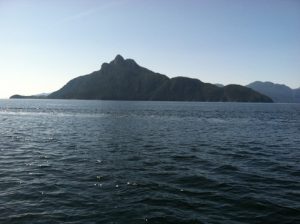 One of the grandest islands on Howe Sound is Anvil Island, which resembles the essential tool used by blacksmiths and metalworkers. It got its name from the practical-minded settlers who came to live and work in the region after Canada became a country in 1867. But, to my eyes, its outlines and contours looked more mystical or prehistoric, like the body and head of the Egyptian sphinx stretched out across the water. Less a tool to be found in a workshop and more an object of awe, to be venerated.
After reaching shore, climbing out of our Michelin Man suits and bidding goodbye to Thomas and Simon, we clambered onto a bus that eventually took us down the Sea to Sky corridor—Highway 99, to locals—back to Vancouver. The road runs along Howe Sound, giving us one last look at Anvil Island and the glorious waters around it. This is truly a place where eagles roam.
Top 4 photographs by Jeff Pelletier, who took all these shots on the same trip Nelson was on.