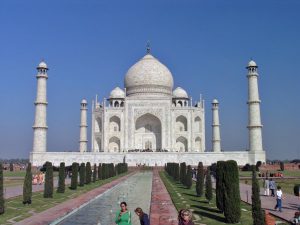 The Indian economy has enjoyed one of the world's most significant booms over the past decade, attracting a growing number of wealthy visitors, for both business and pleasure purposes. The rise in wealth across the nation is responsible for an increased demand for private jets amongst wealthy travellers, both home-grown and international alike.
The somewhat awkward infrastructure of India's mainstream air industry, where there are a limited number of flights between major cities and lengthy delays are common, lends itself nicely to the private aviation industry.
India is rich in culture and diversity, and coupled with the luxury of private jets, one can experience some of the country's most exotic destinations.
Below is a sample of some of India's most popular destinations amongst private jet travellers:
1. Agra:
Home of the magnificent Taj Mahal, this is one of India's most popular travel destinations. Enjoy the finest view of the breath taking building from the Oberoi Amarvilas, often remarked as the most luxurious hotel in Agra, where one can enjoy its display of reflection pools and fountains. The city is popular for a diverse range of industries, most notably the production of leather goods and carpet production. The Taj Mahal also secures the region's economy with plenty of trade from tourists. Agra's airport requires that all private jets are are officially cleared, which typically takes 3-5 days for aircraft that are registered in India, and up to 30 days for internationally registered aircraft.
2. Hyderabad:
The city's airport welcomes a fleet Cessna Citation CJ1 and CJ2 aircraft, amongst several other larger private planes. As the city is the capital of Andhra Pradesh, it's little surprise that it is popular amongst air charter travellers. With its booming information technology industry, Hyderabad has a healthy economy, whilst boasting a strong cultural history. The city is home to some of India's most luxurious hotels, the finest being the Taj Falaknuma Palace, offering a display of priceless art and exceptional guest rooms.
3. Udaipur:
The luxurious shopping and cultural attractions in this city are attracting an increasing number of private aircraft travellers. Known as the 'The City of Lakes', it is surrounded by beautiful lakes and scenery. The city was once a haven for palaces, many of which have been converted into hotels, the most notable being the Lake Palace. This luxurious hotel sits in the centre of Lake Pichola, and requires a short boat ride to access it. Its white marble walls and striking appearance ensured it was voted as India's most romantic hotel.
4. Kerala:
This region is catered for by three airports: Trivandum, Kochi and Calicut, all of which welcome private aircraft. Kerala is popular for its scenic beaches and wildlife, and is home to several cultural celebrations and festivals. With a booming jewelry industry, the economy here is healthy. Kerala was named as one of the "ten paradises of the world" in the National Geographic's Traveller magazine, and is popular for its laid back lifestyle, where the tropical resort of Neeleshwar Hermitage allows for complete relaxation.
5. Jodhpur:
Known as the 'Sun City', Jodhpur boasts sunny weather all year round. Just a one hour private flight from Delhi, the city is popular amongst tourists for its palaces, forts and temples. The main source of wealth in this region is the furniture industry, estimated at exporting $200,000 a year in goods. The hotel pick in Jodhpur is the Taj Umaid Bhawan Palace; a stylish hotel overlooking the Mehrangarh Fort.