On October 6, 2021, Google announced this new feature as part of their broader green-travel push to help consumers make useful sustainable travel choices.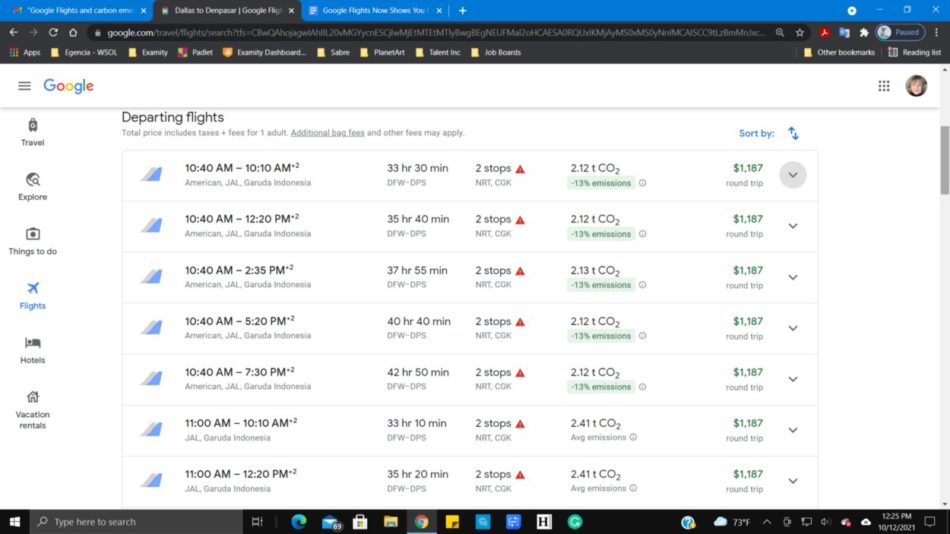 Flight search data for DFW-DPS, November 2021. Screenshot credit: Author figcaption
From the screenshot I took above, you can see on the right side column right before the total price, what the carbon emissions would be for that particular flight. Note it is for one person traveling from Dallas, TX, USA to Denpasar, Bali in November.
The first flight was listed for $1,187USD round-trip in economy class. The cabin class can make a difference as a larger seat in Premium can take up more space. Notice the flight's carbon emissions are highlighted in green to show you how much less your carbon footprint would be if you took this flight. In this case, it would be 13% less of the original median data already collected for this particular route.
How does Google collect this data?
Google gets this data from third parties, such as airlines and the European Environmental Agency (EEA). The data shown are sorted from lowest to highest. You can also specifically sort your data by using the drop-down arrow and selecting CO2 emissions. As you sort through the flights displayed, you'll see that the prices go up considerably even if it's for an economy seat. The flight times and connections will also vary widely because there are other factors that go into determining a flight's carbon emissions.
Those other factors are the type of aircraft, the age of the aircraft (newer planes are more fuel-efficient), and the dates of travel. Not all routes are available each day which requires some searching on your part.
31 flights were listed for my search. This is showing the bottom of the screenshot.
Is it Easy to Use?
The first flight shown is not necessarily the "best" flight for going to your travel destination. You might want to play around with searching it out with alternate dates. Or perhaps look for flights that are less than 2 connections. Some of the flights listed will show 4 connections. Why fly up and down and of longer duration, when you can find a better alternative? Such as a direct non-stop flight to a hub city. Then take a train to your final destination. If a train isn't available, you can search for a connecting flight that may have newer planes and therefore lower carbon emissions.
The Upside and Downside to measuring your carbon footprint
Some have said it's a really good idea to give the average consumer a way to measure their carbon footprint. This knowledge is like counting calories or choosing organic food when you can, to make yourself healthy. When choosing a flight with lower carbon emissions you can feel that you are helping to make the planet healthier.
But there are those who could argue that it's another form of greenwashing by putting the burden on the individual rather than corporations. The key here would be consumer demand. If enough people put pressure on airlines to keep their greenhouse gas emissions down, the airlines would have no choice but to acquiesce. Some have already done that with a vision for the future of travel while others still lag behind.
In the connected world we live in, NOT flying is NOT an option in my opinion. That may go against the die-hard environmentalists who say to stop flying altogether, but I don't think that is a realistic expectation.
Instead, I think that individuals can start making a difference with this new tool put out by Google Flights as one effort to mitigate climate change. From there it can take off exponentially. (pun intended). So the next time you start shopping for flights, check out what the carbon emissions could be. Let's try to offset our carbon footprint when and where we can.
This article first appeared on Travalerie's Medium account at: https://medium.com/sustainable-traveling/google-flights-now-shows-you-carbon-emissions-per-flight-d94f95ed16ba