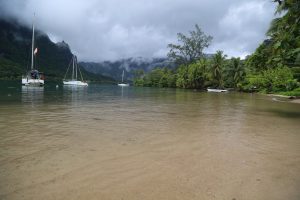 Words that come to mind when referring to the island of Mo'orea include ethereal, mysterious, remote, undeveloped and exotic. I've long built up the mystique of this island in my mind based upon stories my mother related from a several month trip she took to the South Pacific in the 1960s. Mo'orea was by far her favorite island in the French Polynesia. While Mo'orea has certainly changed since those days, a visit to the island is like walking back in time to some extent – and compared to the relative hustle and bustle of Papeete on nearby Tahiti, Mo'orea feels like a sleepy village.
It is an island where one comes to decompress – to be surrounded by gorgeous natural beauty both above water and below. And part of the attraction of Mo'orea are the locals – friendly and proud to show visitors their small piece of French Polynesia.
Getting Here
Similar to how Iceland was not on the radar of most travelers several years ago due to the expense of getting there, Tahiti has recently opened up to travel – especially from the west coast of the USA with reasonably priced flights that began in 2018 courtesy of nonstop routes from San Francisco by the French based airline, French Bee and United Airlines. The flight from San Francisco to Papeete on French Bee arrives early morning allowing passengers plenty of time to get to Mo'orea that same day. The flight on United Airlines arrives in the evening after the ferry service has ceased for the day (requiring visitors to stay overnight in Papeete before continuing on to Mo'orea).
Once in Papeete, a transfer to Mo'orea from Tahiti is easy. Two ferry companies (Terevau and Aremiti) offer 30 minute ferry rides from the ferry terminal in Papeete to the ferry terminal in Mo'orea; this a fast and inexpensive way to reach the island. The Tahiti ferry terminal is within easy walking or driving distance of central Papeete. The ferries run from early morning until late afternoon/evening. Alternatively expensive flights (based on the short travel distance) on Air Tahiti leave from Papeete to the small airport on Mo'orea (flight time about 15 minutes).
Regardless of how you arrive on Mo'orea, the Hilton Mo'orea Lagoon Resort & Spa can arrange transportation ahead of time. Taxis waiting for departing passengers are also an option for transportation (allow about 25-30 minutes for the ride from the ferry port to the Hilton). And an Avis Rental office is conveniently located directly across the street from the airport, offering a variety of rental options.
Hilton Mo'orea Lagoon Resort & Spa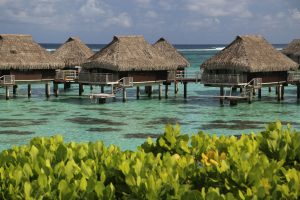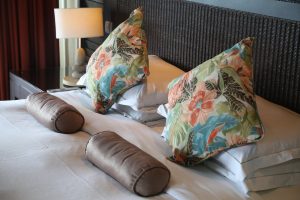 The Hilton Mo'orea Lagoon Resort & Spa opened in 2009 after transitioning from the previous Sheraton ownership – the resort was originally built in the late 1990s. This classy property is one of only four resort properties on the entire island. Guests are welcomed warmly with a tropical fruit drink and a perfumy flower hei necklace.
Guests have access to a picturesque pool, beach chairs and umbrellas, complimentary use of snorkel equipment, stand up paddle boards and use of the fitness center. And for those looking for an extra boost of bliss – the spa offers a variety of relaxing treatments including two unique offerings, a Moorea Volcanic massage and a Moorea Lagoon massage.
Breakfast is buffet style in the morning; if your stay coincides with Sunday, we recommend their Sunday brunch featuring additional local dishes as well as the sounds of live music. Ingredients are sourced locally whenever possible – highlights include fresh fish and a variety of tropical fruits. And every Wednesday or Saturday a Polynesian dance show accompanies dinner in the Arii Vahine Restaurant (reservations required).
More then 50 over water bungalows are available as are 50+ shore bungalows. An added perk of staying on shore is nearly every bungalow comes with a private pool. And for discerning visitors who want an onshore bungalow with a coveted view of the beach and water, book either bungalow numbers 46 through 48 or 53 through 55.
The over water bungalows are perched mere feet above the aquamarine water with steps leading down from each deck. And a neat feature within the rooms is a glass viewing panel built into the floor – ideal for watching fish swim underneath or merely for gauging the choppiness of the water. Regardless of which bungalow one stays in, the views are stunning. And be sure to visit the Toatea Bar in the evening for a drink and an excellent selection of creperies. One often sees black tipped sharks at night swimming in the waters below.
Mo'orea is a popular honeymoon destination and the Hilton Mo'orea Lagoon Resort & Spa offers a number of romance themed experiences including breakfast delivered to one of the over-water bungalows by a canoe, a romantic dinner on the beach, a Polynesian traditional wedding on the beach, a vows renewal ceremony or a memorable sensory and aromatic floral turn-down service (all from local flowers).
Experiences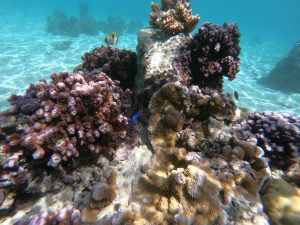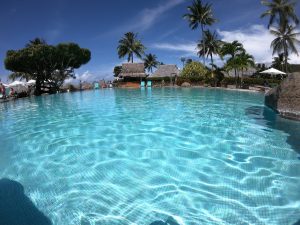 Two must do experiences and among the most popular activities booked through the resort are: a 4×4 safari tour through some of the island's rugged and gorgeous interior passing by fields of pineapple plantations growing on the steep hillsides and a swim with reef sharks and stingrays in a lagoon with boat transportation departing from the Hilton pier.
More adventurous travelers can rent a motor scooter (Albert Transport and Activities is conveniently located within a short drive of the Hilton) and explore the 42 miles of coastline on your own – allow at least 90 minutes to drive the entire circumference of the island without stopping – but better yet, take a day to explore the island at your own leisure.
Or if you prefer a slower way to see the island rent a bicycle. Opunohu Valley is a short ride from the Hilton Mo'orea Lagoon Resort & Spa and features a surreal landscape with stunning rainforest covered jagged mountains complemented by bucolic valleys. Highly recommended is a drive on Opunohu Valley road – along the way stop at the small shop at Lycée Agricole to enjoy tropical fruit flavored ice cream and juices.
Continue on to Belevedere, the highest lookout on the island featuring expansive views of the two most picturesque bays on Mo'orea – Opunohu Bay and Cooks's Bay along with the prominent Mt. Rotui. Several hiking paths are accessible via the rear of the parking lot; one is a short walk through the rainforest to a small stream with refreshingly cold water.
Or if you are up for another very scenic ride through the island, take the partial dirt Paopao Valley road connecting over to Cook's Bay and then circle back to the resort on the main road.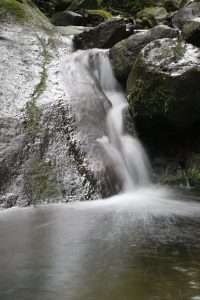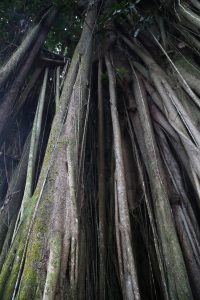 A number of snack shops and fruit stands line parts of the road around the island. Many have very limited hours. One worth visiting for lunch for fresh fish combined with a pleasant atmosphere is the Snack Mahana Restaurant (about a 10 minute drive from the resort). With a feel of being located at someone's home, dining is both indoors and outdoors – with the most desired seating located merely a few feet from the lapping shoreline.
—
Leaving Mo'orea can be sad. When the jagged covered slopes are covered in clouds, it felt like we were slipping out of paradise – as the ferry pulled away we looked at Mo'orea's shoreline longingly and made a silent promise that this would not be our last visit to the island.
To book your visit to this special slice of French Polynesia click here: www.hilton.com/Hotel/Moorea