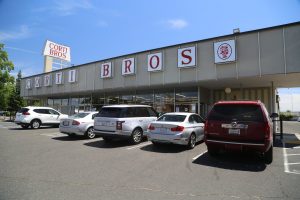 Sacramento, California may not be as popular and famous as San Francisco, but it is nonetheless a beguiling destination for people who are looking to a catch a break from their busy urban lives. It is California's capital city and one that will leave you in love with this wonderful state on the West Coast. Whether it is the historical buildings, the shopping centres, the tantalizing dining or the awe-inspiring museums, the city has a little bit of something for everybody. Rest assured a visit to Sacramento with your friends and family is well worth the money and the journey.
To come up with a well organized plan for your Sacramento trip, visit this site, where you will find extensive information about the prices of tickets and the different bus and train schedules.
Although the attractions in Sacramento are plenty and abundant, there are some that clearly stand out in my book. The following are three of the best places for recreation during your stay in Sacramento:
1) State Capitol
Although this building sounds like something that you will find in the nation's capital, Washington DC, it serves as the prime example of the brilliant neo Classical architecture that can be seen in Sacramento. Colorfuls garden that are spread out over multiple blocks, towering palm trees and various other spectacles of nature make the building a true sight to behold for visitors. It is without a doubt one of the most beautiful capitol buildings, if not the most remarkable, in all of America. Inside, there are a number of different rooms that constitute the State Capitol Museum. These rooms are filled with precious artworks and antiquated objects that will pique the interest of even those who have little or no affinity for history.
2) Fairytale Town
It is not always easy travelling in the United States with your little ones. Not every city in the country has a Disneyland or Universal Studios to fulfil the fantastical wishes of the children. This is why the kinds end up acting a little agitated and cranky when they are being toted around sightseeing spots. If you are going through a similar predicament, then Fairytale Town may just be the perfect solution to your problem. It is a family park that features abundant entertainment and educational amenities for your children. There are farm animals, leaning gardens and theme play areas which will keep your children busy, amused and happy. Based on fairytales and nursery rhymes, the park is sure to light up a smile on your child's face.
3) Crocker Museum of Art
This museum is home to some of the most breathtaking artworks that you will ever come across. It mainly hosts California art with some pieces of European and East Asian art thrown into the mix. It is a private collection and was assembled by Judge Edwin B Crocker nearly one and a half centuries ago. Some of the works art in this museum are old as 167O years. Over the decades, the building has undergone several renovations and restorations, with the addition of the modern, 125,000 square foot "Teel Family Pavilion" being the latest attraction.