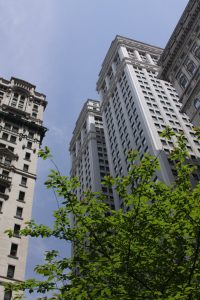 At first New York City might not seem one of the most beautiful and romantic cities in the world because it's full of tourists and teenagers trying to take photos in Times Square. However, the atmosphere of this beautiful American metropolis can put your head above the clouds. No matter what kind of couple you are in, you'll find something romantic for you in New York. Check out this list of my top picks for a romantic date in the city that never sleeps.
Take a carriage ride in Central Park
It might sound cliché, but carriage rides are always romantic. Every woman would love to take a carriage ride through Central Park. You don't have to book it in advance, simply grab one out in front of the famous Plaza Hotel. Sure it's a tourist attraction, but who wouldn't like to sit back and enjoy a tour through one of the most famous parks in the world.
Ice skate at Rockefeller Center
The ice skating rink in front of Rockefeller Center doesn't need much introduction, as it's shown in every American movie about Christmas or New Year's Eve. The gigantic Christmas tree surrounding the rink is definitely a world-famous attraction. If you want to get closer to your date, ice skating hand-in-hand might be the best way to do so no matter if you're just visiting NYC or if you're a local. You can finish your ice skating date with a cup of mulled wine or a drink at the top of the Rockefeller Center.
See New York from one of the rooftop bars
NYC is full of skyscrapers and the views from the top are amazing. Whether you're up for a late meeting after work or if it's your first special occasion, a dinner with a view can always spice up your romance. Why not try Le Bain at the Standard Hotel for some peaceful sunbathing or Jimmy at the James for a quick swim in the rooftop pool? You can also get lost in the garden at Gallow Green at the McKittrick Hotel nestled in Chelsea and enjoy the view with your special someone.
Picnic at Staten Island
For those wanting to get away from the city I'd advise an excursion to Staten Island. This quiet island is a perfect destination for a Sunday afternoon, offering a perfect escape from the hustle and bustle of the city. The magical Staten Island served as an asylum for immigrants, a beach resort for wealthy, a hideaway for slaves, and a seafood production center. Nowadays, it's a popular picnic spot definitely worth visiting.
See a Broadway musical
The musicals on Broadway are world famous and a great option for a romantic night with your partner. Spend a special night with your chosen one by watching one of the highest-quality professional live shows in the world. Musicals are on most couples' to-do list for dates and I'm sure it wouldn't end with just one Broadway show.
Remember that visiting or living in NYC doesn't have to be expensive. It's way cheaper when you book things online, especially when you use coupon codes from Flipit.