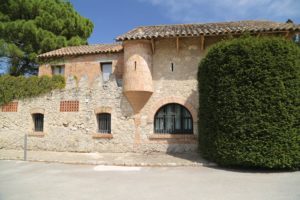 The first thing that comes to mind when you think about Catalonia is probably Barcelona. And it's true, Barcelona is its most well-known, and by far the most visited, destination. But Catalonia has much more to offer than just its capital and lots of towns and villages worth exploring.
In fact, Catalonia is one of my favorite places in the world, and I could go on and on about the many beautiful places to visit there. From medieval towns to stunning beaches there's so much to love.
As an added bonus, U.S. passport holders do not need a visa to visit Spain on vacation. You can stay for up to 90 days visa-free. However, be aware that you'll soon need a new travel authorization for the Schengen Area. Make sure you understand the ETIAS travel requirements if you're planning a trip from May 2023.
Now, let's take a look at some of the most idyllic towns and villages to visit on your next trip to northeastern Spain.
Rupit
Rupit is a charming village in Catalonia. It is located in the Catalan region of Osana, in the province of Barcelona. Its location in the middle of the Collsacabra mountains provides a dramatic landscape and plenty of excellent photo opportunities.
Wandering through the historic center of Rubit you'll notice the stone houses dating right back to the 16th and 18th centuries, many with lovely entrances and balconies.
Other architectural highlights include the churches, such as the 17th century Church of Sant Miquel Arcángel, and the Church of Santa Magdalena. Also, you won't want to miss the Can Badire bridge or the Hanging Bridge!
Cadaqués
Cadaqués is one of the most iconic towns on the Costa Brava. It's popular among tourists who enjoy its beautiful beaches, excellent climate, restaurants, and culture.
Cadaqués is a must-visit if you'd like to know more about the life and work of the artist Salvador Dalí. You can visit Dalí's home and workshop in Port Lligat.
Throughout history, Cadaques has been an important trading port, it also developed anchovy and tuna processing industries. Today Cadaqués still retains its fishing traditions and has become a popular destination for art lovers to visit for its beautiful architecture, streetscapes, and sandy shores.
Pals
Pals is a picturesque medieval town in the province of Girona, Catalonia. Pals is known for its medieval architecture and natural beauty, with cobbled streets winding through medieval buildings filled with shops, restaurants, museums, and other points of interest.
The gorgeous old-world charms of Pals make it perfect for anyone who wants to visit somewhere untouched by time!
Besalú
Besalú is another Catalan town dripping with history. It's known for its medieval architecture and narrow cobblestone streets, making it ideal for exploring on foot.
Besalú's most emblematic feature is the Romanesque bridge which stands guard at the entrance to the old town. It is exceptionally well preserved and a wonderful example of Medieval architecture.
The town is also known for its Jewish past, traces of which can be seen in the ancient ritual purification baths, miqveh, dating back to the 12th century and believed to be some of the oldest Jewish baths in Europe.
Begur
Another spot to visit on the Costa Brava, Begur is definitely worth adding to your itinerary for Catalonia. Begur old town is such a treat to visit. One of my favorite places to visit in Begur is the Medieval castle which stands proudly overlooking the town. Other than the castle, there are many more architectural gems to discover.
The old fishing quarters, by the beach, attract tourists from the local area and beyond throughout the summer. Perhaps the most popular choice amongst visitors is Aiguablava with a lovely marina and beach with crystal clear waters.
Get Packing!
I hope these five towns have inspired you to visit Catalonia! You'll be transported back in time as you wander the cobbled streets and see the stone houses and medieval castles. You won't miss out on the beaches either, the Costa Brava is home to some of the most stunning coastal towns in the country.
Also, it goes without saying that Catalan cuisine is second to none. You'll be spoilt for choice when it comes to restaurants offering fresh fish and the finest local products. You may also want to sample some of the wines or cavas produced in the region.
The most practical way to reach these pretty towns and villages is by car, you'll have greater flexibility and time to see more different places. If that's not an option for you there are public transport options available from Barcelona and Girona including trains and buses.
Time to start planning your trip, happy traveling!