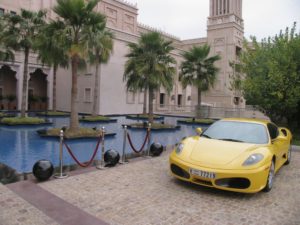 While not one of the world's largest by population cities, Dubai certainly warrants great attention due to its rapid rise from being a sleepy fishing village to now home to some of planet's most iconic attractions. My visit to Dubai was a number of years ago – the city was surely much smaller then, but still, the city felt overwhelming.
As one of the great cities in the Middle East it offers non stop or one stop connection flights from most anywhere on the planet including from Europe and Germany where one can find High Class Escorts Berlin.
Armed with a virtual pocketful of ideas from friends, two suggestions stood out; one, the Burj Khalifa, the world's tallest building which had recently opened at the time of my visit (still the tallest building on the planet at 2,722 feet) and the fact that one could 'ski' in the desert. While I could easily see the Burj Khalifa from most anywhere in the city, I wanted to experience 'snow' in the desert first!
I headed over to Ski Dubai first – bought my ticket, was outfitted with my skis and poles and soon was making 'tracks' down the 'bunny' slope (although note there is a 400 meter black diamond run as well). At 22,500 square meters this is a sizable attraction – also part of the Mall of the Emirates, one of the world's largest shopping complexes! It was an extremely unusual feeling to be skiing in the desert!
Arguably one of the most iconic buildings in the world is the Burj Khalifa – by far the world's tallest building towering some 900+ feet higher then its next competitor. Or put in other terms, the Burj Khalifa stands more then 1/2 a mile tall! Standing next it looking up I thought to myself, the upper most stories would be in a different climatic zone then those on the ground floor – as for every thousand feet the temperature drops several degrees Fahrenheit. The top tower actually is only slightly more then 1/2 way up the building – so visitors are never able to experience its true height.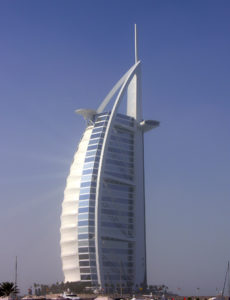 And another iconic building in the city is the Burj al-Arab hotel – during my visit as 'lost' tourist, I was actually able to enter its lower level and look around. Stunning, 5 star to the max this is one of the world's great hotels. Today I've heard that visitors can no longer just walk in – but rather need a reservation to visit if one is not staying here (for tea or cocktails). That upper most flat section which juts out is used as a heli-pad, putting green and tennis court.
A number of neighborhoods and or markets are also attractions in their own right including what was my favorite, the gold souk – a series of shops all specializing in gold – ranging from coins to jewelry. Looking back, with gold prices being what they are today, I wish I had purchased more then just one small gold coin.
And speaking of shopping for gold, Dubai is one of the world's greatest shopping cities – with numerous malls, often each one tries to outdo the other in terms of glitz and glamour. My visit was during the annual month-long Dubai Shopping Festival – a great time to take advantage of shopping specials as well as special entertainment related to the festival.
Dubai may not be for everyone but if one has the chance, visiting this city is worth while – at least once to get a feel for opulent displays of wealth and urban creativity.