New Zealand is a daring place. While it offers plenty, beautiful villages and sights, for example, to all types of visitors, those with a tendency towards vertigo will have to sit out when it comes to New Zealand's most famous activities. So, what do when we go seeking that rush in the Southern Hemisphere?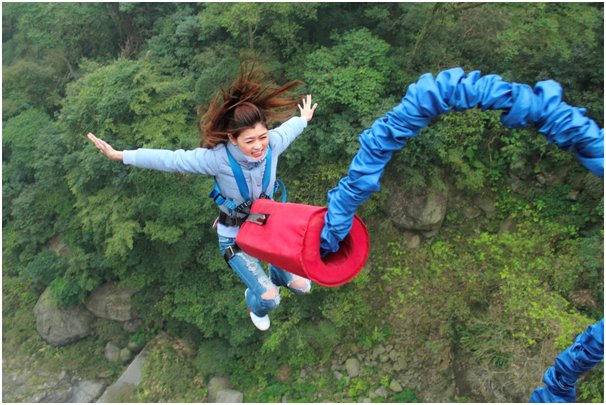 Extreme Sports Capital
New Zealand has become famous as the World's Capital of Extreme Sports. It is easy to see why! With temperate weather all year, a relatively small population (only four million people), and a third of its land marked for conservation, this nation has a lot to offer visitors seeking some adrenaline.
More and more travel blogs are relaying their adrenaline pumping experiences from New Zealand. Their fame works like a snowball and seems to be growing all the time. With so many attractions and travel restrictions lifting, more and more people will be enjoying everything this island nation has to offer.
Top Bungee Jumping Options
You know things are good when we can talk about our top or favorite places to go bungee jumping. Not every area, New Zealand not being too large, can offer so many options in this regard.
Queenstown Nevis
The Nevis jump in Queenstown is the largest in New Zealand. At 134 meters, you will be in the air for 8.4 seconds. That is quite a bit of time to be falling through the sky. A cable car transports you to the jumping spot, where you can enjoy views of the Nevis Valley and its river.
Auckland Harbour Bridge
While significantly less of an extreme drop compared to Nevis, the Harbour Bridge in Auckland is still 40 meters of free fall. There is a jumping pod attached underneath the Harbour Bridge, so you are jumping over a beautiful body of water.
White Water Rafting
You can also take your pick from a number of white water rafting options. This activity requires a bit more skill and athleticism than bungee jumping, but can be just as filled with excitement and adrenaline.
Kaituna River
Kaituna River is a 5 grade river experience and only costs a little over a hundred. The ride down takes just under an hour, and you will visit fourteen rapid water streams. The climax of the adventure is the 7-meter Tutea Falls. This is officially the world's highest waterfall for rafting!
Victor Wero Auckland
If you are looking for a calmer, more controlled option, there is a good one in Auckland. The River Rush Adventure managed by Victor Weno costs $100 and is a 300m course with a grade 3.
Don't Forget to Take a Break
When you spend an afternoon, or a few days, jumping off bridges, kayaking down mountains, and traversing ancient forests, it is a good idea to take a break. Otherwise this type of adrenaline can become addictive very easily.
It can also be dangerous if we get used to taking risks. If we normalize dangerous situations, we may begin to relax too much and stop taking the necessary precautions to ensure safe adventures. This is another reason it is important to take relaxing breaks.
Visiting casinos, whether online or not, is a great option available in New Zealand. One good option is the online Casumo Casino. This award-winning casino offers free spins as part of their no-deposit bonus. Plus, their welcome bonus can be worth more than a grand. Their mobile casino makes this very accessible for bettors in New Zealand.
But that is not the only relaxing option that New Zealand offers, of course. Queenstown is a beautiful place. It has plenty of options that are more calm while still keeping in touch with nature. If you are looking for more, you can check out these things to do in Queenstown. Whether taking a gondola ride, or visiting a winery, there is plenty on offer here!
This is also something to add to your travel agenda if your group includes people seeking thrills, as well as those with fainter hearts. Whoever is traveling to New Zealand, they are sure to find a world of different types of adventures waiting for them on arrival.