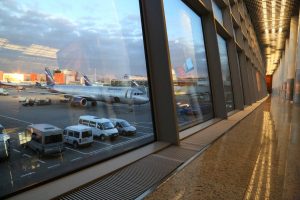 We've all been there, and we've all begrudged the long hours spent waiting for our next flight in an in-between airport. If you've got some long layovers in your near future, consider passing the time with these boredom-fighting tips.
Use What You've Got
If you know you're going to have a ton of time on your hands, and you won't be able to go anywhere but the airport terminal, make sure you've got what you need to keep yourself entertained and occupied. Load your phone up with free games that take little space and don't require data usage, then delete them when your boredom-inducing layover is done. You'll be amazed at how easy it is to whittle away the hours with some Candy Crush or Angry Birds, even if you would never play those games in your everyday life. It's all about fighting boredom here people, so don't become too proud to beg. Quick aside: this probably seems like a no-brainer, but if you're taking a phone across the world (or even the nation), be sure you grab a sturdy phone case. The last thing you need is for your iPhone to crack and leave you in the lurch when you're far away from home—grab a high-quality case from a site like Touch of Modern before heading out—you can thank me later.
Get Your Blood Pumping
Got a few hours to kill? Get rid of those inevitable kinks in your neck and stiff muscles by doing a little bit of exercise in the airport terminal. Maybe it's some high knees by your suitcase, or a long walk to and from terminals. You can even bring along a Manduka travel yoga mat and lay it out right in your gate for some soothing bridge poses. Some airports even have yoga rooms (here's looking at you SFO) so you might be able to find a more private area to get your stretch on. You might be embarrassed to sweat it out in front of strangers, but consider this—you'll likely never see these people again, and your muscles will thank you when you finally reach your destination.
Get Some Reading Done
Try to never buy books from airports—the markups are insane. If you don't have one already, I highly suggest looking into a Kindle or similar e-reader. While I love the smell and feel of a classic paper book as the next bibliophile, you have to admit it's not the most convenient to carry around a cache of books in your backpack or take up valuable space in your checked luggage. You can get multiple books for each trip on your kindle, and never worry about lighting—it's definitely something to think about.
Get a Glimpse of the City
If your luggage has been automatically moved to your next flight and you've got nothing to do for a day in the airport, why not get out and see what your current city has to offer? Be sure to research the visa situation in the country—you may need differing documents to be allowed out of the airport.
Get a Cheap Hotel Room
You have a 10 hour layover, but you don't want to shell out the money for a hotel room that you'll use for barely any time at all. There might be a solution. Instead of sleeping in the airport and making yourself and your possessions vulnerable to shady characters, rent a room for just a few hours. I'm not talking about the shady type of motel that charges by the hour, I'm talking about YOTEL facilities. These tiny rooms can be rented for a minimum of four hours, and offer luxury beds, showers, television screens, and a desk, all within a small space within the airport. While right now you can only find these facilities in four big cities: New York City (not in an airport, however), Paris, London, and Amsterdam, their convenience is sure to promote use and hopefully lead to the inception of more of these types of facilities in airports across the globe. Singapore, Miami, San Francisco, and Brooklyn are also set to open their own within the next few years.
Long layovers don't have to feel like the end of the world. Use these tips next time you're stuck in the airport and keep your wits about you no matter how much time you have to waste.