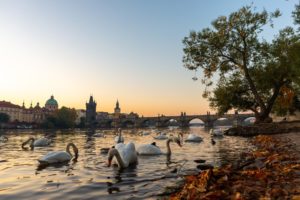 I recall visiting Europe for the first time; my brother and I had both recently graduated high school and we backpacked across part of the continent for about 6 weeks. We spent all our time in western Europe, enjoying life, trying to live as cheaply as possible, and aside from worrying about money and normal logistics, our travels were highly enjoyable.
I remember meeting other young travelers who spoke highly of Prague and the Czech Republic and told us it was so cheap to travel there compared to western Europe. During my first time in Europe, I always thought of Prague as somewhere so far east and so far off the radar, that we never even considered visiting. It wasn't until several years later that I made a dedicated trip to Prague. And I'm glad I did.
My visit was in Spring – before large numbers of tourists descend during the popular summer months. Spring is a great time to visit (especially in April and May) because of less crowds while the weather is generally quite pleasant. And of course the city is synonymous with spring flowers including plenty of cherry blossoms, however, note that most of the blooms are winding down by early May.
And with a large number of green spaces or parks throughout the city Prague is ideally suited for Spring visits. The city is considered one of the most 'green' urban areas with approximately 200 unique parks or green spaces. One of the largest parks in the city is Havlíčkovy Sady.
Prague is not just monuments. Active travelers will enjoy many unusual activities in Prague. You can visit Prague's largest shooting range, where you can try sport shooting at a distance of up to 500m. Motor sports fans will be impressed by the unique Prague go-kart track near the city centre, covering 12,000 m2. If you're a fan of running, you'll find plenty of trails and routes, for example in Stromovka Park or near Troja Park.
Some of my favorite spots in Prague from my visit are the following: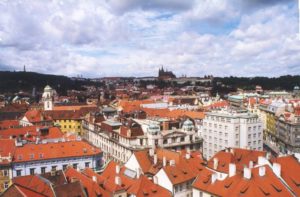 Charles Bridge: this iconic structure spans the length of the Vltava River and connects the famous Prague Castle with old town on the other side of the river. Remarkably this bridge dates from 1357. All first time visitors to the city will want to stroll slowly across this old beauty, absorbing the scenic vistas.
Prague Castle is another one of Prague's iconic sites. Construction on the castle began in 870 and has seen extensive expansion and renovation over the centuries. It is the largest ancient castle in the world. During our visit I remember being impressed by all the ancient cannonballs on display.
Prague Astronomical Clock. I remember making a special trip to see this clock operate (it is located on the Old Town Hall). Dating from the 1410, it is the world's oldest still operating astronomical clock. It operates every hour with a 'live; mechanical performance including moving statues.
Prague Jewish Quarter (also known as Josefov), is a small and quiet neighborhood featuring a number of synagogues, an old cemetery (worth spending some time in, and a pleasant place to hang out on a warm spring afternoon), the Jewish Museum and the birthplace of the great writer, Franz Kafka.
Have you visited Prague before? Let us know some of your favorite parts of this beautiful city in the comments section below.