Planning a summer escape in Europe can be an overwhelming task. With so many places to explore, which one should you pick? If you need inspiration, have a look at the ideas below and discover the best destinations to check out.
Barcelona, Spain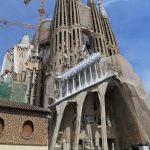 Summer is the perfect time to visit Barcelona, one of Spain's treasures. It is a great opportunity to revel in the beauty of the city's architecture. The work of Gaudi will surely be unmissable. You should see the Sagrada Familia, which will leave you in awe. From the outside to the inside, it is one of the greatest works of architecture that you will ever see. Park Guell, which houses other works by Gaudi, will also be worth seeing. Your taste buds will thank you for visiting Barcelona as it is one of the best places to taste authentic Spanish tapas.
London, UK

The UK's capital has a lot to offer for every traveler planning to visit in the summer. If you love sports, Wimbledon season coincides with summer, making it one of the best things to enjoy during your trip. This is also a time to enjoy some of the best music festivals in the city, which is a great way to party and meet other people. When the sun is shining, you'll see people sitting outside cafes and relaxing in one of London's famous parks. If you are interested in seeing the landmarks, make sure you take a tour of Buckingham Palace, where you can spend time in the rooms used by the Royal Family. You can make the most of the long summer evenings by dining in a rooftop restaurant. Visiting London during the summer is a great time to sample the food in this lucrative city that is filled with an abundance of high-end restaurants.
Paris, France
If there is one thing that you should see when in Paris, it is perhaps the iconic Eiffel Tower. Other than this, the city has a lot of other things to offer during the summer. Be ready for the crowds; it can be really touristy, but it is worth it. It has a collection of world-class museums and galleries, with one of the most famous being The Louvre. Just taking a leisurely walk around the beautiful city, and enjoying breakfast outside a traditional French cafe will be an experience in itself.
Tuscany, Italy

Summer is the perfect opportunity to enjoy everything Tuscany has to offer. There are many charming villas that can provide the perfect accommodation. You can relax and enjoy the beautiful landscapes, which seem to have been taken straight out of a postcard. If you are looking for a pilgrimage site, a visit to La Verna is a must. Meanwhile, for a taste of art, the Uffizi Gallery Museum in Florence will surely be worth your time. The Leaning Tower of Pisa is another attraction that you should not miss. Of course, your visit will not be complete without sampling the delicious Italian cuisine.
Bergen, Norway

Nicknamed as the European City of Culture, you will have an endless list of things to do and see in Bergen. It is also known as the Gateway to the Fjords, making it an ideal way to enjoy idyllic views of the best of nature. Among other attractions, one thing that you should not miss is Bryggen, which is a designated UNESCO World Heritage Site. There are also several museums in Bergen that you can visit for a taste of its culture and history.