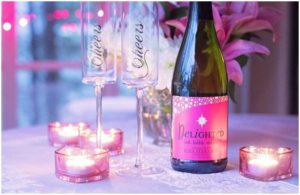 A decade of marriage is a glorious milestone that should be celebrated in style. Traditionally, tin or aluminum was used to commemorate this achievement, but now there are plenty of modern alternatives available to acknowledge your long-lasting commitment.
Wish to celebrate your decade of partnership? Here, we've rounded together the best 10th-anniversary gifts that are worth spending for.
1. Diamond Ring
Diamonds are adored by men and women alike, which makes them a perfect anniversary gift for your spouse. It is the hardest natural material on the planet; hence become customary for celebrating 10 years of long and loyal commitment.
A diamond ring is a classic and timeless way to show your love and symbolize your commitment to one another. You can gift diamonds to your soul mate either in the form of new baubles or an upgrade to their wedding band.
However, if you are opting for something new, it is advised not to pick up anything too closely resembling an engagement ring. Surprise him or her with a jewel piece that possesses heirloom quality, and is wearable and stackable.
In addition to rings or pendants, you can also opt for a pair of diamond-embellished cuff links for the guy who loves to get dressed up.
2. Wandering Fables Custom Anniversary Map
The second best gift to make your day special and memorable is the custom anniversary map. Capture the most important places in your lives over the past 10 years and add them to the map so your loved one can recall all those pleasant memories.
You can pick up to seven such maps and customize the details. It is always recommended to include both of your hometowns, where you met, your engagement and wedding destination, and the place where you honeymooned.
3. Champagne Glasses
Cheers to the 10 years of strong bond and partnership with a set of champagne glasses in pastel shades. Complete the gift with a bottle of your favorite vintage and pop it together to commemorate a year as a married couple.
4. Pearls
Surprise your better half with timeless pearl jewelry and celebrate the decade of your marriage in style. It looks incredibly sophisticated while adding a charming appeal to the wearer's personality. There's a wide range of pearl jewelry to choose from, including necklaces, studs, bracelets, brooches, and rings; hence you can easily find something that fits your partner's wardrobe and taste.
5. Faux Flowers
Are you searching for something romantic and sentimental? Gift your spouse a bunch of faux flowers and remind her (or him) of your strong partnership. Daffodils represent resiliency and strength, thus showing your long-lasting commitment. Additionally, the ceramic arrangement accentuates the decor of your space and looks appealing when it sits on display at home.
6. Gift Set
Don't be afraid to think out of the box while celebrating your 10th wedding anniversary. Gift your soul mate a tin-themed anniversary gift, filled with goodies, and farm-fresh spa products, including cake-scented shea cream that will instantly bring her back to the day she said: "I do."
7. Zodiac Present
Are you looking for a thoughtful present? Incorporate a unique zodiac element like a birthstone or zodiac sign to personalize a gift in a meaningful way.