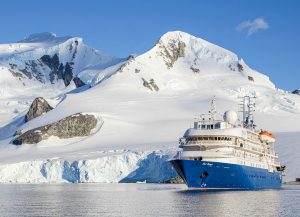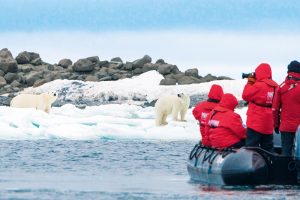 Were you wondering how to go from looking up polar travel online to actually going to the Arctic, Antarctica and even the North Pole? A few decades ago, getting to these destinations required weeks of preparation, 2-3 years at sea and great feats of physical endurance. Today, however, you can get there in safety and comfort of a small expedition cruise ship. And the best thing – the landscapes and wildlife are as wild and majestic as ever. A trip to the polar regions is still a real adventure and an authentic travel experience, something which is ever more important in our largely tamed world.
With Poseidon Expeditions, you can explore the Arctic destinations of Svalbard, Greenland, Franz Josef Land, and even the North Pole, or join Antarctic cruises to the Falkland Islands, South Georgia and the seventh continent itself. No matter which itinerary you choose, an expedition cruise will awaken the spirit of adventure in you.
The vessels used for expedition cruising are strong enough to meet the challenges of polar weather and ice while being small enough to navigate close to action. You will get even closer with Zodiac landing crafts. A team of region experts and professional guides will show you the best sites and iconic wildlife. The spacious, well-appointed suites and bright and airy public areas back on the ship offer a generous measure of comfort, leisure and relaxation after a long day of activities.
In the Arctic, you'll encounter whales, polar bears, walruses and seabird colonies. Ice is ever-present in the mountainous landscapes – icebergs, glaciers and pack ice all around. In Antarctica, penguins, seals and whales dominate the beautiful and bountiful islands of the Southern Ocean. Reaching the geographic North Pole is an exceptional experience in itself, something that only a few lucky people ever get to do.
Whether you are a lifelong word traveler or a backyard nature lover, a polar cruise with Poseidon Expeditions will make you an explorer for life. We look forward to welcoming you aboard!