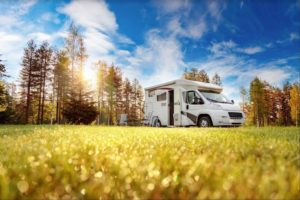 Recreational vehicles are a great way to holiday. But which one should you hire? And what should you keep in mind? We've got the answers.
Calm, expansive lakes, towering volcanoes, ancient rock formations, rolling fields—there's no shortage of natural beauty in New Zealand. You can fly to a city and explore the countryside around it, or you can take the scenic route and drive across the islands to make sure you don't miss anything. The charm of New Zealand's wilderness is that the undiscovered spots are even more beautiful than the well-known tourist sites.
If you're worried about finding hotels to stop at every night when you're on the road or struggling to find a clean toilet in the middle of nowhere, we've got the answer: recreational vehicles! Whether it's campervans, motorhomes, or caravans, there's bound to be the perfect RV for your holiday.
Since these terms can get a little confusing, let us help break them down.
Recreational vehicles
A recreational vehicle, RV for short, is a blanket term used to describe any vehicle that's used for travel and has a living space. That includes motorhomes, campervans, and caravans. Each of these vehicles is slightly different from the others, but those differences are key when it comes to deciding what works for your needs.
Motorhome
A motorhome is what most of us are familiar with—basically, it's a large vehicle built on a long-wheelbase. It sort of resembles a small bus. Motorhomes live up to their names. They have sleeping spaces, a kitchenette, a toilet, and a shower—all on wheels. These vehicles can usually house a maximum of six people and have enough space to allow easy movement inside without letting you worry about hitting your head on the ceiling.
You can customise and upgrade your motorhome, depending on how much you're willing to spend. It's possible to add televisions, entertainment systems, and air-conditioning and heating systems. There are also options to add slide outs that create more space within the vehicle, especially for additional sleeping or seating areas. For more information on booking a motorhome in New Zealand, visit https://www.wilderness.co.nz/motorhome-hire-nz
Campervan
Campervans aren't as specialized and kitted out for life on the road as motorhomes are. Invariably, many of them were originally used as 'normal' vehicles before being modified to create a sleeping space. Don't expect the luxuries of a motorhome here. You get the bare necessities in a tinier space—a bed and a few kitchen essentials like a gas cooker. Some campervans have additional sleeping space built into the roof—three people is usually the maximum capacity. New age campervans come with perks, like mini fridges, microwaves, and solar panels to spare your vehicle's battery.
Campervans are available in many tourist destinations worldwide, such as New Zealand. You can rent a campervan from Wilderness in New Zealand or other motorhome rental companies to explore the country with ease. The best places in the country to explore while travelling in a campervan include the Tongariro National Park, which is famous for stunning views of the volcanoes. Wanaka is another peaceful area to tour with a campervan. It's a lakeside town surrounded by foothills and mountain ranges. Other places you'll want to check out are the Road to Glenorchy of South Island, Mangawhai Heads, and Waipoua Forest of North Island.
Caravan
Caravans differ from campervans and motorhomes in that they need to be towed by another vehicle. You can't drive a caravan on its own; you have to hitch it to your car and pull it along. The interiors can resemble either a campervan or a motorhome, depending on the size of the vehicle and the budget. These vehicles can be a little challenging to handle and require skilled drivers.
However, caravans make road trips fun. They allow you to bring everything you'll need for a memorable holiday experience with loved ones, such as fishing gear, sporting equipment, a small table and folding chairs for dining or lounging. They're also built with extra storage space that you can use to avoid overloading your car. While they require assembly, putting it together doesn't take much effort and time, just like setting up tents. But unlike tents, they offer more protection.
How to choose the right vehicle for you
Now that you've got the terminology cleared up, it's time to think about which vehicle is best for you. Here are some things to keep in mind before opening your wallet.
Think about what features you want in the vehicle. Are you a spontaneous traveller who can live with few creature comforts, or are you a family with kids that needs proper sleeping areas? Are you okay with making do with public bathroom facilities, or do you need your own private toilet and shower?
For instance, campervans are like an extended version of vans with a built-in shower and toilet. Most campervans have a cafetière, a toaster, and a microwave. On the other hand, motorhomes generally have a kitchenette with a sink, a stovetop, a refrigerator, and an oven. Luxury models may have a microwave. In addition to appliances, a motorhome provides a small bathroom with a shower, a toilet, and a sink.
You've also got to think about the size of the vehicle. Like we've discussed, motorhomes are significantly larger than campervans. They require confidence and familiarity with driving big vehicles.
Additionally, size comes into play when you consider who will be using the vehicle—a small group of friends or parents and young, energetic kids who need space. Remember, that the vehicle you choose will determine where you end up travelling to. Certain routes and areas are more suited to compact vehicles like campervans, so try and factor that into your decision.
Most importantly, think about your budget. There could be additional costs like designated campgrounds or motorhome parks that have a daily rate, and you need to factor petrol (or diesel) costs in too.
So, what are you waiting for? Make your decision and hit the road for fun adventures.