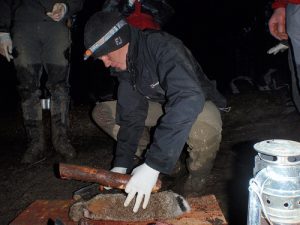 New York, NY – July 9, 2013 – Man vs. Wild star Bear Grylls announced the launch of his first ever Bear Grylls Survival Academy in the USA today, offering outdoor enthusiasts across the country the chance to learn his extreme survival techniques. Designed by Bear Grylls himself, the course will consist of several survival techniques and will be run by his close team of highly trained survival experts.
The first academy is set to kick off in the Catskills Mountain region, a wild undulating area of New York State in November. In addition, a further Academy will be opening in Texas at a later date. Comprising of a combination of remote land/water survival and adventure tasks, the course will culminate in a wilderness expedition designed to put the participants new found skills to the ultimate test. Techniques include fire lighting, emergency shelter building, knife skills, foraging for grubs and rodents, remote medical trauma, a range of dynamic activities including rappelling, tyrolean traverses and scrambling, extreme weather survival, river crossings and of course Bear's famous Gross Eat challenge!
Lead instructor and course developer, Scott Heffield, who also works closely with Bear, says: "The Catskills provide the perfect backdrop for Bear Grylls Survival Academy course to launch. Topography, rivers, lakes, extreme weather conditions and wildlife are all important factors to consider and the Catskills provides the perfect setting to recreate an environment that simulates real life Bear Grylls survival situations."
Bear Grylls is arguably the most recognized face of survival and outdoor adventure, with experience gained during his seven seasons of Discovery's Emmy nominated hit TV show Man vs. Wild and NBC's new Get Out Alive with Bear Grylls. The course is based around the skills he learned from his time with the British Special Forces and his many survival missions to every extreme wilderness on the planet.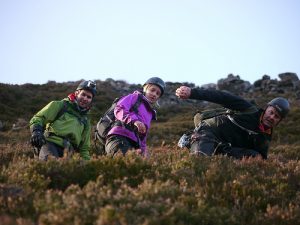 "So many people have asked me over the years where they can learn extreme, practical survival – the type that requires spirit, determination and the skills to self-rescue against the odds, in some of the harshest terrain around. So it is with great pride that we can now finally launch the Bear Grylls Survival Academy in the USA to be able to share some of these skills and what it really means to be able to look after yourself when the chips are down," says Bear Grylls. "Oh, and it may hurt a little."
To help deliver the course, Bear has teamed up with Worldwide Experience, experts in delivering high quality experience-lead conservation and volunteering courses around the world. Paul Gardiner, Managing Director of Worldwide Experience explained, "Nature, conservation and education are really important to us and we are so excited to continue working with Bear and his team as the Survival Academy launches in the USA. Our aim is to inspire people to reconnect with the natural world and the course will give people a really raw but fulfilling experience hopefully leaving people feeling challenged but with big smiles on their faces!"
Updated information can be found at www.beargryllssurvivalacademy.com. The official opening dates will be announced on the website.
About Bear Grylls
Bear's passion for the outdoors was forged during his childhood in the UK on the Isle of Wight where his late father taught him to climb and sail. Trained from a young age in martial arts, Bear went on to spend three years as a soldier and combat survival instructor in the British Special Forces, serving with 21 SAS. It was here that he perfected many of the skills that his fans all over the world enjoy watching him pit against mother-nature. Today perhaps Bear is best known for his international TV series Man vs. Wild, which has achieved a global audience of over 1.2 billion followers, and his new NBC survival series: Get Out Alive with Bear Grylls.
To view example itineraries or make a booking, contact toll-free 1-877-742-2925 in the USA, visit www.beargryllssurvivalacademy.com or email: enquiries@beargryllssurvivalacademy.com
About Dave's Travel Corner

Dave's Travel Corner is a travel content, resource provider and community (founded 1996) providing travel
Guides
written about Dave's personal travel experiences and
Journals
, pages that contain trip summaries and experiences written by fellow travelers. We spotlight locations and attractions with an article linked directly from our homepage including content across our blog, photo and video galleries. We use a combination of social media, written content, photography and videos to promote locations. Not only does the content appear on this site but we have direct partnerships with other well visited travel sites for placement of the content. Since 1996, we have also established hundreds of relevant link exchanges with other travel sites.
Visitors to Dave's Travel Corner will also find thousands of travel related links organized by categories on the
Resources Page
, a
Photo Gallery
containing International travel photos,
Book Reviews
, and
Product Reviews
focusing on products useful for travelers, fully automated
Forums
,
Tour Bookings
offering over 4400 unique tours around the globe,
Interviews
with those making news in the travel industry and
Videos
- specializing in International travel videos as well as home of the
Dave & Jim Show
.
Dave's own travel blog is
Above the Clouds
which focuses on International Travel & Lifestyle.
For information on advertising please choose from a variety of
advertising options here
.
Contributors are welcome

Learn how you can contribute
About

www.davestravelcorner.com/about