Cancun, Mexico (November 13, 2012) – The Cancun Convention & Visitors Bureau (CVB) is proud to announce the inauguration of one of the destination's most anticipated attractions: Cancun's Maya Museum. Mexico's president, Felipe Calderon, presided over the inauguration ceremony on November 1.
After six years of construction, the museum's modern structure has become the largest ever built by the National Institute of Anthropology and History (INAH) since the Templo Mayor Museum was built in 1987.
The Cancun CVB promotes the ancient roots that make up the destination's Mayan culture and celebrates the opening of one of its most promising tourist attractions during an incredibly exciting season that marks the end of the Mayan calendar and the beginning of a new era.
With an investment of approximately $15 million, 70% of which was contributed by the federal government through the INAH. Cancun's Maya Museum includes 350 archeological artifacts that took 30 years of research to procure, includes relics that have never been shown as well as others that were discovered in recent excavations. Other displays in the museum were previously exhibited at different venues like the Museo Regional de Yucatan or "Canton Palace" and the former Archeological Museum of Cancun.
Cancun's Maya Museum boasts three exhibition halls of more than 4,400 square feet, two permanent and one temporary venue for national and international exhibitions. An exhibition of 14,000-year-old skeletal remains is the first things to explore when you enter the museum. Discovered in the last 12 years in Tulum's underwater caves, these remnants offer important clues of the arrival of mankind to the American continent.
The first exhibition room of the museum is dedicated to the Mayan population that resided on what is now Quintana Roo and pays special focus to the remains of La Mujer de las Palmas or "The Woman of the Palms." These remains were found in a cenote of the same name in 2002 and it is estimated that this person lived 10,000 years ago during the ice age. Wildlife and stone tools of this time period are also displayed here.
The second exhibition room was designed to represent the diversity of the regions that make up the area. The Sala Maya or "Maya Room" showcases aspects of Mayan architecture, art and other artifacts that ancient Mayans used on a daily basis. Sculptures and architectural fragments of Chichen Itza, the Yucatan and a collection of ancient engraved bricks from the city of Comalcalco in Tabasco are also exhibited.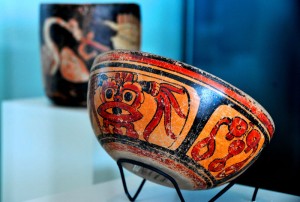 Cancun's Maya Museum was designed by Alberto Garcia Lascuráin and was built on an area of over 55,000 square feet. At the museum's entrance stands a fountain with three sculptures that symbolize the vegetation of the area. These sculptures were built by artist Jan Hendrix and were later donated to the INAH.
The exhibition rooms are elevated over 3,000 feet above sea level to prevent the possibility of flooding due to any natural events or storms. They are also equipped with modern security systems, special lighting system and temperature and humidity control for the proper preservation of the artifacts.
According to the director of the INAH, Alfonso de Maria y Campos, the more than 12 million annual foreign and local visitors that come to Cancun for its sun and beaches will be pleasantly surprised to discover this unique museum in the area's famous hotel zone. The museum expects about a million annual guests.
Five buildings are open to the public: The Great Pyramid, a 26 foot structure where the main building is located; The South, comprising of residential units, palace-style building and small altars; Dragons – named in the 1970's after an area where snake heads were found and mistaken for dragon heads – in this area stands a temple adorned with fragments of ancient mural paintings of animals and marine elements.
Next to the Maya Museum, the San Miguelito archeological site recently opened as well. This location was inhabited over 800 years ago until the arrival of the Spanish conquistadors.
Cancun's Maya Museum and the archeological site of San Miguelito are located on Km 16 on Kukulkan Boulevard in Cancun's Hotel Zone. The museum is open Tuesday to Sunday from 10 a.m. to 7 p.m., except on Thursday (7 a.m. – 10 p.m.) Tickets cost around $5 for access to both the museum and San Miguelito site. Children under 13 and adults over 60 years old receive free admission. On Sunday, admission is free to local residents with official identification.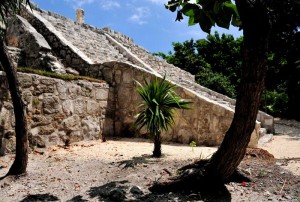 About Cancun
Cancun is located in the northern part of the southeastern Mexican state of Quintana Roo. It is Mexico's number one tourist destination and is known all over the world for its spectacular beaches, unique beauty and breathtaking turquoise waters.
Cancun's shoreline recently underwent a $71 Million Dollar makeover, that featured 1.3 billion gallons of sand to renovating the Hotel Zone's seashore. The most popular tourism destination in Mexico and Latin America has also added to its sun, beach, and nightlife, by creating a unique five-day route that will offer visitors a chance to experience adventure and interaction with nature. Cancun and the Treasures of the Caribbean invite travelers to discover the vast natural, cultural and gastronomical cultures of Puerto Morelos, and the four islands of the Mexican Caribbean: Holbox, Isla Mujeres, Contoy and Cozumel. Cancun is a multifaceted destination that combines nature, historical Mayan Culture, glamour, luxury and world class tourism with the seduction for adventure, the passion for paradisiacal nature and the enchantment of gastronomical magic.
For more information, visit the Cancun Convention and Visitors Bureau website at: www.cancun.travel. Follow us on Twitter @CancunCVB, browse through our videos on YouTube at: https://www.youtube.com/user/cancuntravel and share your pictures of Cancun on our Flickr site at: http://www.flickr.com/photos/22572360@N07/.
About Dave's Travel Corner

Dave's Travel Corner is a travel content, resource provider and community (founded 1996) providing travel
Guides
written about Dave's personal travel experiences and
Journals
, pages that contain trip summaries and experiences written by fellow travelers. We spotlight locations and attractions with an article linked directly from our homepage including content across our blog, photo and video galleries. We use a combination of social media, written content, photography and videos to promote locations. Not only does the content appear on this site but we have direct partnerships with other well visited travel sites for placement of the content. Since 1996, we have also established hundreds of relevant link exchanges with other travel sites.
Visitors to Dave's Travel Corner will also find thousands of travel related links organized by categories on the
Resources Page
, a
Photo Gallery
containing International travel photos,
Book Reviews
, and
Product Reviews
focusing on products useful for travelers, fully automated
Forums
,
Tour Bookings
offering over 4400 unique tours around the globe,
Interviews
with those making news in the travel industry and
Videos
- specializing in International travel videos as well as home of the
Dave & Jim Show
.
Dave's own travel blog is
Above the Clouds
which focuses on International Travel & Lifestyle.
For information on advertising please choose from a variety of
advertising options here
.
Contributors are welcome

Learn how you can contribute
About

www.davestravelcorner.com/about