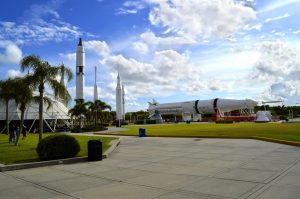 CAPE CANAVERAL – January, 2018 – KENNEDY SPACE CENTER – The race to Mars has already begun, and with the opening of the new Astronaut Training Experience® (ATX) at Kennedy Space Center Visitor Complex this February, guests will be the first to "touch down" on the Red Planet. The all-new Astronaut Training Experience will use immersive simulation technology to transport participants to Mars, train them to live and work in the harshest environment, and teach them what it's like to travel to the Red Planet, using real NASA science to address engineering challenges.
Astronaut Training Experience will boast the most high-tech, hands-on activities available at Kennedy Space Center Visitor Complex through two distinct programs: Astronaut Training Experience, for which Training Segments will be for sale mid-January, and Mars Base 1, which opens in February 2018. Astronaut Training Experience will provide an opportunity for visitors to train like an astronaut preparing for a mission to Mars. Mars Base 1 will provide participants with a chance to live on Mars for seven hours, as "rookie astronauts," while performing base operations along with real science experiments and engineering tasks.
"We're offering something that most people thought they would never get to do in their lifetime," Therrin Protze, chief operating officer of Kennedy Space Center Visitor Complex said. "For anyone who has wondered what it would be like to feel like an astronaut, to train like they train, face the challenges and issues they have to work though while under extreme pressure, Astronaut Training Experience and Mars Base 1 is now available to everyone."
Upon entering the Astronaut Training Experience Center, guests will be surrounded by ambiance that replicates actual astronaut training techniques and experiences. A sleek design, realistic signage and sophisticated technology provide a sense of authenticity. Excitement builds as participants are handed life-like badges and special-issue t-shirts to immerse them in the program, and their assignments, which are led by expertly trained educators – their "Trainers" and "Lab Chiefs."
Through the programs and associated assignments, participants will work together by taking on specific roles to address challenges and solve problems:
In the Astronaut Training Experience program, groups of up to 24 will simultaneously work in multiple training areas that will replicate astronaut training of the future. Trainees will attempt the same physical tasks of the actual astronauts who will travel to Mars, by working within reproduced environmental scenarios, such as the Land-and-Drive-on-Mars full-motion simulator, Walk-on-Mars virtual reality, Launch Mission and Spacewalk Training.
Mars Base 1 provides the ultimate simulation of not just traveling to Mars, but living and working there for an entire day. Offered to individuals and groups, the mission begins with a "transport" to Mars. At three different stations within Mars Base 1, participants will be assigned real-life challenges that require analytic thinking, communication and collaboration. For example, in the Mars Engineering Lab, "rookie astronauts" will design and test a program that allows a team of robots to efficiently clear debris from a photovoltaic panel, restoring maximum solar power to the Base. They will also partner with scientists working on NASA's Food Production by planting, harvesting, and analyzing vegetables and plants as they gather data in a series of controlled experiments taking place in the Mars Botany Lab.
Now located among the other attractions at Kennedy Space Center Visitor Complex and offered as an add-on to regular admission or purchased separately, Astronaut Training Experience activities are designed with a focus on problem solving, communication and collaboration, making them ideal for team building in an interesting and inspirational environment. Programs will range from 30- and 45-minute experiences easily added to a Kennedy Space Center Visitor Complex day, to a few hours and will range in price from $30 – $175. Two, three- and five-day camp programs will also be available. The breadth of offerings provide the opportunity to participate based on interest level and specific educational needs.
"The new Astronaut Training Experience Center is the most interactive and technologically advanced experience at Kennedy Space Center Visitor Complex," said Protze. "ATX and Mars Base 1 bring the future of space exploration to life. Guests looking to get as close to Mars as possible without actually becoming an astronaut will be able to have that opportunity at the new Astronaut Training Experience Center."
Kennedy Space Center Visitor Complex brings to life the epic story of the U.S. space program, offering a full day or more of fun, inspiration and educational activities. Highlights include Heroes & Legends, featuring the U.S. Astronaut Hall of Fame®, presented by Boeing, the Kennedy Space Center Bus Tour featuring the Apollo/Saturn V Center with an actual Saturn V moon rocket, Space Shuttle Atlantis®, Shuttle Launch Experience®, IMAX® A Beautiful Planet 3D and Journey To Space 3D films, Astronaut Encounter, Journey To Mars: Explorers Wanted, Science on a Sphere®, Rocket Garden, Cosmic Quest, and many other exhibits. Only 45 minutes from Orlando, Fla., Kennedy Space Center Visitor Complex opens daily at 9 a.m. with closing times varying by season. Admission is $50 + tax for adults and $40 + tax for children ages 3 – 11. Kennedy Space Center Visitor Complex offers annual passes starting at $75 + tax for adults and $60 + tax for children ages 3 – 11. For more information, call 877-313-2610 or visit www.KennedySpaceCenter.com.
About Dave's Travel Corner

Dave's Travel Corner is a travel content, resource provider and community (founded 1996) providing travel
Guides
written about Dave's personal travel experiences and
Journals
, pages that contain trip summaries and experiences written by fellow travelers. We spotlight locations and attractions with an article linked directly from our homepage including content across our blog, photo and video galleries. We use a combination of social media, written content, photography and videos to promote locations. Not only does the content appear on this site but we have direct partnerships with other well visited travel sites for placement of the content. Since 1996, we have also established hundreds of relevant link exchanges with other travel sites.
Visitors to Dave's Travel Corner will also find thousands of travel related links organized by categories on the
Resources Page
, a
Photo Gallery
containing International travel photos,
Book Reviews
, and
Product Reviews
focusing on products useful for travelers, fully automated
Forums
,
Tour Bookings
offering over 4400 unique tours around the globe,
Interviews
with those making news in the travel industry and
Videos
- specializing in International travel videos as well as home of the
Dave & Jim Show
.
Dave's own travel blog is
Above the Clouds
which focuses on International Travel & Lifestyle.
For information on advertising please choose from a variety of
advertising options here
.
Contributors are welcome

Learn how you can contribute
About

www.davestravelcorner.com/about