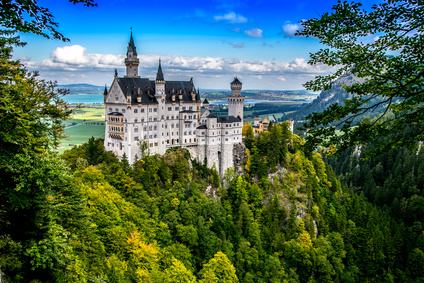 – the official press release from the German Tourism Office ( www.cometogermany.com )
Charming river-cities, medieval towns, winding streets, charming shops and delicious edibles are irresistible charms of Bavaria, a multifaceted travel destination. The beautiful historic towns of Bamberg, Coburg, Rothenburg, Passau and Regensburg as well as Bavaria's capital Munich deliver all this without breaking the bank. Easily accessible and combined by train, each town offers incredible deals and delights.
Not only is the UNESCO World Heritage Site of Bamberg in Bavaria's north one of Europe's largest, fully preserved Old Towns dating back a thousand years, it is also a paradise for beer lovers! With nine privately owned breweries serving more than 50 different sorts of beer, Bamberg is brimming with old and quaint brewery pubs. Enjoy a beer directly from one of the many in-house breweries for only $3.50 a pint. Bamberg's myriad of pubs and taverns in the picturesque Old Town also serve traditional Bavarian cuisine, starting at a reasonable $6. Discover Bamberg with one of the many individual packages. The "Discover Bamberg" package for example includes two overnights in a double room, an audio guided city tour, entrance fee to a variety of Bamberg's museums, such as the Franconian Brewery Museum, and a typical Franconian sausage-meal with a pint of smoked beer for only $136 per person. www.bamberg.info
Coburg, located three hours north of Munich, is still an insider's tip and is well worth a visit. Home of the famous M.I. Hummel figurines and cradle of European high nobility, Coburg offers hundreds of reasons for a budget friendly vacation. Stay for only $20 in a romantic castle that has been converted into a youth hostel or, if you prefer a little more comfort, enjoy long lasting tradition in the Bavarian Hotel "Goldene Traube" for $77 per person. www.goldenetraube.com Discover the beautiful historic Old Town and stop by the city's beautiful market square for lunch to sample the famous Coburg sausage, grilled on pine cones, for less than $2. In the afternoon visit the impressive Veste Coburg Fortress and Museum, overlooking the Franconian landscape, the former refuge to Martin Luther (admission fee $6.50). For a delightful regional dinner, check out one of Coburg's old restaurants, like the Monchner Hofbraeu. Meals are available for as low as $10. www.coburg-tourist.de
Nuremberg is one of the most beautiful medieval cities in Bavaria and has an impressive history of almost 1,000 years. You will love the city's enchanting Old Town which offers anything the heart desires: lively beer gardens, charming squares with historic houses and buildings, exciting shopping streets, cozy taverns, as well as fascinating sights and museums. Enjoy and experience Nuremberg for less than $100 per day. The Nuremberg Convention and Tourist Office offers a special package including accommodation and a typical Nuremberg sausage meal for just $60 per day. There is also a special package for the world-renowned Nuremberg Christmas Market which can be booked for the period from November 27th to December 24th. tourismus.nuernberg.de
Rothenburg ob der Tauber (on the Tauber River) is situated on the Romantic Road in the northwestern part of Bavaria and is one of the most visited towns in Europe with splendid location and charming medieval atmosphere. Getting around on $100 a day is easy. You can discover bygone eras as you walk along the top of the historic town wall, stroll through the narrow streets and alleyways, or hike through the vineyards down to the Tauber River – all of which give a great vacation experience that don't cost a penny. A visit to one of the fascinating museums like the Medieval Crime Museum, the German Christmas Museum or the Imperial City Museum costs no more than $5. Rooms at the Hotel Rappen, just next to the town's main gate, start from $56 for a single or $75 for a double room. Make sure you sample one of the famous "Rothenburg Schneeballen" (Rothenburg Snowballs) made from strips of sweet fried dough covered with powdered sugar or chocolate (prices start at $2.50). www.rothenburg.de
For over 40 years, "Kaethe Wohlfahrt" in Rothenburg offers all year a large selection of traditional German Christmas decorations, such as high quality pyramids, handmade incense burners, nutcrackers and Christmas tree ornaments in Christmas stores throughout Bavaria that are open year-round. All Kaethe Wohlfahrt products stand for exceptional handcrafting, cultivation of old German traditions and the use of high quality materials. The company's main store "Weihnachtsdorf" (Christmas Village) in Rothenburg lets all your Christmas dreams come true: some 30,000 individual items are displayed around a Franconian indoor marketplace with a 16 feet high white Christmas tree, decorated with more than 1,000 glass ornaments. Shopping in this store is an exciting experience at any time of the year – not only for Christmas items but also for German souvenirs! shop.wohlfahrt.com The "German Christmas Museum" is located on the floor above the Christmas Village store in Rothenburg. This delightful year-round exhibition covers the history of German Christmas traditions and decorations. Entrance to the museum is approximately $5. www.weihnachtsmuseum.de
Munich's world class culture is affordable with a bit of advance planning. On Sundays, many of the city's museums, such as the Munich City Museum ("Stadtmuseum") offer free admission. Reduced entrance fees are available to museums run by the State of Bavaria, such as the renowned "Pinakotheken Art Galleries". www.pinakothek.de Numerous festivals are held in Munich throughout the year and do not charge admission. During the 3-week "Tollwood Festival" on the Olympic Grounds (June 18th – July 12th, 2009), you can choose among more than one hundred free shows. www.tollwood.de For an inexpensive but very impressive view of the city and the surrounding Bavarian Alps, climb to the top of the tower of St. Peter's Church.
The "Viktualienmarkt", an outdoor market close to St. Peter's Church in the town center, features food and drink from all over the world. Bratwurst on a bun, or hearty soups served with bread are popular snacks to consume at the market. Munich's famous delicacy, the fresh white veal sausage "Weisswurst", served in the city for some 150 years, is always a good value.
The yearly "Blade Nights" in Munich attract not only active skaters, but also draws a large crowd of onlookers. Every Monday evening from May to September, skaters race through pre-planned routes in the city. www.muenchner-blade-night.de (German only) Bargains cannot only be found in Munich's activities and delicacies, but also in many of Munich's more than 450 hotels. Accommodations tend to fall in price as one moves further from the city center.
The "City of Three Rivers" Passau is situated in Lower Bavaria, in the eastern part of the state. Chug along the river (and profit of the discount vouchers) on Danube cruises offered by the Passau Tourist Information. A 45 minute sightseeing tour by boat starts at $9.50. Passau also stages several outstanding art and music festivals throughout the year. The "Hoellgassenzinnober" festival on May 23rd, for example, features numerous galleries, ateliers and art and craft workshops from the "Hoellgasse", also known as "Kuenstelergasse" (artists' alley). During the festival, artists present their work and live music and culinary food stands complete the event. From July 31st to August 2nd the Jazz festival "Piazza Museo" hosts international artists on stage. Great bargains for the hungry can be found in the many restaurants in the pedestrian zone and in the Old Town. For as low as $7.15 you can fill yourself up on their lunch specials. Modern architecture, a hip design and an ideal location make the "Rotel Inn" the ideal accommodation at an affordable $32 per person/per night. www.rotel-inn.de (German only)
The UNESCO World Heritage city of Regensburg, only 90 minutes north of Munich, is more than 2,000 years old and many sights serve as a reminder of this long history. Numerous Roman buildings, such as the Porta Praetoria – an old Roman town gate – can still be seen today. The underground museum "document Neupfarrplatz", displays the history about the Romans and the Jewish community that was located around the Neupfarrplatz until 1519. The entrance fee to the museum is $6.50. www.regensburg.de For lunch, sit down near the Danube and enjoy sausages with kraut and bread for $14 in the "Historische Wurstkuchl", the world's oldest sausage kitchen. www.wurstkuchl.de The next station of your tour could be the shipping pier on the waterside. Schifffahrt Klinger offers exciting boat trips to many different sights such as the Walhalla, the German Hall of Fame containing busts of famous German personalities. www.schifffahrtklinger.de (German only)
About Dave's Travel Corner

Dave's Travel Corner is a travel content, resource provider and community (founded 1996) providing travel
Guides
written about Dave's personal travel experiences and
Journals
, pages that contain trip summaries and experiences written by fellow travelers. We spotlight locations and attractions with an article linked directly from our homepage including content across our blog, photo and video galleries. We use a combination of social media, written content, photography and videos to promote locations. Not only does the content appear on this site but we have direct partnerships with other well visited travel sites for placement of the content. Since 1996, we have also established hundreds of relevant link exchanges with other travel sites.
Visitors to Dave's Travel Corner will also find thousands of travel related links organized by categories on the
Resources Page
, a
Photo Gallery
containing International travel photos,
Book Reviews
, and
Product Reviews
focusing on products useful for travelers, fully automated
Forums
,
Tour Bookings
offering over 4400 unique tours around the globe,
Interviews
with those making news in the travel industry and
Videos
- specializing in International travel videos as well as home of the
Dave & Jim Show
.
Dave's own travel blog is
Above the Clouds
which focuses on International Travel & Lifestyle.
For information on advertising please choose from a variety of
advertising options here
.
Contributors are welcome

Learn how you can contribute
About

www.davestravelcorner.com/about