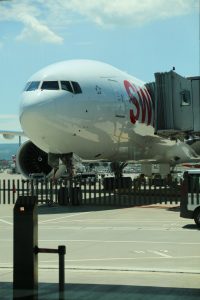 (November 23, 2009) — We recently attended a screening of "Up in the Air" at Paramount Studios in Hollywood featuring George Clooney as Ryan Bingham, a corporate downsizing expert whose "travel time" is threatened just as he nears his 10 millionth frequent flyer mile mark. This unfortunately occurs after he meets the woman frequent traveler of his dreams. This dramatic comedy was directed by Jason Reitman, the Oscar nominated director.
Frequent travelers will certainly get a kick out of watching "Up in the Air"; there are a number of travel jokes, frequent flyer tales and airport humor. Hardcore domestic travelers take note of the opening sequence of images; your challenge is to try and identify all the random images of cities that flash by on the screen.
The movie is woven around Ryan Bingham who is a frequent flyer due to the nature of his business. He is the man companies call when they need their employees fired.
With only 43 days spent last year at his empty sparsely furnished apartment in Omaha and the rest of the time spent on the road, Ryan is getting close to a major milestone in his frequent flyer program. Enter Alex (Vera Farmiga), a frequent traveler looking for some fun.
Ryan and Alex find a connection in their chaotic travel lives and a romantic fling soon turns into more. Then an upstart young Princeton graduate Natalie (Anna Kendrick) puts a monkey wrench in Ryan's travel plans and changes how his company conducts business.
The script is highly entertaining and moves well throughout. There are also several poignant and reflective scenes.
Up in The Air keeps you guessing towards the end but then it throws a refreshing twist more common of a real life situation rather than a Hollywood movie. Its not the normal comedy wrapped in a box with a bow on top ending.
Release Date
Up in The Air will be released on a limited basis December 4 and nationwide on December 25.
Our Rating (Flying high)
Our roving Los Angeles and Hollywood correspondent Jim Baxter recently interviewed several of the stars including Vera Famiga and Anna Kendrick as well as director Jason Reitman.
Here are some of Jim's notes and their comments about this movie.
Our Travel Movie Rating System
Flying high
Never took off
It's going down

Jason Reitman
Jason directed this movie and is the son of Ivan Reitman (who directed "Ghost Busters"). He is only 32 years old. Previous movies Jason has directed include "Juno" and "Thank You for Smoking". He also wrote "UP" several years ago. For "Up in the Air" Jason interviewed people who really lost jobs. The movies "realistic" ending is original and the studios did not try to change it. The script was actually written 7 years prior to filming.
Vera Farmiga
Vera had a child right before the filming of the movie. She had this to say about George Clooney "he
really accommodates the other actors. It was a joy to work with him." Of note is that Vera will direct her own Indie film soon.
Anna Kendrick
Indicated she can be a control freak at times but likes the fact that her character is highly ambitious. She saw George as an older brother and he looked out for her on the movie set. She said, "George looked out for me and offered me a lot of advice on my personal dating life."
Her favorite line in the movie was telling George he was behaving like 12 year old child. There is a scene in the movie where her character is told something heart breaking via an SMS message. Incidentally Anna broke up with boyfriend when she was 11 via email.
During the filming in St. Louis she was able to try yoga for the first time. Recent movies she has acted in include "Twighlight" (a vampire love story) and "Elsewhere."
About Dave's Travel Corner

Dave's Travel Corner is a travel content, resource provider and community (founded 1996) providing travel
Guides
written about Dave's personal travel experiences and
Journals
, pages that contain trip summaries and experiences written by fellow travelers. We spotlight locations and attractions with an article linked directly from our homepage including content across our blog, photo and video galleries. We use a combination of social media, written content, photography and videos to promote locations. Not only does the content appear on this site but we have direct partnerships with other well visited travel sites for placement of the content. Since 1996, we have also established hundreds of relevant link exchanges with other travel sites.
Visitors to Dave's Travel Corner will also find thousands of travel related links organized by categories on the
Resources Page
, a
Photo Gallery
containing International travel photos,
Book Reviews
, and
Product Reviews
focusing on products useful for travelers, fully automated
Forums
,
Tour Bookings
offering over 4400 unique tours around the globe,
Interviews
with those making news in the travel industry and
Videos
- specializing in International travel videos as well as home of the
Dave & Jim Show
.
Dave's own travel blog is
Above the Clouds
which focuses on International Travel & Lifestyle.
For information on advertising please choose from a variety of
advertising options here
.
Contributors are welcome

Learn how you can contribute
About

www.davestravelcorner.com/about