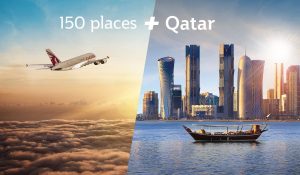 DOHA, Qatar – Qatar Airways has launched a unique stopover package in partnership with Qatar Tourism Authority (QTA) to promote and market Qatar as a destination of choice for international travelers. The program offers transit passengers the opportunity to discover Doha with free luxury hotel stays and complimentary transit visas. The unique offer is part of a broader campaign called +Qatar that aims to encourage all transit passengers to add Qatar to their itinerary.
This unique offer from QTA and Qatar's award-winning airline allows passengers traveling through Doha to experience a taste of the Middle East for free. Throughout the summer, the national carrier, with the support of QTA, will give passengers the chance to turn a layover into a stay-over by offering four and five star hotel accommodation at no charge to those transiting through Doha. The promotion invites all Qatar Airways passengers to add Doha to their vacation by taking advantage of a free one-night hotel stay from a selection of the country's best four- and five-star hotels in the capital, Doha.
"Qatar Airways is more than just a national flag-carrier for Qatar; we are proudly patriotic and want to share Qatar's many exciting attractions with our passengers from around the world," said His Excellency Mr. Akbar Al Baker, Qatar Airways Group Chief Executive. "This exclusive initiative provides the opportunity to add an extra element to our passengers existing travel plans with a complimentary hotel stay in some of Doha's finest hotels. We want to ensure that our passengers have a memorable experience every time they travel with Qatar Airways, and now, we're going even further to make sure that we exceed their expectations."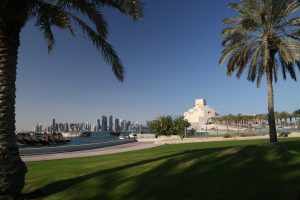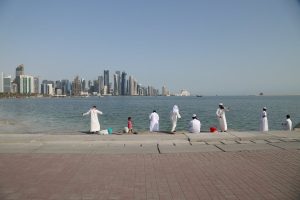 "It was a great source of pride for all of us in Qatar when we launched the transit visa last November. We have already seen a surge in stopover passengers, with a 53 per cent increase recorded in March 2017, compared to the same month last year," stated Chief Tourism Development Officer, Qatar Tourism Authority, Mr. Hassan Al-Ibrahim. "With the launch of +Qatar today, we aim to convert a larger portion of the 30 million passengers passing through Hamad International Airport into stopover visitors. We are delighted to make Qatar more accessible to people from around the world and invite them to discover our country, our cultural heritage and our natural treasures."
Passengers transiting through Doha can extend their stay to make the most of their journey taking in the sights of Doha with a completely free night courtesy of Qatar Airways and QTA or stay a little longer with a second night's stay for a modest $50 booking fee. Passengers can choose from hotels such as The Four Seasons, Marriott Marquis, Radisson Blu and Oryx Rotana. The free hotel accommodation, available throughout the summer, will offer passengers the opportunity to explore Doha and experience city tours, desert safari adventures or a dinner cruise aboard a traditional dhow, giving visitors a taste of authentic Arabian hospitality, courtesy of Discover Qatar.
To be eligible for this offer, passengers simply book their flight on www.qatarairways.com, select 'multi-city' and choose their hotel once they receive their flight confirmation. The online transit visa application is also free and is eligible for those in transit between five and 96 hours. This ground-breaking offer is available for all Qatar Airways passengers, both Premium and Economy, demonstrating the airline's commitment to its brand ethos of 'Going Places Together'. To maximize their time in Qatar, visitors can explore additional stopover packages offered by Discover Qatar.
This unique offer with QTA has been launched by Qatar Airways' newly created destination management company, Discover Qatar, and is just one of many new initiatives that will be launched in the coming months to generate awareness of, and visits to, Qatar. It was designed to kick off the newly launched campaign '+Qatar' from Qatar Tourism Authority and is aimed at supporting the growing demand for tourism in Qatar.
This exciting and innovative announcement comes as the airline celebrates its 20th year of operations, marking two decades of growth, industry leadership and innovation. This year, Hamad International Airport (HIA) was also ranked the Sixth Best Airport in the World by the 2017 Skytrax World Airport Awards, as well as having been named Best Airport in the Middle East for the third consecutive year, and recognized as having the Best Staff Service in the Middle East for the second year in a row.
Known for introducing industry firsts, Qatar Airways is one of the fastest-growing airlines operating one of the youngest fleets in the world. Qatar Airways has a modern fleet of 197 aircraft flying to more than 150 key business and leisure destinations across six continents. Exciting new destinations being launched in 2017 include Nice, Chang Mai, Dublin and Skopje.
# # # #
About Qatar Airways
Qatar Airways, the national carrier of the State of Qatar is celebrating 20 years of Going Places Together with travellers across its more than 150 business and leisure destinations. The world's fast growing airline will add a number of exciting new destinations to its growing network in 2017, including Dublin, Nice, Skopje and many more, flying passengers on board its modern fleet of 197 aircraft.
A multiple award-winning airline, Qatar Airways was awarded World's Best Business Class; Best Business Class Airline Lounge and Best Airline Staff Service in the Middle East at the prestigious 2016 World Airline Awards managed by international air transport rating organisation Skytrax.
Qatar Airways is a member of the oneworld global alliance. The award-winning alliance was named the World's Best Airline Alliance 2015 by Skytrax for the third year running. Qatar Airways was the first Gulf carrier to join global airline alliance, oneworld, enabling its passengers to benefit from more than 1,000 airports in more than 150 countries, with 14,250 daily departures.
Oryx One, Qatar Airways' in-flight entertainment system offers passengers up to 3,000 entertainment options from the latest blockbuster movies, TV box sets, music, games and much more. Passengers flying on Qatar Airways flights served by its B787, A350, A380, A319 and select A320 and A330 aircraft can also stay in touch with their friends and family around the world by using the award-winning airline's on-board Wi-Fi and GSM service.
Qatar Airways proudly supports a range of exciting international and local initiatives dedicated to enriching the global community that it serves. Qatar Airways sponsors world-leading sports teams including FC Barcelona and Al-Ahli Saudi Arabia FC reflecting the values of sports as a means of bringing people together, something at the core of the airline's own brand message – Going Places Together.
Qatar Airways Cargo, the world's third largest international cargo carrier, serves more than 50 exclusive freighter destinations worldwide via its Doha hub and also delivers freight to more than 150 key business and leisure destinations globally on 197 aircraft. The Qatar Airways Cargo fleet now includes eight Airbus 330Fs, 12 Boeing 777 freighters and one Boeing 747 freighter.
About Qatar Tourism Authority (QTA):
Long recognized by the country's leadership as an avenue to further Qatar's development, tourism has been designated a priority sector by the government. Qatar Tourism Authority's mission is to firmly establish Qatar on the global map as a world-class tourism destination with deep cultural roots. In 2014, QTA launched the Qatar National Tourism Sector Strategy (QNTSS), which seeks to diversify the country's tourism offering and increase the sector's contribution to Qatar's economy by 2030.
QTA works in partnership with public and private stakeholders to achieve this mission by planning, regulating and promoting a sustainable and diverse tourism industry.
As part of its planning efforts, QTA identifies types of tourism products and services that will contribute to the Qatar tourism experience, and works to attract investment for their development.
Regulation efforts involve ensuring tourism sector establishments operate at the highest standards while perpetuating Qatar's culture.
QTA promotes Qatar as a destination around the world, through its destination branding, international representation and participation at trade shows, and by developing a rich calendar of festivals and events. With a growing international presence, QTA's representative offices in London, Paris, Berlin, Milan, Singapore, Riyadh, Istanbul and New York support QTA's promotion efforts.
Since launching QNTSS, Qatar has welcomed over 9 million visitors, and achieved an average annual growth in arrivals of 11.5 per cent between 2010-2015. The economic impact of the tourism sector in Qatar is becoming increasingly visible with 2015 estimates showing a total impact on Qatar's total GDP of 4.4 per cent.
About Dave's Travel Corner

Dave's Travel Corner is a travel content, resource provider and community (founded 1996) providing travel
Guides
written about Dave's personal travel experiences and
Journals
, pages that contain trip summaries and experiences written by fellow travelers. We spotlight locations and attractions with an article linked directly from our homepage including content across our blog, photo and video galleries. We use a combination of social media, written content, photography and videos to promote locations. Not only does the content appear on this site but we have direct partnerships with other well visited travel sites for placement of the content. Since 1996, we have also established hundreds of relevant link exchanges with other travel sites.
Visitors to Dave's Travel Corner will also find thousands of travel related links organized by categories on the
Resources Page
, a
Photo Gallery
containing International travel photos,
Book Reviews
, and
Product Reviews
focusing on products useful for travelers, fully automated
Forums
,
Tour Bookings
offering over 4400 unique tours around the globe,
Interviews
with those making news in the travel industry and
Videos
- specializing in International travel videos as well as home of the
Dave & Jim Show
.
Dave's own travel blog is
Above the Clouds
which focuses on International Travel & Lifestyle.
For information on advertising please choose from a variety of
advertising options here
.
Contributors are welcome

Learn how you can contribute
About

www.davestravelcorner.com/about