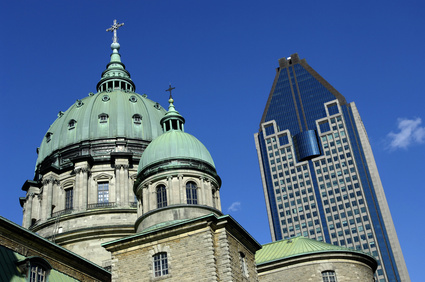 Bota-Bota, spa-sur-l'eau
A floating oasis of tranquility on the shores of the city, this contemporary spa is cleverly housed in a former ferry boat anchored at the Quays of the Old Port. Go for the luxurious treatments, of course, but also go to enjoy the unique atmosphere enhanced by a sublime view of the Saint-Lawrence River and urban panorama that affords a wonderful opportunity to sit back and relax on deck, sip a glass of your favourite vintage and sample the seasonal delights created by Chef Éric Gonzalez. As summer draws to a close, his menu will feature a flavourful combination of hot, cold and fish dishes.
Gardens of light – Montréal Botanical Garden
Until November 4, the 20th edition of The Magic of Lanterns< illuminates the Chinese Garden at the Montréal Botanical Garden. The 2012 edition, entitled The Celestial Banquet, features hundreds of silk lanterns in spectacular shapes and colours that create a fairy-like atmosphere in which mythical characters such as Xi Wangmu, the Queen Mother of the West, sits beside the laughing Buddha, the Goddess of Compassion and the Jade Emperor. And for the first time, the Japanese Garden also dresses up for the occasion. A subtle light show brings out the plants' autumn colours and creates a beautiful and calm setting.
The Eaton Centre
At the very heart of Montréal, the Eaton Centre is the city's foremost fashion destination. Sitting along the largest commercial artery in Canada, the five-story complex overflows with trendy boutiques and provides access to the famous underground network. A shining example of the bustling energy and creativity that drives the downtown core, the centre has laid claim to the just title of District Mode de Montréal and welcomes a host of artistic and cultural events, which garnered it a prestigious Grand Prix du tourisme québécois 2012 award.
Montréal/Brooklyn Exhibition
This fall, the SAS Gallery proposes a fascinating dialogue between artists from Montréal and Brooklyn. The project is part of a series of collective exhibitions designed to showcase the differences and similarities of various approaches to contemporary art. From October 11 to November 17, the SAS will display works from Montréal artist Patrick Bérubé alongside New Yorker Melissa Murray, represented by the Causey Contemporary Gallery in Brooklyn.
A History of Impressionnismat the Montréal Museum of Fine Arts
From October 13 to January 20, the Montréal Museum of Fine Arts will paint a stunning portrait of impressionism. This exhibition features 74 extraordinary paintings by Bonnard, Corot, Degas, Gauguin, Manet, Millet, Monet, Morisot, Pissarro, Sisley, Toulouse-Lautrec and other French masters, including an outstanding selection of twenty-one canvases by Renoir, and Degas's famous sculpture Little Dancer Aged Fourteen. The exhibition was organized by the Sterling and Francine Clark Art Institute in Williamstown, Massachusetts, which has one of the greatest collections of French Impressionism in North America.
The Mariner's House at Pointe-à-CallièreMontréal Museum of Archaeology and History
To mark its 20th anniversary, the Pointe-à-Callière Montréal Museum of Archaeology and History will inaugurate a new pavilion on Place d'Youville: the Mariner's House. Connected to the main building by an underground tunnel, this new multi-purpose, educational space dedicated to history and archaeology will house large exhibitions, conferences, lectures and special events. It will also be home to the Archaeo-Space—a simulated archaeological dig for children and families. Until November 25, Pointe-à-Callière presents the exhibition, The Etruscans- An Ancient Italian Civilization.
POP Montréal International Music Festival
On the cutting-edge of what's new in pop culture, this event brings together a contingent of independent artists and showcases emerging and celebrated artistic talents from around the world. Visual arts, uber-stylish fashion shows, workshops, conferences and unforgettable concerts make up this unparalleled program. Artists the likes of Arthur H., Grizzly Bear, Liars, Deerhoof, Cate LeBon, Peaches, David Byrne, Gotye and many others have already confirmed their participation in this 2012 edition, which will take place this coming September 19 to 23.
Festival du nouveau cinéma
With over over 300 films from here and abroad, installations, performances, cocktail parties and lectures highlighting new cinematic practices and technologies…cinephiles will be in for quite a treat during the Festival du nouveau cinéma de Montréal this coming October 10 to 21. Dedicated to the development and distribution of new trends in cinema and new media, this one-of-a-kind fall film event presents a myriad of experienced and emerging filmmakers with a shared passion to make us see the world differently.
A delicious new festival: TASTE MTL
From November 1 to 11, the all-new TASTE MTL Festival will invite Montrealers and visitors alike to celebrate the great variety and quality of the city's restaurants at appetizing prices. For 11 days, foodies will have the great opportunity to discover new establishments and enjoy delectable menus at fixed prices, otherwise known as a table d'hôte, in addition to a host of special events. TASTE MTL offers three fixed prices for evening meal service ($19, $29, and $39 respectively) as well as a fixed late-night menu priced at $19.
Jamie Oliver in Montréal
In collaboration with celebrity British Chef Jamie Oliver, the young and talented Derek Dammann, formerly of the now defunct DNA restaurant, will announce the opening of a new Montréal eatery this September. Located in the heart of the Plateau, this 40-seat establishment will be called the "Maison Publique" and will also feature a 12-seat bar and private dining room. Oliver is but an investor in this project, with Dammann to be in charge of all culinary aspects. A known locavore, Dammann is sure to create a tantalizing menu of delicious local products – stay tuned!
About Dave's Travel Corner

Dave's Travel Corner is a travel content, resource provider and community (founded 1996) providing travel
Guides
written about Dave's personal travel experiences and
Journals
, pages that contain trip summaries and experiences written by fellow travelers. We spotlight locations and attractions with an article linked directly from our homepage including content across our blog, photo and video galleries. We use a combination of social media, written content, photography and videos to promote locations. Not only does the content appear on this site but we have direct partnerships with other well visited travel sites for placement of the content. Since 1996, we have also established hundreds of relevant link exchanges with other travel sites.
Visitors to Dave's Travel Corner will also find thousands of travel related links organized by categories on the
Resources Page
, a
Photo Gallery
containing International travel photos,
Book Reviews
, and
Product Reviews
focusing on products useful for travelers, fully automated
Forums
,
Tour Bookings
offering over 4400 unique tours around the globe,
Interviews
with those making news in the travel industry and
Videos
- specializing in International travel videos as well as home of the
Dave & Jim Show
.
Dave's own travel blog is
Above the Clouds
which focuses on International Travel & Lifestyle.
For information on advertising please choose from a variety of
advertising options here
.
Contributors are welcome

Learn how you can contribute
About

www.davestravelcorner.com/about