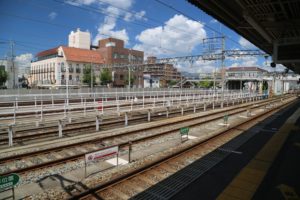 By now, most of the world knows that the beloved Japan Rail Pass went up in price by 69% starting October 1st. Previously costing just a tad more than round-trip tickets from Tokyo to Kyoto, the pass was beneficial to most if not all travelers coming to Japan. At the new price point of 50,000 yen for the standard offering, however, those purchasing the Japan Rail Pass will need to make a much more concerted effort to use it if they're going to get their money's worth.
While many are mourning the change in the pricing structure for the Japan Rail Pass, the hike need not be the death of affordable travel in Japan. Even at 50,000 yen, it is still a very good deal. Moreover, the current macroeconomic situation means that the yen is weak in comparison to other currencies. As a result, Japan is still largely as economical as it has been prior to the price change.
One thing that those purchasing the Japan Rail Pass will need to keep in mind is that they will need to actively try to ride more bullet trains than before to make it a good deal. For example, a standard Tokyo → Kyoto → Hiroshima route is actually cheaper without the pass if you don't include side trips. To make the Japan Rail Pass worth it, travelers after October 1st will need to hop on and off the Shinkansen a lot more.
Luckily, Setouchi is a region that is blessed with a large number of varied destinations that are widely dispersed across western Japan. To reach many of them in an efficient manner, would-be travelers will need to make use of a series of bullet trains, something that would be cost-prohibitive without the likes of the Japan Rail Pass. Even at 50,000 yen, it would still be a steal if one were to travel like this.
Seeing as so many people already plan on traveling to Hiroshima, we've prepared the following set of recommendations in Setouchi for those individuals who would like to add something extra. We've broken down our suggestions into "spots en route to Hiroshima City" as well as those "beyond Hiroshima City." With the help of the Japan Rail Pass, travelers can easily add one or two of these to their Hiroshima trip to get their money's worth.
En Route to Hiroshima City
Kobe
Thanks to its famous brand of beef, there are few people these days who haven't heard of Kobe. That said, there is much more to this port city than most people realize. From the lovely hot spring town of Arima Onsen to the historic Kitano district, there are many more facets of Kobe than just the delicious wagyu. Be sure not to miss out on the epic night views from the Rokko Mountains!
Himeji
Home to Japan's grandest of the twelve surviving original castles, as well as Shoshazan, Himeji makes an excellent pit stop along the way to Hiroshima. The historic castle is just a 15-minute walk away from the Shinkansen station and is therefore easy to tack on. Shoshazan, on the other hand, requires a bit of a bus ride, but the breathtaking autumn leaves and ancient temple buildings are totally worth it. Shoshazan is also where parts of "The Last Samurai" were shot.
Kurashiki
For people coming from the east, the historic districts of Kurashiki are also a great option. The Kurashiki Bikan Historical Quarter is found equidistant between two Shinkansen stops and can easily be added on as a morning outing if you're coming from Kyoto or Osaka. Of course, you can also make an entire day out of the detour and add on Okayama Castle and the enchanting Okayama Korakuen Garden too!
Fukuyama
As you approach the capital city, Fukuyama will be one of the first major spots that you encounter in Hiroshima Prefecture. If you get off here, you can check out Fukuyama Castle, which is only a minute or two away from the station. There is also the Seto Inland Sea port town of Tomonoura. Used as inspiration for Miyazaki Hayao's animated film Ponyo, and as the setting for the Hugh Jackman movie, The Wolverine, Tomonoura is a stellar choice and a top example of Setouchi's rich cultural legacy. Be sure not to miss the original stone lighthouse!
Onomichi
Like Tomonoura in Fukuyama, Onomichi is another port town on the Seto Inland Sea. Famed for being the starting point of the Shimanami Kaido as well as for its temple walk, this hamlet is blessed with a number of spiritual and historic compounds. Nestled between the sea and the hills of Hiroshima, Onomichi and its many temples seemingly cling to the cliffside. Even if you don't do the whole temple walk, taking the ropeway up to Senko-ji gives you a chance to enjoy stunning views.
Beyond Hiroshima City
Miyajima
These days, almost everyone knows about Miyajima's Itsukushima Shrine and its iconic "floating" torii gate. What few visitors to the island know is that there is so much more to see. In fact, Miyajima has a few days' worth of allures. From the sacred Mt. Misen to the Buddhist temple of Daisho-in, Miyajima deserves a lot more of your time than just a few hours. To get the most out of the island, be sure to spend the night there at one of the many ryokans.
Iwakuni
Only a stone's throw away from Miyajima, Iwakuni makes for a great addition to the common combo of the Atomic Bomb Dome, Hiroshima Peace Memorial Museum and Itsukushima Shrine. This former castle town is home to Kintaikyo, one of the three most beautiful bridges in Japan, as well as some great museums.
The Setouchi DMO has curated a number of routes that tour all the areas listed above. If you'd like to learn more about these locations, as well as what to do, see, and eat in each of the suggestions featured here, head on over to Setouchi DMO's website via the following links:
Step back into Setouchi History in Kurashiki, Tomonoura and Onomichi
A 3-day Journey through the History of Setouchi Samurai, Trade, and Culture
Highlights of History and World Heritage in the Chugoku Region
In addition to the Japan Rail Pass, which provides largely unlimited train travel on all JR trains in Japan, there are also many other regional passes. Still unbeknownst to many international travelers, these passes act similarly to the nationwide pass but are limited to a specific region of Japan. As a result, they are far more affordable than the Japan Rail Pass but do come with the requirement of first getting to the section of Japan where they are valid.
While it is indeed true that many of these other offerings from JR are also going up in price, the difference is nowhere near as significant as with the Japan Rail Pass. For example, the JR West All Area Pass is only increasing by 3,000 yen to 26,000 yen. It enables all-you-can-ride travel anywhere between Shin-Osaka Station and Fukuoka, as well as Kanazawa. Assuming travelers fly into Kansai International Airport, this is a steal if they remain in western Japan.
Being regionally restricted by a JR rail pass variant need not be such a significant issue, however. Major hotspots like Mt. Fuji and Kyoto are struggling to keep up with the number of people coming to visit, and this problem is also present at Hiroshima's top spots. Perhaps the change in pricing for the Japan Rail Pass is the perfect chance to combat the growing challenge of overtourism by promoting travel to more rural areas that align well with standard itineraries.
With so much variety in Setouchi both before and after Hiroshima (and indeed in other parts as well), travelers coming to Japan after October 1st would do well to budget for a few more days in the region. After all, while Hiroshima is definitely a "must-visit," there is so much more to Setouchi.
About Dave's Travel Corner

Dave's Travel Corner is a travel content, resource provider and community (founded 1996) providing travel
Guides
written about Dave's personal travel experiences and
Journals
, pages that contain trip summaries and experiences written by fellow travelers. We spotlight locations and attractions with an article linked directly from our homepage including content across our blog, photo and video galleries. We use a combination of social media, written content, photography and videos to promote locations. Not only does the content appear on this site but we have direct partnerships with other well visited travel sites for placement of the content. Since 1996, we have also established hundreds of relevant link exchanges with other travel sites.
Visitors to Dave's Travel Corner will also find thousands of travel related links organized by categories on the
Resources Page
, a
Photo Gallery
containing International travel photos,
Book Reviews
, and
Product Reviews
focusing on products useful for travelers, fully automated
Forums
,
Tour Bookings
offering over 4400 unique tours around the globe,
Interviews
with those making news in the travel industry and
Videos
- specializing in International travel videos as well as home of the
Dave & Jim Show
.
Dave's own travel blog is
Above the Clouds
which focuses on International Travel & Lifestyle.
For information on advertising please choose from a variety of
advertising options here
.
Contributors are welcome

Learn how you can contribute
About

www.davestravelcorner.com/about