Rashid Fehmi, the CEO of Minnesota based Travel Health and Wellness LLC recently contacted me to review a traveler's health app that he has been an integral part of creating.
Once the app is downloaded and installed you choose from seven primary informational based categories – organized by the major continents and regions of the world. Theme travel is one of the categories and provides health information relating to niche type travels including Cruise Ships, Scuba Diving, Pregnant Women, Travel with Pets, and Umrah (travel around Hajj, pilgrimage to Saudi Arabia).
So a bit after the fact, I clicked on Africa to view some of the countries I had visited in West Africa last month. Every country in the world is listed with basic information including some valuable information about seasonal weather conditions, health and vaccinations and safety alerts. This information is based on the CDC (Center for Disease Control). I opened up the profile on Guinea Bissau – and easily found the health and vaccination recommendations for this country (all of which I had updated prior to my trip).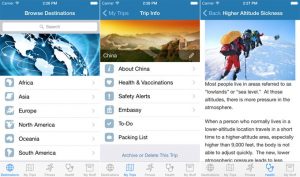 The My Stuff tab contains very useful fields for travelers. Users can setup upcoming trips and store valuable information including a photo of your passport, driver's licsense or any visa's you may have applied for or need. One can also add immunization records, insurance and medication information here.
Two other useful tabs include the Fitness and Health. Fitness provides useful exercises while flying (avoid those dreaded blood clots) as well how to sleep better on flights and the Health tab focuses on common health issues travels may face.
Dr. Rizwan Sohail, the chief medical officer of Travel Health and Wellness My Travel Health says, "Travelers often end up spending valuable business or vacation time in hotel rooms due to illness, are forced to seek medical help in foreign countries, or return home with serious illnesses such as measles, typhoid, malaria, dengue or tuberculosis. My Travel Health provides specific and easy-to-follow recommendations to prevent or deal with travel-related illnesses."
The company formed under Mayo Employee Entrepreneur Program with a license from Mayo Clinic.