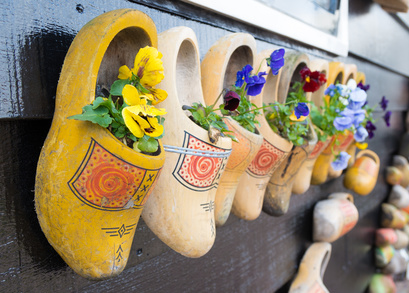 Ongoing, until the museum reopens in 2013
THE MASTERPIECES – RIJKSMUSEUM – AMSTERDAM
Highlights of the Golden Age: wonderful dolls' houses, a treasure-trove of silver, the most beautiful Delftware, magnificent militia paintings and, of course, the famous paintings by Jan Steen, Frans Hals, Vermeer and Rembrandt. Over 400 masterpieces tell the impressive story of the political, economic and artistic wonders of the Golden Age. www.rijksmuseum.nl
September 18, 2010 – March 18, 2011
ALEXANDER THE GREAT – HERMITAGE – AMSTERDAM
A major exhibition about Alexander the Great, including paintings, tapestries, and decorative art depicting his life and history. The exhibition displays objects from classical antiquity to the modern age, of Western and non-Western origins. www.hermitage.nl
October 31, 2010 – May 29, 2011
EMMY+GIJS+ALDO – ZUIDERZEEMUSEUM-ENKHUIZEN
The exhibition entitled EMMY+GIJS+ALDO presents for the very first time a selection of objects designed by Emmy van Leersum, Gijs Bakker and Aldo Bakker, parents and son who occupy a special position in Dutch design. Curator Jan Boelen has compiled an exhibition on these versatile designers of jewelry, user objects and furniture. www.zuiderzeemuseum.nl
November 18, 2010 – February 27, 2011
MEN IN HELENE'S LIFE – KROLLER MULLER MUSEUM – OTTERLO, THE NETHERLANDS
This intelligent, ambitious and energetic woman, who, with her collection, laid the foundations for the museum that bears her name, created the first museum for modern art in the Netherlands. The museum began as Helene Kroller-Muller's collection of 800 paintings, 275 sculptures, 5,000 drawings and prints and some 500 arts and crafts, and the collection continues to grow today. The Kroller-Muller Museum contains the second largest collection of Van Gogh works after the Van Gogh Museum. www.kmm.nl
November 29, 2010 – May 8, 2011
OUT OF THE SHADOWS: JEWS IN THE NETHERLANDS AFTER 1945 – JHM AMSTERDAM
The Jewish Historical Museum presents a major exhibition about Jewish life in the Netherlands after the Second World War. This multimedia display sheds light on how Dutch Jews put their lives back together after the war, what major events had an impact on them, and how the community came to flourish once again. www.jhm.nl
December 7, 2010 – February 21, 2011
INTERNATIONAL PHOTOGRAPHY OF THE 20TH CENTURY – RIJKSMUSEUM – AMSTERDAM
For the first time, the Rijksmuseum will display a selection of recent acquisitions of 20th-century photos from around the world. The presentation includes photos by Liszl Moholy-Nagy, Bill Brandt, Robert Capa and Helen Levitt, as well as photography books by various artists including Man Ray. www.rijksmuseum.nl
December 21, 2010 – March 13, 2011
GABRIEL METSU – RIJKSMUSEUM – AMSTERDAM
The son of a Flemish painter, Gabriel Metsu (1629-1667), staged his career over twenty years. Metsu's ?uvre focused primarily on genre painting, but this exhibition proposes a catalogue raisonn of Metsu's works. With the exception of a smaller 1966 exhibition, there have not been any other exhibitions highlighting the work of this outstanding Dutch artist. The exhibition at Rijksmuseum will feature approximately forty paintings from a variety of public and private collections. www.rijksmuseum.nl
January 26 – February 6, 2011
INTERNATIONAL FILM FESTIVAL – ROTTERDAM
The 40th edition of the International Film Festival Rotterdam offers again a quality selection of worldwide independent, innovative and experimental cinema and visual arts. The International Film Festival Rotterdam is the essential hub for discovering film talent and for catching the early buzz on many world and international premieres. www.filmfestivalrotterdam.com
January 26 – 30, 2011
AIFW, AMSTERDAM INTERNATIONAL FASHION WEEK – AMSTERDAM
AIFW is steadily establishing itself as a young and directional alternative to the world's more traditional fashion weeks. Focusing on Amsterdam's reputation as an inspiring city, the AIFW program combines commerce with creativity. www.amsterdamfashionweek.com
February 11 – May 29, 2011
PICASSO IN PARIS, 1900-1907 – VAN GOGH MUSEUM – AMSTERDAM
The exhibition Picasso in Paris, 1900-1907 shows how the young and unknown artist arrived in Paris and became one of the important avant-garde leaders. Besides works of Picasso in Paris, the exhibition also presents works of other artists which influenced the young Picasso, such as Van Gogh, Toulouse-Latrec, Steinlen and Gauguin. The exhibition includes 50 works of Picasso and a selection of c. 25 works of other artists. www.VanGoghMuseum.nl
March 3 – June 13, 2011 (date subject to change)
JAN STEEN – MAURITSHUIS ROYAL PICTURE GALLERY – THE HAGUE
Dutch artist Jan Steen (1625/26-1679) is best known for his humorous depictions of chaotic households, charlatans and amorous young girls. The Mauritshuis's collection of paintings by Steen will form the core of this exhibition, supplemented by a number of loans. One of the conservators will be working on two of Steen's paintings: The Doctor's Visit (c.1660-1662) and Dancing Peasants at an Inn (c. 1646-1648). For the duration of the exhibition, visitors will have the opportunity to see the restoration of these works at first hand. www.mauritshuis.nl
March 18 – 27, 2011
THE EUROPEAN FINE ART FAIR – MECC, MAASTRICHT (TEFAF MAASTRICHT)
In March 2011, Maastricht, the oldest town in Holland, will once again host TEFAF Maastricht, the world's most renowned art and antiques fair. Only the most illustrious of the world's art and antique dealers – more than 260 eminent dealers from 15 countries – are invited to exhibit at TEFAF. www.tefaf.com
March 24 – May 20, 2011
KEUKENHOF GARDENS – LISSE
Every spring, the Keukenhof Gardens are a feast for the eye. Over 7 million tulips and other bulb flowers are in bloom, covering an area of 80 acres. In 2011, Keukenhof will bring its first spring greetings to Germany. The international flower exhibition has chosen "Germany: Land of Poets and Philosophers" as its central theme for next year. This is not just a tribute to their most important export market for bulbs and flowers, but also to the many tens of thousands of visitors from Germany. www.keukenhof.nl
April 1, 2011
"HET GRACHTENHUIS" OPENING – AMSTERDAM
A canal house museum will open on April 1st at Herengracht 386 in Amsterdam. Het Grachtenhuis is a 17th century mansion, designed by Philips Vingboons, the most famous Dutch architect in the Golden Age. The owner of this home was the banker Jan Willink who gathered the loans that President John Adams used to build New York City and win the Revolutionary War. President Adams went to this canal house in Holland to collect the loans from Mr. Willink several times and used the Dutch funds to lay the foundation for the independence of the United States. www.hetgrachtenhuis.nl
April 2-3, 2011
NATIONAL MUSEUM WEEKEND – MUSEUMS IN AMSTERDAM
During the thirtieth Nationaal Museumweekend, more than 500 museums in the Netherlands open their doors and can be visited for free or with a large discount. Moreover, many museums organize spectacular activities. www.museumweekend.nl
April 16, 2011
FLOWER PARADE – NOORDWIJK
The Dutch version of California's Tournament of Roses Parade! Theme: "Journey through Europe." On Saturday, April 16th at 9:30am the annual Flower Parade will leave Noordwijk to travel its 40 km route to arrive in Haarlem at about 9:00pm. The procession will comprise of 20 large floats and more than 30 decorated luxury cars, interspersed with marching bands. www.bloemencorso.info
April 23 – June 19, 2011
WORLD PRESS PHOTO – OUDE KERK – AMSTERDAM
This is the annual exhibition of the world's best press photographs from the past year. Each year World Press Photo organizes the world's largest and most prestigious competition for news photographers. The winning photos are included in a travelling exhibition that goes to more than 100 cities all over the world. More than two million people visit the exhibition every year. http://www.worldpressphoto.org/
April 30, 2011
QUEEN'S DAY – THE QUEEN'S BIRTHDAY CELEBRATION – HOLLAND
Queen Beatrix's birthday celebration is an annual countrywide party that's not to be missed. Enjoy the world's largest flea market in Amsterdam, musical performances and nonstop, good-natured fun wherever you go.
May 1-31, 2011
CYCLING MONTH – VARIOUS LOCATIONS IN AMSTERDAM
During this annual event, which lasts the entire month, there are unique cycling routes, package deals and special activities to enjoy.
May 8, 2011
NATIONAL WINDMILL DAY – THROUGHOUT HOLLAND
Holland celebrates National Windmill Day. Well over 600 windmills, water mills and pumping stations throughout the country are open to the public on this day. Millers give demonstrations of their activities in and around the mill.
May 11-15, 2011
ART AMSTERDAM/KUNSTRAI – AMSTERDAM RAI
The 26th edition of Art Amsterdam draws gallery owners and collectors from all over the world to buy new works by European contemporary artists. Galleries from all over Europe will present their exhibits, including paintings, glass, jewelry and ethno graphics. A special program element entitled No Holds Barred, which will have its premiere this year, will feature large-scale presentations. www.kunstrai.nl
June 2011
HOLLAND FESTIVAL – AMSTERDAM
Holland's largest performing arts festival, its 64th edition, celebrates the end of the cultural season with the best of music, theater, dance, film and opera in superb venues throughout Amsterdam. www.hollandfestival.nl
June 2011
THE HAGUE FESTIVALS – THE HAGUE
Ten days of different events at different levels. www.thehaguefestivals.nl
June 17-19, 2011
OPEN GARDEN DAYS – AMSTERDAM
Planned by the Amsterdam Canal Museums, some thirty canal gardens will be open to the public the third weekend in June. Each year the Open Garden Days are being organized around a theme. This year the theme will be "Courts and Community Gardens." The gardens are open from 10:00am to 5:00pm. http://www.opentuinendagen.nl
July 8-10, 2011
35th NORTH SEA JAZZ FESTIVAL – AHOY, ROTTERDAM
One of the greatest jazz events in the world, featuring top jazz musicians as well as blues, soul, R&B, crossover and world-music artists. www.northseajazz.com
July 2011
JULIDANS – LEIDSEPLEIN – AMSTERDAM
The festival of contemporary dance takes place at various stages in the vicinity of Leidseplein. The best up-and-coming international choreographers of this moment will show their theatrical choreographies in which dance and theater, music and other disciplines merge. Julidans provides an impression of what is currently going on in the field of dance theatre, and also a look ahead at the future. www.julidans.nl
August 2011
HEINEKEN FAST FORWARD DANCE PARADE – ROTTERDAM
During the Heineken FFWD Dance Parade, about 40 trucks packed with sound systems and (inter)national acclaimed DJ's, will find their way through the center of Rotterdam. This free of charge parade attracts over 350,000 spectators and ends traditionally with a spectacular after party. www.ffwdheinekendanceparade.nl
August 2011
CANAL FESTIVAL (GRACHTEN FESTIVAL) – AMSTERDAM
A summer spectacle for music lovers will fill the Amsterdam summer evenings with classical music. Large crowds of people will gather in the city center to enjoy the free classical concerts on and around the Amsterdam canals. Highlight is the Prinsengracht concert which takes place in front of the Pulitzer hotel. www.grachtenfestival.nl
August 4-7, 2011
GAY PRIDE – AMSTERDAM
The Gay Pride was established in 1995 and is Holland's most important gay event. Highlight is the Gay Pride Parade on August 7th. No Gay Pride Parade in any other city compares to Amsterdam's – in spirit, spice or entertainment. What's more, it takes place on the city's canals! www.amsterdamgaypride.nl
Late summer 2011
REOPENING NEDERLANDS SCHEEPVAARTMUSEUM, NATIONAL MARITIME MUSEUM – AMSTERDAM
The National Maritime Museum is housed in the National Naval Depot which is a former arsenal of the Dutch Navy, over 300 years old. National Maritime Museum holds the largest collection of boats in the world. The museum brings you back to the past times of trading voyages, Amsterdam in the Golden Age, the Dutch East India Company (VOC), distant countries, the mercantile spirit and the oversea colonies. www.scheepvaartmuseum.nl
September – October 2011
DUTCH DESIGN DOUBLE 2011 – AMSTERDAM
Amsterdam and Utrecht will join forces to host a great variety of internationally oriented design events. http://dutchdesigndouble.com
September 2011- March 2012
RUBENS AND HIS TIME – HERMITAGE – AMSTERDAM
This major exhibition about the renowned Flemish artist Peter Paul Rubens (1577-1640) will be on view at the Hermitage in Amsterdam starting in September 2011. www.hermitage.nl
September 10 – 11, 2011
HERITAGE DAY – VARIOUS LOCATIONS IN AMSTERDAM
For an entire weekend, sixty historical buildings – old as well as new – open their doors to the community to visit free of charge. This is your chance to peek into unique buildings otherwise closed to the public.
September 26-28, 2011
UITMARKT – VARIOUS LOCATIONS IN AMSTERDAM
The Uitmarkt in Amsterdam not only represents the national opening of the cultural season, it is also the largest cultural festival in the Netherlands. Over the years, the Uitmarkt has evolved into a festival attracting more than 500,000 visitors to the city. A jaw-dropping 2,000 performers take to the stage at more than 30 venues. www.amsterdamsuitburo.nl/uitmarkt/
November 2011
IDFA- 24th INTERNATIONAL DOCUMENTARY FESTIVAL AMSTERDAM – AMSTERDAM
One of the world's most prestigious documentary film festivals offers over 200 high-quality documentaries and an extensive program filled with workshops, readings and forums about the aspects of documentary filming. www.idfa.nl
November 2011
MUSEUM NIGHT – AMSTERDAM
Amsterdam will once again celebrate Museum Night. More than 40 museums and institutions will open their doors from 7:00pm until 2:00am! All museums will organize special events. www.n8.nl
For more information please visit: www.holland.com
About Dave's Travel Corner

Dave's Travel Corner is a travel content, resource provider and community (founded 1996) providing travel
Guides
written about Dave's personal travel experiences and
Journals
, pages that contain trip summaries and experiences written by fellow travelers. We spotlight locations and attractions with an article linked directly from our homepage including content across our blog, photo and video galleries. We use a combination of social media, written content, photography and videos to promote locations. Not only does the content appear on this site but we have direct partnerships with other well visited travel sites for placement of the content. Since 1996, we have also established hundreds of relevant link exchanges with other travel sites.
Visitors to Dave's Travel Corner will also find thousands of travel related links organized by categories on the
Resources Page
, a
Photo Gallery
containing International travel photos,
Book Reviews
, and
Product Reviews
focusing on products useful for travelers, fully automated
Forums
,
Tour Bookings
offering over 4400 unique tours around the globe,
Interviews
with those making news in the travel industry and
Videos
- specializing in International travel videos as well as home of the
Dave & Jim Show
.
Dave's own travel blog is
Above the Clouds
which focuses on International Travel & Lifestyle.
For information on advertising please choose from a variety of
advertising options here
.
Contributors are welcome

Learn how you can contribute
About

www.davestravelcorner.com/about