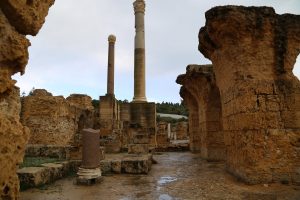 Today we left Tunis in search of some urban relief which we found in the much smaller communities of Carthage, Sidi Bou Said and La Marsa. Our first stop was the UNESCO World Heritage site of Carthage – originally settled in 814 BC and at one time it supposedly rivaled Alexandria for being the largest city in the Roman Empire. We visited the old baths – there is not much left here but some of the archways and columns have been restored. The height of the restored columns which would have supported the roof and the large footprint of the baths indicated the sheer volume of this at one time great building.
Next up was a meeting with a journalist who told us about the time she was kidnapped by the Hezbollah in Beirut and her work for a number of major publications. The Factory restaurant (where we met her) from the outside looks to be straight of some disaster movie. It appeared to be pieced together, with parts visually appearing to be in various stages of decay – standing solitary perhaps not long until the crashing surf undermines one of its supporting pillars or two. It also appears to be a mosque and we were wondering why she was taking us here.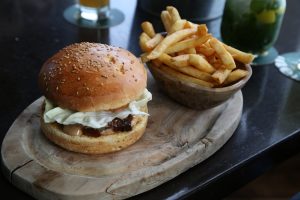 However, after being 'detected' by guards with security wands we entered and found ourselves in an entirely different environment than envisioned. Western music was playing, alcoholic drinks were in high demand (being ordered through the haze of the cigarette smoke) and a significant amount of windows overlooking the rough waters were soaked with salty spray. We sat in a corner watching the surf break under us.
After lunch we stopped by Sidi Bou Said, a small town built around a hill and on top of slopes overlooking the sea in the distance. Cobblestone walkways lined the narrow streets – art vendors used lines on us such as "oh you dropped something" – we turned around once and they pointed to their pottery on the street. We did not fall for that line again.
Our final taxi ride of the evening was adventurous. The driver spoke very little French and was visibly drunk with the smell of alcohol also on his breath. Unable to communicate an address we indicated he take us to Tunis. On the way he stopped to urinate. Then we were off again, weaving erratically between honking vehicles. Once we hit the open highway we were clearly the fastest vehicle on the road – forcing 'new' lanes by pulling up close to one car and then slowly moving over into a lane despite a vehicle already next to us. That vehicle next to us would move over and voila, we had an opening.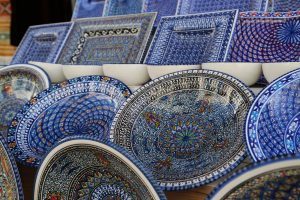 The one word he could speak in English was "Ok". After staring at one of our phone maps while driving he seemed to have a revelation. "Ok Ok," he exclaimed loudly, proudly and with a big smile. We relaxed immediately savoring the fact he now knew where our hotel was located. But 15 minutes down the road our exit was quickly approaching and he was still four lanes over from the exit. It was not Ok. After we punched him lightly in the arm and pointed dramatically that we needed to exit the road, something clicked and he moved across four lanes of traffic as if he were moving into one lane, leaving cars in our rear view mirror fuming as they accelerated or the drivers fuming as they yelled in anger.
Sometimes you look back at these driving adventures and wonder why we did not get a photo of this driver. For better or for worse (probably worse) there will be more drivers like this in our travels and the next time we will certainly do so!