When animal spotting on safari, people tend to get obsessed with the Big Five game, as though they matter above all else. I'm not going to stand here and talk down the beauty of the lion, elephant, buffalo, leopard and rhinoceros, but I will say our admiration for the Big Five can distract us from the other equally wondrous creatures in our midst.
So let's imagine you're on a luxury African safari with the view to collecting all five of the big ones for your photo album. Somewhere you're likely to find them all, such as the Sanctuary Retreats safari in Masai Mara, Kenya. You have a perfect view of the plain, when something moves in the long grass. "Is it a leopard?" you ask your tour guide in excitement. "Or a lion?" When your tour guide says he thinks not, you're disappointed, putting your camera down, not caring about the wondrous creature you missed.
As amazing as it is to see any or even all of the Big Five up close, there are simply way more animals in the bush, some of them just as beguiling, deadly and rare. Look beyond the outdated and arbitrary league table, here's what you could find in the vicinity of one Kenya safari lodge.
Hippopotamus
The Big Five are so-called because they're supposedly the most difficult to hunt on foot. They're not necessarily the most impressive or the most dangerous, as the hippopotamus will testify. Easily capable of holding its own against any of the region's other predators, if hippos knew about their exclusion from the elite grouping of the Big Five, they'd most likely flip into one of their famous rages.
African Wild Dog
With near-mythical status among the Masai Mara's park rangers, these 'painted' dogs or wolves are a rare sight indeed. Officially endangered, they can occasionally be seen roaming in packs, although they are highly elusive. They were thought to have vanished from Masai Mara entirely until a pack was spotted in 2008. There have been a few sightings since then, but they still make spotting a lion feel like an alley cat in comparison.
Gazelle
Mostly seen as food for predators, these runaway creatures are elegant and demure. You haven't realised your dream of being on the set of the ultimate David Attenborough documentary until you've walked among the series' adorable victims.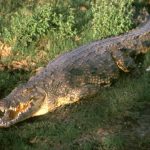 Cheetah
Blink and you'll miss it, the cheetah is the fastest animal on earth, notching up speeds of up to 75mph. But when they're not in one of their short bursts of action, families of cheetahs walk together through the golden plains, like humans taking their kids to school. A truly heart-warming sight.
Nile Crocodile
The most versatile predator, the Nile crocodile can hunt in and out of water. Like so many other predators in the region, one of its favourite meals is gazelle, which they snap up when the dainty little things dare to take a drink.