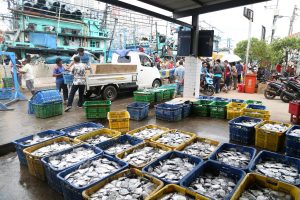 By the time I reached my hotel and drifted off it was 2am. I woke early the next morning and wandered out exploring the streets of Mangga Dua – a section of this sprawling city that seems to be a cross between New Delhi and Dhaka. The roads are a sensory stream of noise and action – from motorbikes, three wheeled motorized rickshaw taxis, the ubiquitous Blue Bird Taxis, bicycles and people walking. Throw in a torrential downpour (after all this is the rainy season) and seemingly endless road construction/partial street closing with workers covered in mud and other debris for more chaos!
I wondered down to Sunda Kelapa, an ancient port where rugged looking wooden cargo boats dock for refueling and supplies to carry to various islands spread throughout Indonesia. I hopped on one – boarding a steep narrow wooden plank leading to the deck. I saw boxes of toilets, a hold full of concrete and other building materials. A visit on board felt like walking back in time – ignoring certain modern conveniences it could have been the year 1800 or 1900.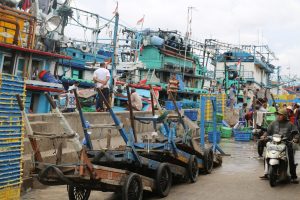 Then it was on the back of a motorbike for a 25 minute ride to Pasar Ikan, a fishing market and nearby port where the fish are brought in and then distributed to various locations throughout the city. Sliding next to trucks and dodging cars and the blaring of horns most of the way I white knuckled and held on the back of the bike as best I could. Then it was more dodging – I spent the next 20 minutes trying not to bump into people, boxes of fish, and fish while jumping between the old wooden boats lined up in the harbour.
My market adventures continued the next day when I met up with fellow writer, Trudy Ana and her friend to explore Indonesian markets and cuisine in Kota Tua (Jakarta's Old Town).
Our mission was to seek out and try foods new to me. We were quite successful in this regard with an endless stream of markets and culinary delights in this part of the city including Soto Tangkar (a tasty soup), Kerak Telor Khas Betawi (a crusty egg semi dessert), a tasty Bajigur Sundanese drink along with other local specialties.
Other highlights included a stop to see a short live Shadow Puppet performance and to watch the talented street artists lined up along part of Gajah Mada Street.