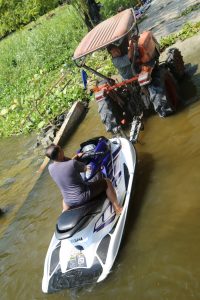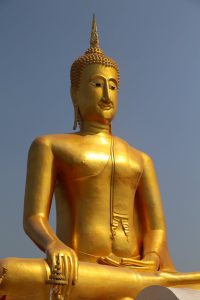 While on a boat cruise on the Chao Praya River recently I thought to myself "wouldn't it be cool to jump on a jet ski and zip past all these temples, river boat barges, long tail boats, ferry boats, river cruise boats and anything else that commonly floats past the banks of Bankok".
A search yielded no results other then one – a tour offered by a local named Many who mentioned a stop at a jet ski center, marina and restaurant. She offered a full day tour but I was just interested in the jet skiing. I reached out to her and soon had this experience booked.
After meeting, I found out that I was her first customer in two years of offering this tour. A shame to be sure, as she knows the city very well and focuses on unique experiences and activities in Bangkok and beyond – often off the beaten path (including home stay and other eco tourism activities).
Onward and up river we went – to Haven 69 Marina & Cuisine in the vicinity of Ko Kret (an island north of Bangkok that I had visited during a prior trip).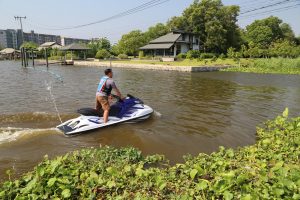 We saw the owner, Khun Ott making tracks on his way to meet us at the marina. Soon I was seated on the jet ski, Ott seated behind me (to help guide and jump in the water to remove plastic, weeds and other debris that is often floating in this part of the river). I've visited many Wats in town before via a variety of transportation options, but never from the backseat of a jet ski. First up was the giant golden Buddha at Wat Bangchak. Then skirting the banks of Ko Kret (and island known for pottery and other artisans).
At times the Chao Praya was rough with waves – at other times it was oh so glassy and we could crank the throttle to over 60kph.
It is quite the thrill to be racing past gleaming golden wats, tall buildings, under bridges and past a number of floating river vessels all the while realizing you are surrounded by a major city on both sides of the river!
Allow one hour minimum for a tour near Koh Kret – allow at least two hours to explore the heart of Bangkok down to Asiatique and then back to the marina.