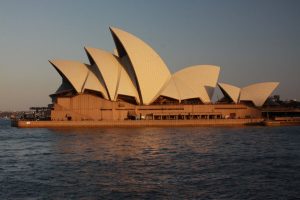 This time of year is an extremely pricey time to be in Sydney (Sydney is not a cheap city to travel in regardless of the time of year) – the New Years Eve fireworks over the opera house is watched by 1.5 billion people around the world and visitors from the rest of Australia and around the world come here to see this annual event. The harbor and streets are all closed to traffic during this time – and the choice viewing spots near the Opera house must be secured in the morning of the 31st.
Hotel prices in the CBD typically rise 4-5x their normal prices to a minimum of $400 per night AUD and easily over $1000 depending on the hotel. Most hostels have a minimum stay of 5-14 days and if you are planning to rent a car, your reservations must be confirmed well ahead of time – we visited 6 different rental places and all were completely sold out.
One hotel we stayed at, over $200/night during the high season had a note in the room indicating customers would be charged $250 for taking a hot shower, if the hot shower sets off the fire alarm. Oh yea. Brilliant customer service.
We've seen a number of odd acting folks in town – mostly in King's Cross. Today we saw an old lady jumping up and down on her sunglasses on the side walk – yelling loudly. She ran away leaving a cracked mess of plastic. Then we saw another guy in broad daylight facing the traffic and peeing – at least he had the decency to be urinating into a grate rather than on the sidewalk. Another lady boarded the bus with her pants nearly falling down – oh yea!
Its summer time and the living is easy, the air warm, and the margaritas cold – we jumped on the ferry to Manley Beach and spent a few hours lounging around the sand. There is a nice path that meanders above the shoreline; we walked this and stumbled onto an Australian wedding happening in a small cove. It seemed to be somewhat unscripted – a large semi naked lady was sunbathing right next to the ceremony – a naked kid got out of control and started running into the standing audience while the desperate father ran as fast as he could to intercept his child.